I love a sunburnt country. A land of sweeping plains, of ragged mountain ranges, of droughts and flooding rains. – Dorothea Mackellar.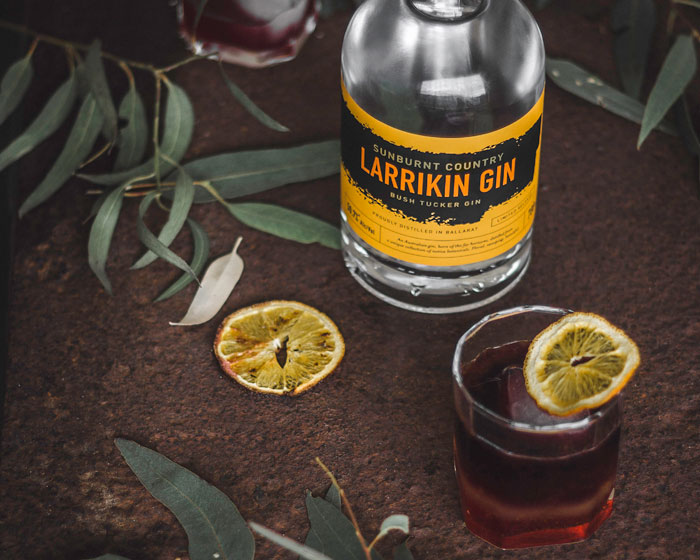 Take flight on a voyage of discovery around Australia with Larrikin Gin's latest offering 'Sunburnt Country.'
Embracing their Aussie home, Ballarat business partners Scott Wilson-Browne and Chris Pratt have produced a gin, which includes 10 native botanicals, resulting in a smooth, strong spirit, with a complex and totally unique Australian flavour.
They selected natural ingredients to highlight this country's diversity, from the Kakadu plum of the Northern Territory to strawberry gum from the North Tablelands of New South Wales. Some of the botanicals are exotic, some are enticing – they combine in perfect harmony to produce a gin with a beautiful smooth finish, best enjoyed straight with ice on a hot Australian day.
"Australia may be one of the oldest original lands on our planet, but it has a youthful exuberance, an undefeatable spirit and there is always something to surprise you," Scott says.
"This gin certainly captures that undeniably Aussie spirit."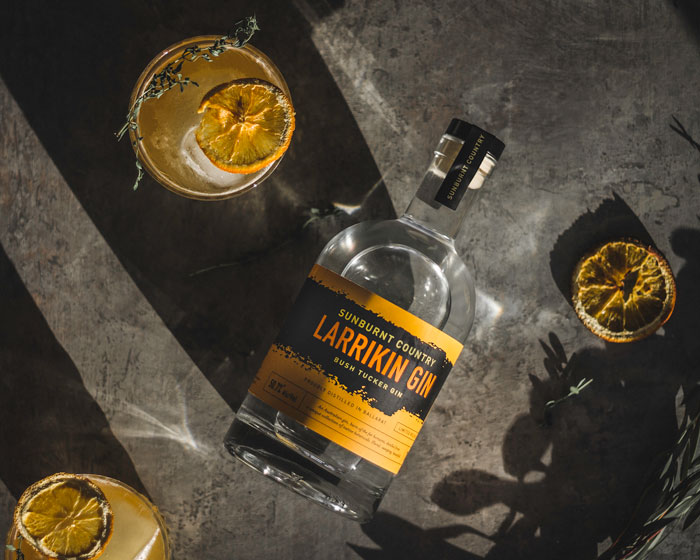 Australia's highest recorded bottling temperature was needed to create this gin at 50.7%, just another nod by the Larrikin team to our unique environment. Despite its strength, it is refreshingly good with tonic and the ideal partner for your favourite gin-based cocktail, adding layers of interesting flavours to any classic drink.
" With this gin there is a sense of place, one that you can connect with. Running across the hot sand to reach the water's edge, letting the cold blue ocean waters slip between your toes," Scott reflects.
"That soft hum of the dry, inland forest, walking between sparse ancient trees, seeking the shadiest places.
"Open plains, eroded landscapes, red sands – it is a beautiful sunburnt country. This is a truly Aussie spirit that captures the [essence] of Australia."
For those that like to know their ingredients, Sunburnt Country comprises of roast wattleseed, lemon myrtle, lemon aspen, Kakadu plum, native blood lime, desert lime, bush tomato, strawberry gum, Davidson's plum and finger lime. The resulting first sips of Sunburnt Country are sweet, soft and smooth, the juniper is very restrained, with subtle hints of dry plum, limey zest and a roasted character in the far distance.
When ice is added, the strawberry gum comes to the fore, while a dash of tonic emphasises the lemon aspen notes.
Sunburnt Country is available online at www.larrikingin.com, or at selected outlets with a RRP of $100.