Hailed as one of the healthiest diets that one can consume, the link between Japan's cuisine and the world's highest population of centenarians is no coincidence.
Japanese cuisine is one of refinement, method and tradition, with the skills being passed down from generation to generation. To enhance the purity of the food, Japanese cooking tends to keep ingredients as separate as possible, leaving the produce that one has begun with needing to be the freshest available, to ensure the taste and flavours shine through.
Along with freshness and bold flavours, another key element to Japanese cuisine is the visual presentation, with Chefs delicately plating each dish into stunning artworks just as easily digested by the eyes. Here in Australia we are lucky enough to live in a country filled with visionary and creative Japanese restaurants, so pick up your chop sticks and start discovering our top picks for yourself.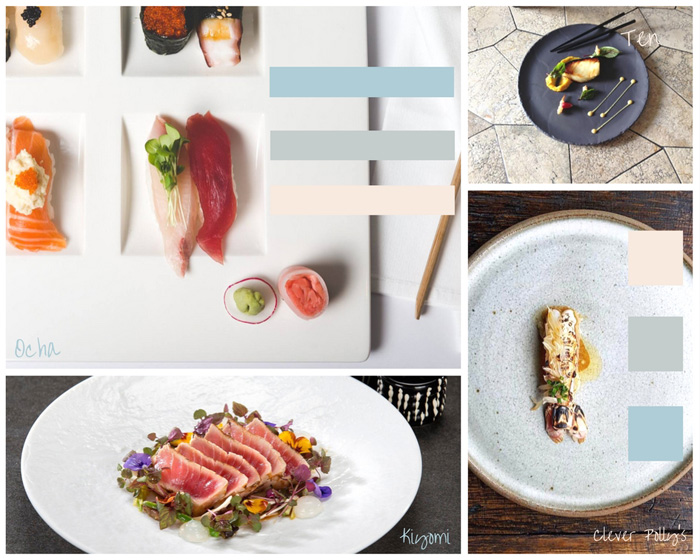 Ten Japanese Restaurant | QLD
A high-class world of superb design, indulgent taste and specialty selections, the award-winning Ten Japanese Restaurant in Broadbeach has made its mark on the Gold Coast dining scene. Embracing modern oriental art and aesthetics, Ten Japanese Restaurant is at once industrial and at the forefront of innovative, from the heavy stainless steel front doors to a granite and glass Teppanyaki counter and a sleek sushi room inspired by Japan's national flag. Among Ten Japanese Restaurant's variety of set course menus and exquisite a la carte dishes you'll find the likes of Japanese style truffle omelette, kurobuta pork belly flavoured with white miso, and fresh lobster.
Clever Polly's | VIC
Discover Omakase dining at Clever Polly's, a charming Victoria Street establishment cultivating an appreciation for sustainable produce among trendy Melburnians. If staying to dine, opt for either a four or six course Omakase bursting with fresh, locally sourced ingredients that are given a tantalising Japanese spin with the option to pair dishes with premium craft wine, beer or sake. Perhaps discover walnut tofu with rye miso and venison heart, black vinegar glazed lamb with Chinese broccoli and garlic or bean curd, blueberry, jasmine and gingerbread to enjoy with a floral infused sake.
Kiyomi | QLD
Kiyomi restaurant graces The Star Gold Coast with a sleek décor of mutual tones and plush leather booth seating, enveloping guests in a calm atmosphere as subtle panelling divides tables to ensure an intimate dining experience. Kiyomi celebrates a shared dining experience with an exciting menu of traditional cuisine including soups, tempura, sushi and sashimi dishes, a wide variety of Japanese beers and whiskies, sake and shochu cocktails, along with an indulgent seven course degustation menu - Omakase.
Pepper Lunch | ACT
At the city centre of Canberra is do-it-yourself restaurant, Pepper Lunch on Bunda Street. Originating in Japan, the concept of Pepper's is that the plate itself is the grill and the diner is the Chef, stirring and frying up the neatly presented Asian style fare, as well as taking on the added responsibility of sauces and seasoning. Perhaps start off with the classic pepper rice with black pepper, pepper paste and thinly sliced Australian beef, or go for something bigger with the Giant Steak - quite simply a juicy porterhouse steak with a choice of subtle accompaniments, making for a fun and exciting environment to dine on Japanese fare.
Ramen Lab | WA
Schedule in a dining adventure to Ramen Lab with friends and slurp up mouth-watering bowls with a contemporary twist, not far out of Perth City along Beaufort Street in Mt Lawley. Wafting aromas abound inside as guests slide into tables set for two in all directions and larger groups perch at a handful of higher bar tables, dining surrounded by soft sandy timbers and a light grey wash that combine to create a Japanese inspired feel, meanwhile jam jars dangle from the ceiling to complete an overall trendy look. Everything on the menu is handmade, right down to the last noodle strand in each steaming bowl, of which a choice is given between wheat noodles or a cross between soba and udon noodles to best suit other tasty ingredients like octopus balls, minced pork, smoked fish and poached egg.
Ocha | VIC
Opening in 1994 in Kew and operating as a small restaurant seating just 30 guests, Ocha gained a loyal following and eventually moved to the refurbished Bee Hive complex in Hawthorn, providing artisan style Japanese food to a captivated Melbourne crowd. A purposefully understated dining room emanates the same original charm of the first venue, with cream walls and sandy tones giving warmth to a smart ambiance. Traditional techniques are used to create flavours that dance across the palate, designed with imaginative touches and contemporary Japanese flavours. For a shared dining experience, try an array of plates like kombu cured whiting canapes, rare grilled carpaccio of venison with a wasabi vinaigrette, char-grilled calamari with a sweet soy glaze and miso marinated grilled black cod.
For more of Australia's best Japanese restaurants near you, search via your location here.