By Freya Ensbey.
As the Summer days depart they take with them the sweet delights of blackberries, cherries, blueberries, rockmelons and mango. With the change of weather, our bodies begin to crave something a little denser and satisfying than the light smoothie bowls and salads we tend to prefer over Summer. Eating to season not only ensures you are reaping the freshest produce available, you are also ensuring you are nourishing your body with what nature has intended us to eat for the region we are living in. An Australian Autumn brings a bounty of delicious options for us to cook with, from crispy apples, figs, pears and quinces to eggplants, sweetcorn, cauliflower and pumpkin all for the taking for the next three months.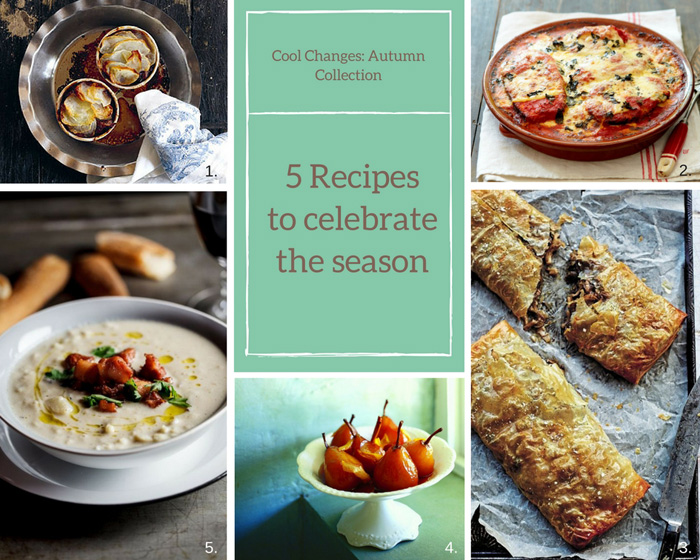 Figs are in their prime during the Autumn months and are great to team with game meats like duck to complement the strong flavours with their sweet taste and soft consistency. With the addition of star anise, cinnamon and port, this dish demands to be made on an Autumn night to warm the soul.
This recipe calls for a twist on the old pub classic of a chicken parmigiana and is a great alternative for vegetarians. Making a great accompaniment to any baked veggies or side of pasta, or simply just to have on its own, this dish is Autumn comfort food at its finest.
Mushroom Strudel by Antonio Carluccio
Having spent years in Vienna as a student, Antonio Carluccio fell in love with the masterly way apple strudels were made, deciding to create his own savoury version with mushrooms. With its flaky pastry outer and cheesy Parmesan centre, these are easily pre-made and can be kept in the freezer to heat up during the week for convenience.
Maggie Beer's Glazed Pears with Mascarpone
For a decadent dessert over Autumn, whip up these glazed pears by the one and only Maggie Beer. Cooked in sugar, lemon, vanilla bean and verjuice the pears take on a gorgeous golden colour and smooth flavour, served with a generous scoop of mascarpone, impressing any mouth it touches.
Roasted Cauliflower and Truffle Soup
As soon as the weather cools down enough to ditch the Summer salad, it's time to break out the food processor and blend together nutritious bowls of warming soup. Cauliflower is the black horse of all the vegetables when it comes to nutrition, with many not realising just how healthy this humble staple can be, packing a whopping 73% of our daily recommended vitamin C intake in just one serving.
For more Autumn inspiration, check out our entire recipe collection here.