Italians love two things above all else; their food and their family. Using the hands as their medium, rolling, kneading and stretching dough is a movement engrained in any Italian's blood, creating pasta and pizza bases to perfection with only the aid of several ingredients, celebrating the honesty of quality produce, making each ingredient as prominent as it can be with simplicity in its execution.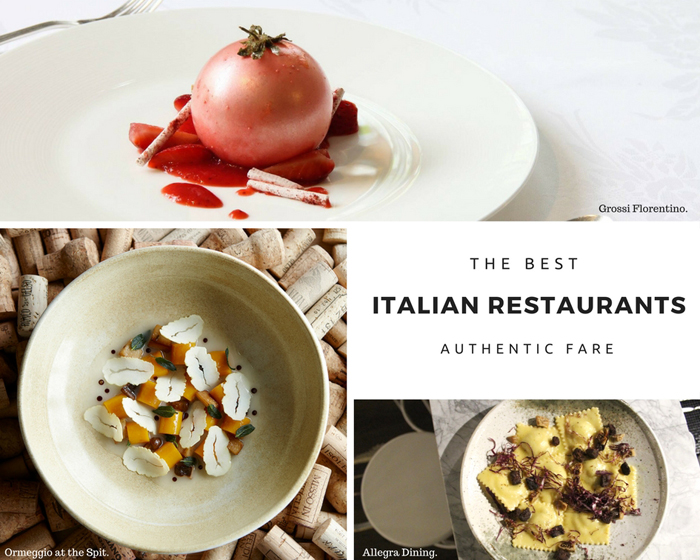 Italian cooking is a practice passed through generations and for many, a seemingly melodic and therapeutic routine involving many in the kitchen at once, bringing the family together for preparation and feasting. Perhaps it is this tradition of sharing which makes the experience of dining at an authentic restaurant so appealing for Australians, so it is no surprise that it is one of the most popular and widely adopted cuisines the world over. So, grab your loved ones and share the Italian philosophy for life through good food, with our top picks for authentic restaurants around the country.
Grossi Florentino Restaurant, Grill & Cellar Bar | VIC
With a colourful history spanning over a century, the Chef Hat awarded Grossi Florentino Restaurant, Grill & Cellar Bar has contributed to the cultural and culinary growth of Melbourne's dining scene. Owner and Executive Chef, Guy Grossi works vigorously with a passionate team, driven to provide excellence and execution with style. Make your choice from Grossi Florentino's grill menu, which may feature the likes of Cape Grim porterhouse, or perhaps take to the upstairs restaurant area for a la carte dining, with a menu that showcases refined Italian dishes such as Berkshire pork with black pudding, pumpkin, pine nuts, apricot and cider.
Ormeggio at The Spit | NSW
For those seeking a lavish dining experience just north of Sydney, allow multi award-winning, Italian inspired, Ormeggio at The Spit to welcome you into their breathtaking establishment. Offering a piece of Italy with contemporary style, Ormeggio provides alluring dishes to enjoy with a glass of impeccably matched wine. Delight in a relaxing Sunday and allow the Chef to cook five courses for you, dining as the sun sets over Middle Harbour, perhaps savouring a bottle of Antica Cascina Brut Rosé.
Established in 1974, Nino's of Victor Harbor is famed across not only kilometres, but also generations. For many, no visit to the Victor Harbor seaside would be complete without visiting this simple, modern family restaurant, which caters for all tastes and occasions – weddings included. Though prize-winning pizzas are Nino's trademark, there's also a superb choice of salads, seafood and pasta dishes, steaks and desserts to keep any diner happy.
Marciano's Chatswood | NSW
Nestled in the lively shopping mall precinct, The District, Marciano's Italian inspired restaurant and bar is a popular hotspot for hungry shoppers of Chatswood. Marciano's offers a welcoming space for those gathering to enjoy small bites and a glass or two of Italian wine, while serious diners can immerse themselves in the rustic ambiance, ready for a flavoursome, culinary adventure to Italy. Mouth-watering aromas of wood fired pizzas waft through the restaurant, whilst mains are equally as enticing, contributing handmade pastas in rich sauces.
Marciano's Lindfield | NSW
Look in Lindfield for Italian inspired cuisine, and discover the delights that await at Marciano's. With a buoyant mood in full swing, Marciano's poster plastered walls, hardwood flooring, Italian marble bar and studded dark leather banquette creates a popular casual dining setting, reflecting New York style with an Italian twist. Enjoy fresh house made pastas like spaghetti with fresh seafood, or share in a signature Speciale di Marciano pizza with fior di latte, tomato, rocket, prosciutto, cherry tomatoes and shaved Parmesan.
Oliva Mediterranean Restaurant | NSW
Residing along the quiet, tree lined street of Allison Crescent in Menai sits Oliva Restaurant. Oliva has created a traditional menu of authentic dishes, serving the freshest seafood available and making tasty gnocchi fresh daily. Opt for a starter of salt and pepper squid, served with lime and sweet chilli dipping sauce before devouring Oliva's signature barbeque pork ribs or devour a plate of Gorgonzola gnocchi with asparagus and creamy sauce.
Rosso Cavallino, St Ives | NSW
Wedged in on the busy Mona Vale Road strip in St Ives is authentic Italian pizzeria and ice cream haven, Rosso Cavallino. Students and avid foodies make the trip Northward, to blend in with hungry locals sampling traditional tastes of Italy in pizza form, and admire rows of colourful drool worthy gelato in a gleaming cabinet. The adventurous will possibly gravitate towards the Perri Perri chicken pizza with mushroom, mozzarella and Perri Perri, while those after something simple will appreciate the tasty Prosciutto Bianca with rocket, tomato, Parmesan and olive oil.
Mezza Via | NSW
Home to the two-metre-long pizzas in Denistone East, book in group catch-ups for a feast at Mezza Via Italian inspired restaurant on North Road. A casual ambiance is suited to both families and friends dining together inside this warm establishment filled with the chatter of conversation and a tantalising stream of aromas wafting from a wood fired pizza oven. Family owned and operated for over a decade, regular diners return time and time again for freshly made red and white based pizzas and pastas using a combination of Italian imported ingredients and premium local produce.
Verace Pizzeria | NSW
Aiming to deliver the authenticity of a true Neapolitan pizza to Sydney's northern suburbs is Verace Pizzeria, a widely popular Italian restaurant in Macquarie Park. A huge wood fired pizza oven releases a stream of mouth-watering aromas, filling a semi-alfresco dining space with oozing temptation. Diners of all ages mingle together in a lively dining ambiance at tiered tables specially designed for sharing antipasto and long pizzas. A wide variety of wood fired pizzas are created using Italian ingredients such as San Marzano tomatoes and Buffalo mozzarella by a team of award-winning pizza Chefs.
In the coastal town of Rockingham, along Civic Boulevard is a little taste of Italy, Andiamo Cucina Italiana. Be transported abroad as you enter a modern interior of crisp table linens, splashes of red and bi folding doors opening onto a spacious alfresco dining area, creating a space inspired by the streets of Italy. Andiamo is a multi-award winning restaurant, offering authentic yet refined Italian fare. Andiamo Cucina Italiana has been recognised and awarded by the Italian embassy for being truly, authentic Italian.
Allegra Dining | NSW
Find Sydneysiders congregating with family and friends at Allegra Dining on Danks Street. Once inside, find a chic restaurant donning a luxuriously, spacious dining hall filled with reclaimed polished timbers, bold circular light features and Italian marble tabletops, aptly setting the scene for smart, casual dining. Delight in innovative dishes from a menu steeped in Italian tradition, like delicately complex entrees of poached honey bugs with a saffron aioli to handmade squid ink spaghetti tossed with mussels, tomato, sea urchin butter and bottarga, before larger plates of lamb ribs with balsamic, puffed amaranth and sheep milk yoghurt, finishing the night with a heavenly tiramisu and zokoko chocolate.