Take a journey to discover a truly unique piece of living Australian history
To truly appreciate a raw and beautiful part of Australian culture, delve into the artistic realm and meet some of the indigenous artists who keep the tradition alive today. Aboriginal art is a wonderful mixture of carvings, sculptures, paintings and ceremonial clothing. From early rock art appearing on caves in the Kimberley Region of Western Australia to modern day craftwork of clothing and accessories, indigenous art is an extremely important aspect of native Australian culture, vast in both history and recognition.Spending time at an Aboriginal art community allows you to not only see some of these modern day artists in practice, but also allows you to speak with them, gaining an insight of what it means to be an indigenous Australian.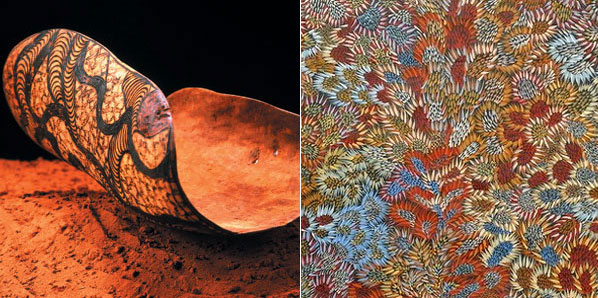 Where are Aboriginal art communities located?
Remote Australia is where most indigenous artists actively work, particularly in the regions of the Kimberley, Central and Western Deserts, Arnhem Land and Cape York. Additionally, these are the regions that play host to much of Australia's oldest artworks, featured on rocks and in caves. Aboriginal art centres play a vital role for these communities, acting as a means of income for citizens with little employment opportunity as well as a cultural base for artists to interact with an audience and engage in artistic practices.
For more information on traditional Aboriginal art, check out our article on Indigenous Art in the Northern Territory