Who doesn't love a good party? The chance to let your hair down and dance the night away surrounded by good friends, good food and the obligatory cocktail of choice.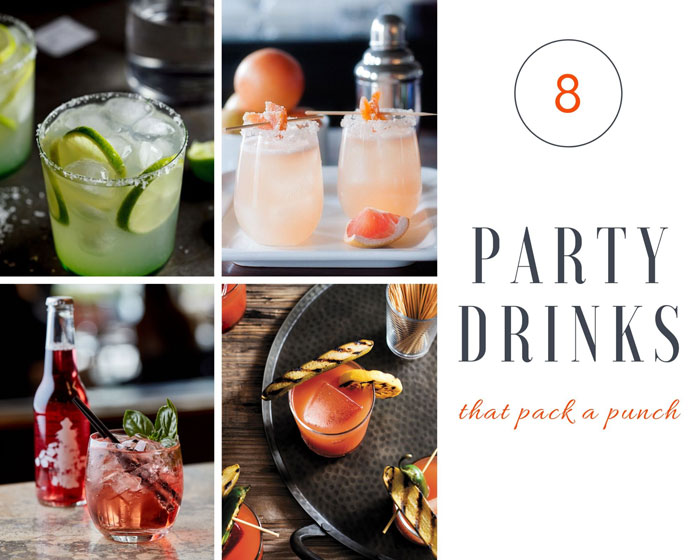 As the weather turns balmy and backyard barbeques fire up, thoughts turn to entertaining by the pool or on the patio, with cool tunes playing in the background and a pitcher of punch on the outdoor table. Kick your party up a notch with delicious and decadent drinks that will knock your guests' socks off and release inhibitions, as they swing into any celebration.
Think outside the box and surpass all expectations with party drinks that pack a punch…
Like sliced bread, the Margarita seems to have been with cocktail drinkers forever, drunk from a glass with its lips rimmed in salt. This light, icy drink usually made with tequila, Cointreau and lime has many different versions, including this chilli infused margarita – made with a hit of chilli-infused simple syrup.
Don't forget to dip the rim of your glass in lime juice and then salt to add the authentic touch to a cocktail that will have your guests saying arriba to 2020.
Produced in Ballarat, Larrikin Gin takes the spirit seriously… so you don't have to. A lifelong interest in distilling brought Scott and Chris together and their first artisan gin was distilled in 2017. Using different botanicals drawn from around the globe as well as those unique to Australia, these gins can be enjoyed by everyone.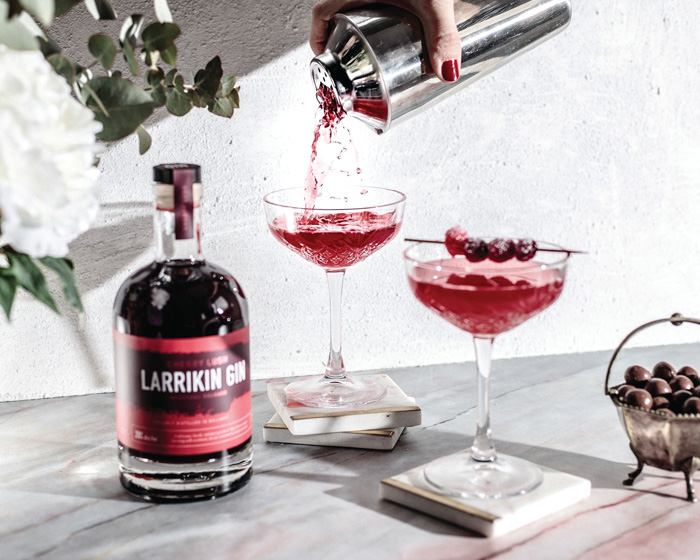 Their Hostess with the Mostest Cocktail champions Cherry Lush gin – a perfect blend of Scoundrel gin with Morello and sweet fruit cherries. Described as the bad boys of the cherry world, Morello have been highly prized by brewers, Chefs, gourmands and now distillers, for their deep, intense darkness of colour and flavour, along with a dry tartness.
The humble kiwifruit really doesn't make much of a statement as far as appearances go, but combine this New Zealand icon with mint, vanilla beans, tequila and soda water for a cheeky cocktail to remember.
Kiwi cocktail is a true Summer stunner, with the delicate, tart, sweet and complex flavour of the fruit blending ideally with the hit of tequila; while the addition of mint adds coolness and texture.
Those of us who have visited Singapore are sure to have been sucked into visiting Raffles Hotel for the iconic Singapore Sling. There's probably no other cocktail around the globe that immediately brings a place and hotel to mind in the same way that this does, invented in the 1920s as a socially acceptable punch for women to drink in public.
These days, the combination of dry gin, cherry brandy, Benedictine, Cointreau and juice – usually garnished with a pineapple wedge and glacé cherry – is a staple on any good cocktail list and a great celebratory drink to ring in the New Year.
Colon in Panama had a reputation for squalor and lawlessness from the moment it became a terminus in the Panama railroad, through which gold miners would pass on their way to California. The miners brought their vices with them and Colon happily catered to them, creating Bottle Alley – an infamous stretch of mud where Americans consorted with prostitutes and got loaded.
When construction began on the Panama Canal, expat Americans went looking for a more permanent local hangout and Colon's first cocktail bar was born, along with the Bird of Paradise Cocktail. Essentially a New Orleans gin fizz with raspberry syrup, this refreshing cocktail is a great Summer heat beater with a whiff of tropical decadence and New Year's Eve hijinks.
Citrus flavours and gin are a match made in cocktail heaven and this recipe for a candied grapefruit cocktail sure hits the mark for refreshingly indulgent drinking. The sweetness of pink grapefruit along with agave nectar, candied peel and wedges for garnish make this lovely libation a must serve for Summer entertaining Down Under.
This next drink will test your boundaries as far as what you are prepared to put into a cocktail… the barbeque bloody Mary uses the dripping from your last BBQ (or unsalted beef stock), smoked celery salt and lots of high fives to set the scene for a celebration to remember.
A recipe from a barbeque diner in Alabama, combine tomato juice, vodka, dripping, Worcestershire sauce, horseradish, sriracha and lemon to create a cocktail that is bound to be the talking point of New Year's Eve 2019.
Making seriously delicious wines that should be shared is the passion behind Yarra Valley winemaker Innocent Bystander. Producing wines from Pinot Noir to Moscato, their drops can be found around the globe or visit the Healesville cellar door, restaurant and bar to experience all on offer; including this Nanna's Ruin Cocktail.
Combining gin, apricot liqueur and Moscato, this refreshing drink is ideal for the festive season, served in a big jug overflowing with ice and garnished with basil leaves.
Happy New Year everyone!