One of the most popular holiday destinations for Aussies, Thailand is on everyone's bucket list as a chill out spot and foodie haven. From the golden sands and vivid green seas, to restaurants heady with the aromas of fish sauce, coconut milk, chilli and lime, we flock there in thousands every year.
Once home again we can't shake the craving for fresh flavours, combined with seafood, chicken and beef that can only be found in Thai cuisine, leading us to grab a tuk tuk and seek out the best restaurants around the country to recreate that holiday feeling.
Jump on board and come for a ride as we explore some of the country's hot spots for Thai fare with flair…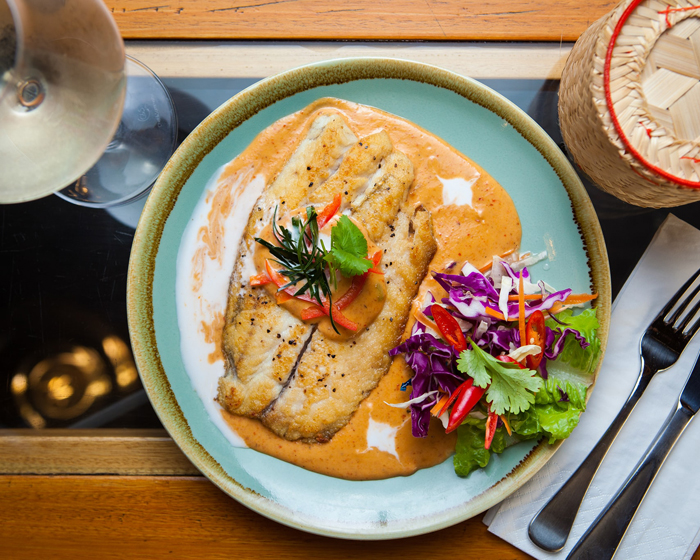 Taste of the sea at Boo's Kitchen.
Vivacious Thai Restaurants in Victoria:
Find modern and inventive takes on Northern Thai classics at Coriander Thai Kitchen on High Street in Ashburton. Presenting a contemporary dining space, styled with elegant touches of copper and exposed timber, bringing an element of industrial charm, this restaurant serves up a myriad of flavours to excite the palate.
Perhaps land a starting blow to hunger pangs with rice paper rolls, filled with flavoured tofu, mushroom and fresh Asian mixed herbs, served with spicy nam jim; before a signature Northern style curry with slow cooked pork neck, pickled garlic, ginger and peanuts. For a popular classic, don't go past Pad Thai - chicken or beef, chives, bean sprouts, tofu dried shrimp and peanuts, stir fried with rice noodles and Pad Thai sauce.
A hawker style menu and fresh décor attracts local diners in droves to heritage listed terrace restaurant Thai Thani on Brunswick Street in Fitzroy. One of the suburb's original Asian restaurants, a new lease on life is reflected in a monochromatic theme with a large wall mural and greenery adding a softening touch, setting the mood for dining with a group of friends, or an intimate meal with that special someone.
Perhaps delve into stir fried crispy pork belly, green peppercorn, snake beans, kaffir lime, chilli and Thai basil; or feel the heat from a plate of Thai Thani green curry, with eggplant, baby corn, wild ginger and Winter bamboo, best teamed with coconut rice and roti. Those looking for something lighter, may opt for a Thai favourite crispy mussel pancake, wok tossed beans and sriracha sauce.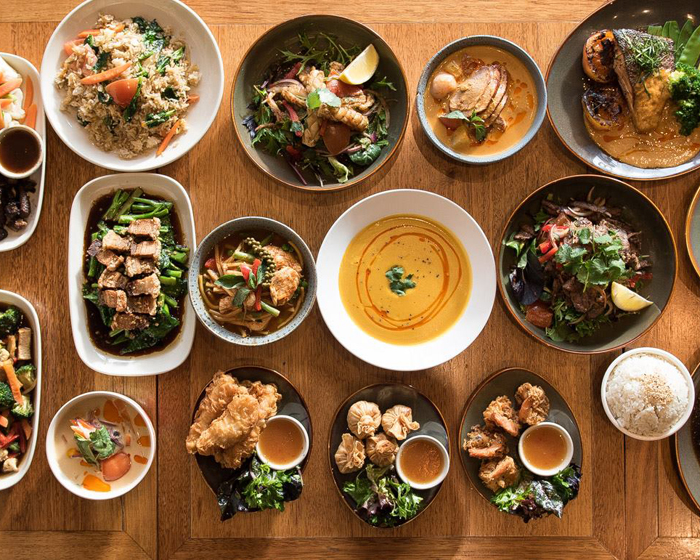 The most epic spread at Fat Boy Thai Kitchen.
Radiating a cool and quirky vibe, Fat Boy Thai Kitchen tickles Hawthorn diners' taste buds from its hole-in-the-wall location on Glenferrie Road. Hidden away from the hustle and bustle of the outside world and decked out in a modern rustic look of brick and timber, chill out in a cosy ground floor space by the bar, or choose to dine with friends upstairs.
Expect starters such as Crying Tiger – marinated and grilled Scotch fillet cooked to perfect medium – or dip a spoon into traditional spicy and sour Tom Yum soup, with lemongrass, herbs, mushroom and tomato; before mains like hot, tangy and sweet Panang prawn curry, simmered in coconut milk and lime leaf, with a side of Thai fried rice.
Thoughtfully designed, with everything down to the handmade cushions imported from Thailand, Thai Alley on Maroondah Highway in Ringwood is a blend of authentic street food and contemporary style. Guests can expect a traditional experience in both food and culture at this chic venue, where diamond shaped hanging lights and greenery exude a relaxing vibe to salivate over an enticing menu of Thai fare.
For an ideal way to taste the Chef's signature dishes, perhaps grab a tasting plate with offerings like betel leaf with prawn, peanuts, caramelised coconut and tamarind, poached chicken and prawn salad and tamarind glazed grilled lamb cutlets. Those dining in larger groups may opt for banquet options of mixed entrees and mains like turmeric grilled chicken and egg fried rice.
Relax in stylish surrounds of deep hues and cream tones, cast in a warm glow of light at Paladarr Thai restaurant on Rowe Street in Alphington. Intricate Thai ornaments symbolise dishes to come from a menu promising sumptuous fare, or simply stop by to pick up an order and enjoy a picnic in nearby Darebin Parklands.
Let the Chef choose and dine banquet style with share plates like deep fried marinated ribbons of kangaroo fillet; or devour a la carte starters of soft shell crab with a green apple and crunchy cashew nut salad, before a main of whole steamed fish, stuffed with kaffir lime, galangal and lemongrass, drizzled with garlic, chilli and ginger nam jim.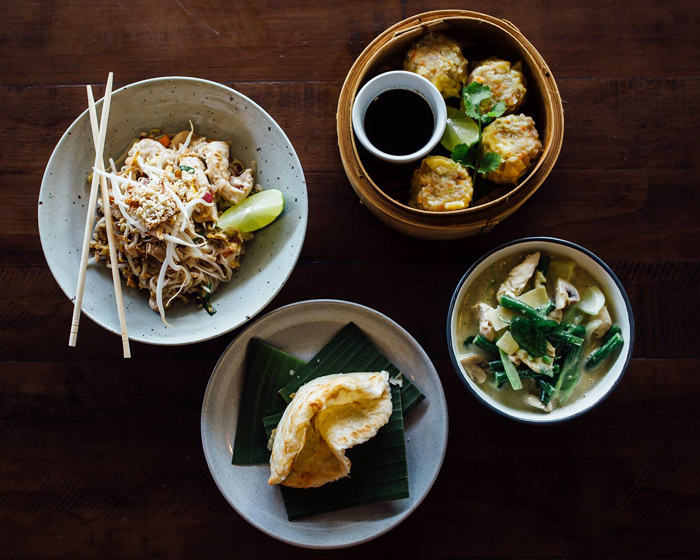 The awesome foursome at Mahsuri Thai Dining.
Notable Thai Restaurants in New South Wales:
A vibrantly decorated dining room filled with warm, welcoming tones of dark red and cream await at Mahsuri Thai Dining on Bells Boulevarde in Kingscliff. Golden mood lighting, dark wooden fittings and a variety of blossoming green plants, set the mood for a cosy and intimate dinner; relax over drinks at the cocktail bar, or soak up the sea breeze on the timber alfresco deck.
From an extensive menu of traditional and contemporary Thai offerings, start with fish cakes, sweet chilli sauce and lime; moving on to larger plates such as wok cooked barbeque duck, vegetables, spring onions, cherry tomatoes, basil and sticky soy. Curry lovers will be enticed by Massaman lamb, potatoes and peanuts, served with steamed jasmine rice.
Offering casual dining and refined presentation amid gold embossed walls, dark wood and softly glowing clusters of globes, Appethai Restaurant on Victoria Street in Darlinghurst presents a vibrant atmosphere to enjoy authentic Asian food. Settle in with a cocktail of choice and set sail on a voyage of discovery with an entrée of betel leaf, topped with King prawn, shredded coconut, pomelo, chilli jam and caviar.
Feel the heat with a main of red duck curry, pineapple, cherry tomato, lychee and young coconut; or delve into marinated and barbequed Wagyu beef with shimeji mushrooms and spicy tamarind – finishing with a palate cleansing housemade fresh coconut panna cotta and Thai style cream.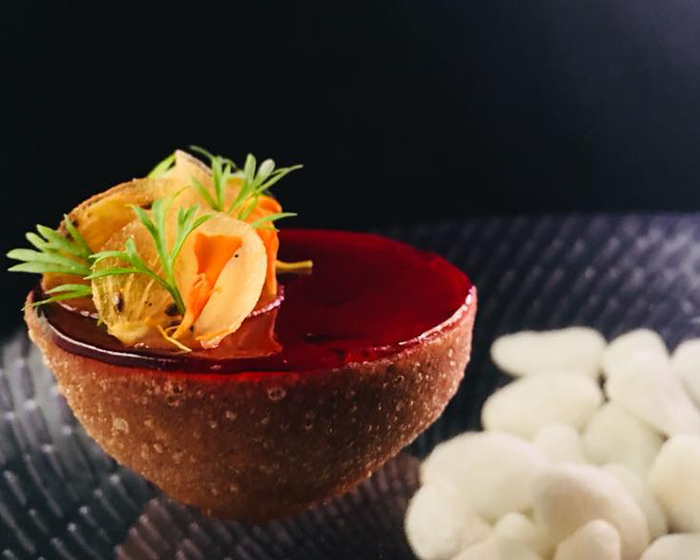 Out of this world dishes at Restaurant Moon.
An ethereal exterior of stacked sandstone and backlit signage welcomes guests to Restaurant Moon on Liverpool Street in Darlinghurst. Indoors boasts a contemporary space styled with a monotone palette and themed features like geometric moon artwork and ambient globe chandeliers, ideally suited to Chef Aum's inventive fusion menu of European Thai dishes.
Embark on a flavoursome ride with marinated deep fried chicken ribs, glazed with Thai peanut sauce, or Tasmanian house smoked salmon, betel leaf, caramelised coconut, chilli and lardo; before a larger plate such as fried whole snapper, green papaya salad, dried shrimp powder, cherry tomatoes and cashew nuts.
Take a tuk tuk to Thanon Khao San on Pitt Street in Sydney's CBD for Thai flavours and atmosphere that transcend the norm. This long-standing city restaurant blends authentic décor with moody lantern lighting for a welcoming ambiance of worn brick and polished concrete floors, as subtle spice aromas set tastebuds tingling.
Kick start a memorable meal with chicken satay skewers, or deep fried fermented pork ribs; moving onto a Chef's special dish of roasted duck, glazed with plum sauce and served with stir fried vegetables and shiitake mushrooms. Curry lovers will be more than satisfied with tender Massaman beef, simmered in coconut milk, potatoes and cashew nuts, served with roti.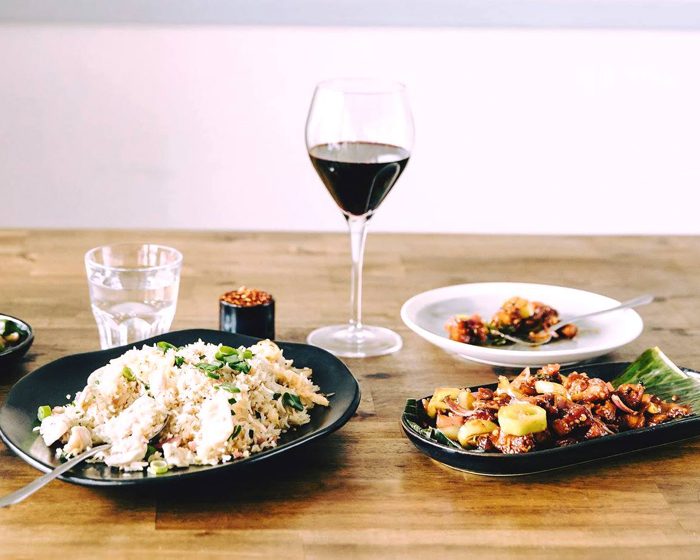 The ultimate dinner date at Sohe Thai Fusion.
Whisk away to this Thai Restaurant in Western Australia:
Fremantle diners get their Thai food fix, while enjoying bold flavours and a lively vibe at Sohe Thai Fusion on Petra Street. Wood, tiles and a golden Buddha await at this urbanely cool restaurant where splashes of greenery create a calm ambiance, as guests get started on a journey of exploration through a menu offering tempters such as seared scallops, with Chef's special sauce and a hint of sweet and sour.
A Sohe signature, grab a plate of devilled twice cooked pork belly, with shallots, ginger, garlic and secret sauce, finished in banana chilli and served on a banana leaf for added aroma and flavour; or devour a Thai red chicken curry with coconut milk and a dash of fish sauce. Finish sweetly with coffee and toffee popcorn ice cream, layered with sago and coconut jelly, topped with caramelised palm sugar crisps.
Quaint Thai Restaurants in Queensland:
Immerse yourself in the wondrous world of The Spirit House Restaurant on Ninderry Road in the Hinterland haven of Yandina. Lush palm fronds and tinkling wind chimes welcome guests, while new dishes from Head Chef Aaron Tucker promise a memorable dining experience of modern Southeast Asian flavours.
The menu journeys from a selection of bite-sized starters such as Hervey Bay scallops with chilli, corn and salted coconut, through to traditional Thai mains with a contemporary twist, like Northern style pork belly curry, peanuts, shallots and ginger. For an indulgent dessert, try chocolate coconut marquise with banana ice cream and dulce leche.
Presenting an extensive menu and collection of favourites from her family home, Boo's Kitchen on Annerley Road in Woolloongabba brings people together through food. With a focus on Northern Thai and Isan cuisine, this bright and breezy restaurant has an abundance of natural light from a wide glass frontage, or dine alfresco under market umbrellas and soak up the sun.
Early risers may opt for a simple Thai street food dish such as an Asian omelette with soy sauce and jasmine rice; while those dining later can delve into some of Boo's favourites like grilled barramundi, garnished with roasted tomatoes and spinach, lemon and herb sauce and an Asian salad.
Still looking for a Thai-riffic restaurant near you? Click here for more options.