By Leigh O'Connor.
"Meals are long and languid – open-ended and with an open invitation. It can be said that the act of eating in Argentina is a performance, a slow show of seduction." ~ Ross Dobson and Rachel Tolosa Paz.
Buried deep at the southern tip of the world, Argentina is the kind of place that is closer to a feeling.
With wild coastlines, humid northern jungles, central flat plains and the tail end of the Andes mountains, everything about Argentina hits you with a raw and sensual spirit. In his latest cookbook, The Food of Argentina, Ross Dobson explores the truly diverse and distinctive cuisine that is at the heart of this South American country.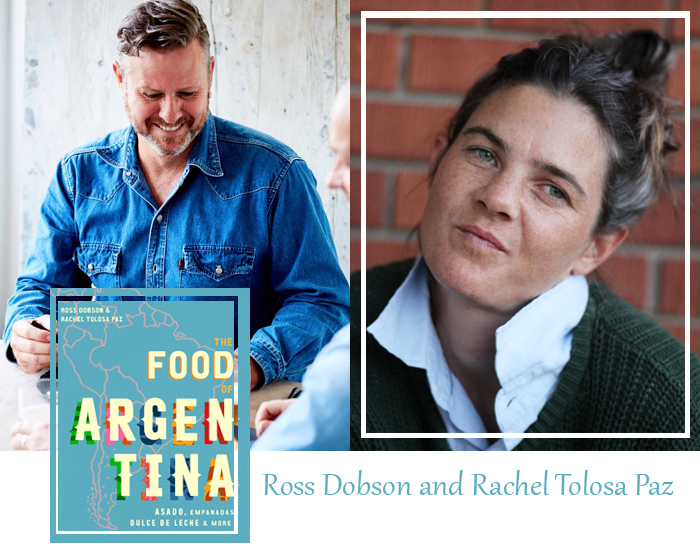 Inspired and co-written by his good mate, Rachel Tolosa Paz – who is married to an Argentine - the book reflects the social nature of life in Argentina and how its people come together to eat.
In a one-on-one with AGFG, Ross dispels meat myths and shares the secrets of cooking Argentine-style at home.
"The food of Argentina can't be reduced to one cooking technique or flavour. It's not just about the asado (grilling or barbequing meat), it is about empanadas, milanesa, dulce de leche, sandwiches de migas, escabeche and so much more," he says.
"Because of the colonial history of South America, a lot of the food there is influenced by the Spanish. The difference in Argentina is there were also huge waves of Italian immigration and the food, certainly in and around Buenos Aires, is heavily influenced by the Italians."
Ross says there are also Armenian, Jewish, Russian, English and German influences, along with indigenous input from the Quechuan people in the Andes and the Guarani in the north-east of the country.
"The Italian influence is huge – pizza is a go-to staple when dining out with friends and in Buenos Aires, you could be forgiven for thinking there is a hand-made pasta shop on every corner. Interestingly, there is also a huge Jewish population and Buenos Aires has the only kosher McDonald's in the world, outside of Israel."
By nature, Ross says Argentinian food is very humble – most meals are designed to feed a large family or gathering at very little cost, which he has translated into recipes in this cookbook.
"For the home cook, all of these recipes are easily achievable with a minimum of fuss. Most importantly, the cook can enjoy the dinner party too."
The last century has been pretty tough for Argentines, when it comes to politics and the economy. Life can be volatile and you never know what the next day may bring, making the most important thing to spend time with family and friends.
"Argentines don't plan anything, because you never know where you might be Tuesday next week and you never know who you might run into before then," Ross says. "This tends to come through in the food – there are a lot of recipes for meals that will feed the hoards – if someone happens to drop by there will always be food for one more!
"There are also a lot of pantry fillers – cakes and biscuits that can be at the ready if someone happens to pop over for a chat. The way meat is served at an asado encapsulates this idea, as there are many rounds of eating, so even the late-arriving guest will be fed."
Eating brings people together; no matter which meal it is in Argentina, it is all about sitting down and spending time chatting with others.
"Meals have no fixed time period, eating an asado could take an afternoon, all day, or all night! Drinking yerba mate (a communal tea drunk from one cup) could last half an hour or three. If the conversation is good, the meal continues," Ross explains.
This slow show of seduction is particularly evident in the asado – the asador (cook) wakes early on the day of the barbeque to prepare the fire and let it slowly burn down to embers. The meat is cooked low and slow and is served as each cut is ready.
"For the asador, his family and friends are his audience and he will slowly seduce them with round after round of meaty morsels."
It's not just about the meat… Ross is particularly partial to a special spinach pie – torta pascualina – filled with mountains of spinach and boiled eggs, baked in a golden crust.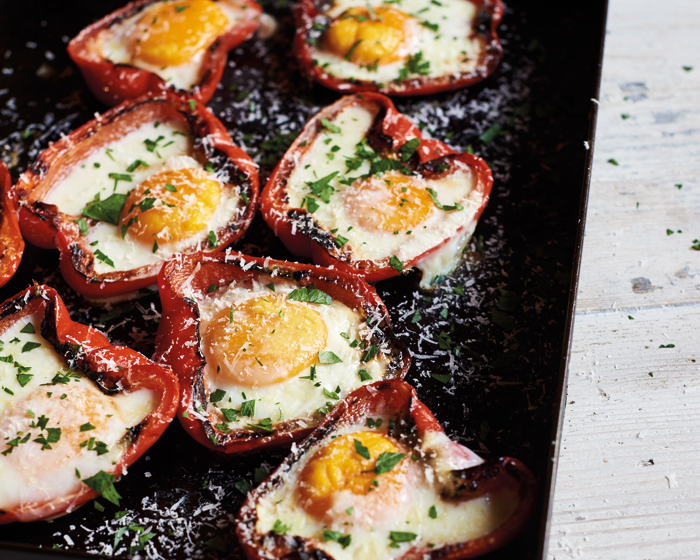 The first recipe we share from his book is barbequed capsicum with egg and pecorino, a novel and colourful dish, cooked on the asado. For a slight variation on this recipe, lay a thin slice of provolone over each egg, instead of using pecorino.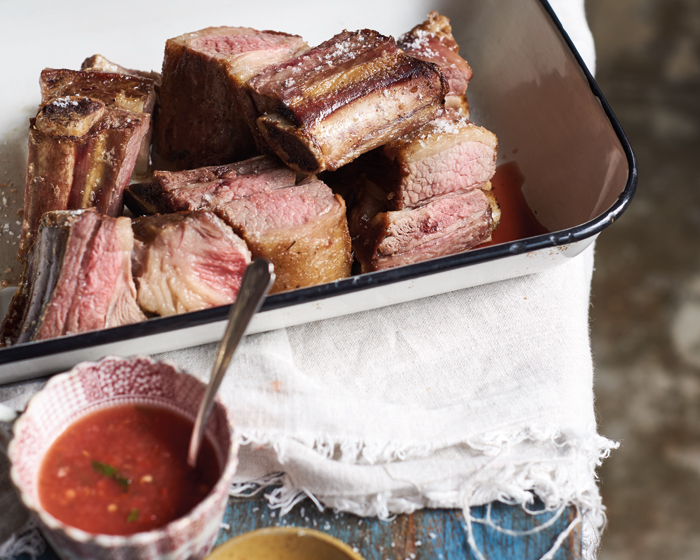 A barbeque is not a barbeque without short ribs and tomato salsa. The ribs are prepared by rubbing salt into the boneless side of the cut and then cooked whole on the grill; delicious on their own, even better with a side of tasty tomato salsa.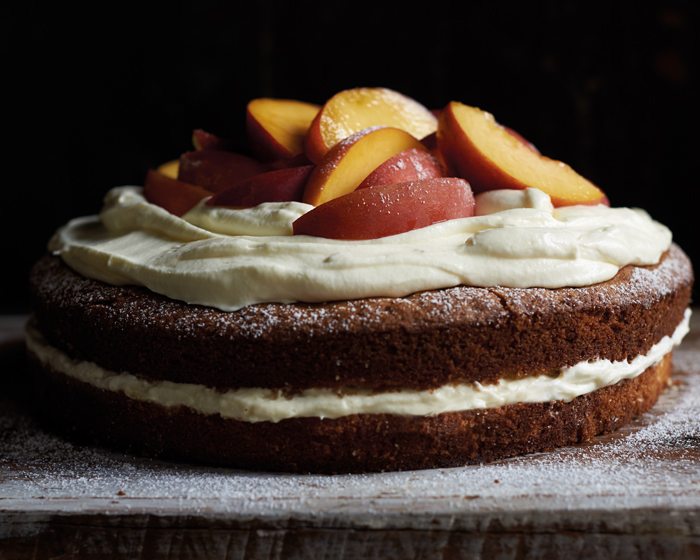 Fruit and vegetable stalls are always immaculately presented in Argentina, with lined-up produce glistening with water droplets. In Summer, stone fruit such as peaches are at their peak and a beautiful addition to cakes such as torta de durazno.
If peaches aren't in season, Ross advises any fruit such as nectarines, plums and berries will work as well in this recipe.
This book is a rich and visual celebration of Argentinian food, filled with beautiful location and food photography that takes the reader on a gastronomic journey into a little-known cuisine, which is tipped to become a global food trend.
"As much as it is a cliché, I think the essential ingredient is love!" Ross concludes. "The Argentine is the ultimate host and they take this role very seriously when it comes to food. No Argentine would ever want you to leave their home feeling like you didn't eat well or plenty."
Lose yourself in The Food of Argentina and discover a whole new culinary world from the comfort of your own kitchen.
From The Food of Argentina: Asado, empanadas, dulce de leche and more by Ross Dobson and Rachel Tolosa Paz. Photography © Rachel Tolosa Paz | Food styling © Vanessa Austin (Smith Street Books, November 2018 - AU$ 49.99, NZ$ 59.99).