The Spring racing season is upon us as we ponder what is jumping the gates in this year's fashion stakes for the 2019 Melbourne Cup.
Don't be distracted by worrying about your clothes come Tuesday, November 5…it is more important to find the best place for bubbles and bets! As jockeys contemplate their weight and owners the gate draw, us mere mortals don fascinators and suits to do justice to the race that stops a nation.
It's time to round the clubhouse turn, be a frontrunner and pick up the pace to cross the finish line in style, at one of these stables around the country to celebrate the Cup: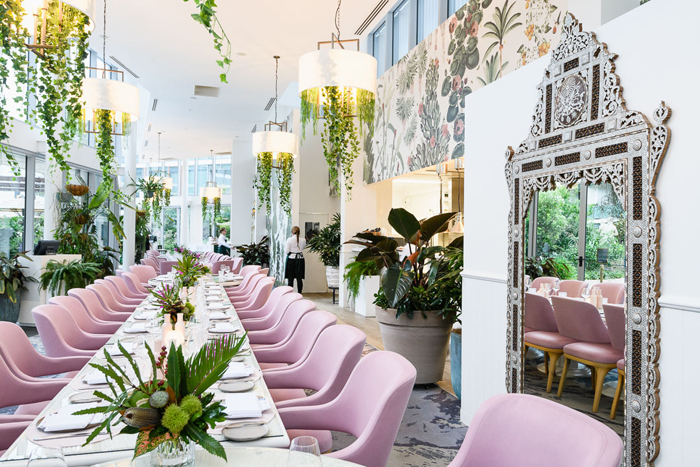 Elegantly indulge at The Botanic Vaucluse.
Watch the Melbourne Cup in NSW
Celebrate Melbourne Cup in opulence at The Botanica Vaucluse's leafy garden oasis on Laguna Street. An experience for the senses where the valley meets Vaucluse, this relaxed restaurant creates ambient dining through walls covered with plant murals and the odd peacock, along with dusky pink chairs and wooden table settings – just the spot to examine the odds over a three-course meal, glass of Veuve Clicquot Rosé Champagne on arrival, sweepstakes and prizes for the best dressed.
A harmony between rustic elements and an industrial feel creates a trendy atmosphere for horse race junkies and fashions in the field fillies at Annata on Willoughby Road in Crows Nest. It's odds on that you'll jump out of the barrier with delicious canapes, main course and dessert, plus a glass of Bonnaire's Grower's Champagne on arrival. With an option to be topped up with Champagne from arrival to the race start, every punter is taken care of in perfect gastronomic style.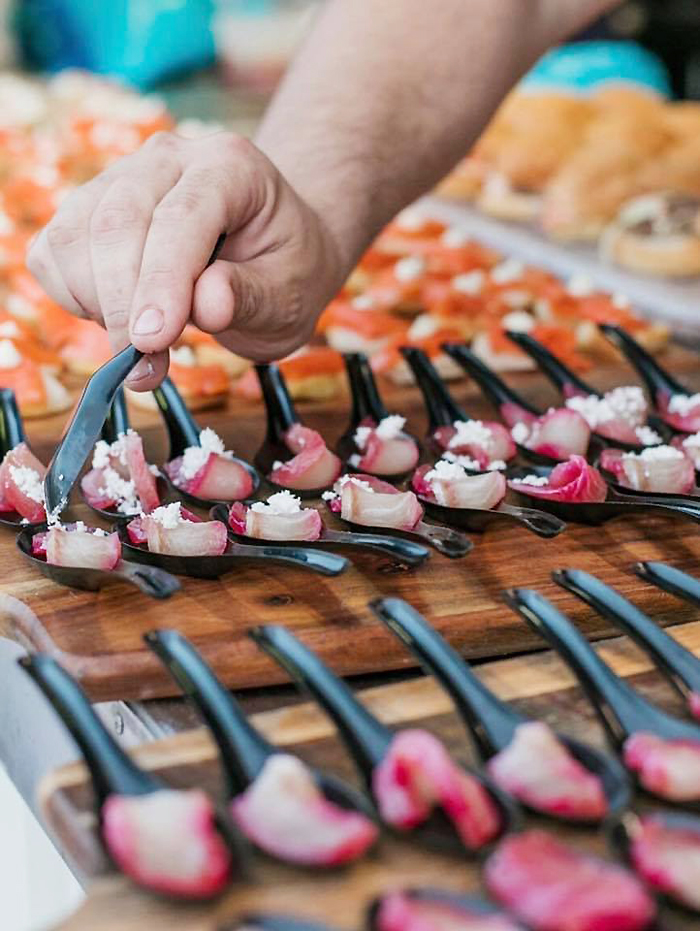 Delicious canapes at Noosa Waterfront Restaurant.
Melbourne Cup in Queensland
Dress to impress and enjoy a stayer's lunch at Noosa Waterfront Restaurant on Gympie Terrace in Noosaville. Overlooking a calm canal inlet of the Noosa River, a touch of elegance graces this spacious setting surrounded by lush greenery, as Cup goers try to go the distance with a three-course lunch – entrée, main and dessert – share-style, as well as a glass of Veuve Clicquot Rosé. Prizes for best hat, dressed and live music make this the place to scope out the field come November 5.
Enjoy the day at a garden marquee with a glass of Mumm on arrival at The Glen Hotel on the corner of Logan Road and Gaskell Street in Eight Mile Plains. Founded in 1863, The Glen has fed and watered many a patron since its days as a stopover for Cobb & Co stagecoaches; this Cup day the horses will be on the track at Flemington, as punters fill their feed bag with canapes and a buffet lunch before watching the race live, with a racing host providing the best race day stats, facts and lucky door prizes.
Catch all the colour and action of the Cup at Relish on Links Drive in Noosa Heads. Just a short drive from the hustle and bustle of Hastings Street, this restaurant offers a spectacular view of the hinterland and rolling golf course fairways of Noosa Springs Golf & Spa Resort, where you'll delve into a three-course lunch and glass of sparkling on arrival come Cup day, as well as live music. Expect dishes like marinated blue-eye trevalla or seared chicken supreme, before a dessert of coconut panna cotta.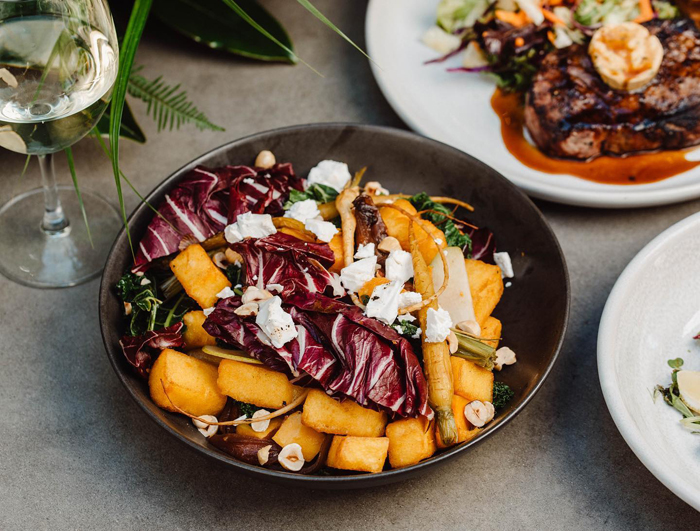 Superbowls at The Feathers.
First Past the Post in Auburn and Burnside
Since opening in the late 1800s, The Rising Sun Hotel on Main North Road in Auburn has been offering a warm and welcoming ambience with wide arched doorways preserving the classic style of this rich heritage venue. Spend Cup afternoon in The Stables, where money raised will be donated to the Auburn Community; there are canapes and sparkling wine on arrival, followed by a two-course meal and cheese board to nibble on. Saddle up for raffles, sweeps, games, best-dressed prizes and a fashion show by Sassy Lass.
Freshly shucked Coffin Bay oysters are sure to draw a crowd at The Feathers Cup garden party on November 5. Sponsored by Piper-Heidsieck, expect a glass of Champagne on arrival at this Burnside hotel on Glynburn Road, before three hours of cocktail food with an amazing oyster bar, premium drinks package, live race, sweeps, fashions on the field and after-race entertainment. Expect plates such as arancini, Peking duck pancakes, charcoal chicken sliders, crumbed prawns, mixed cupcakes and desserts.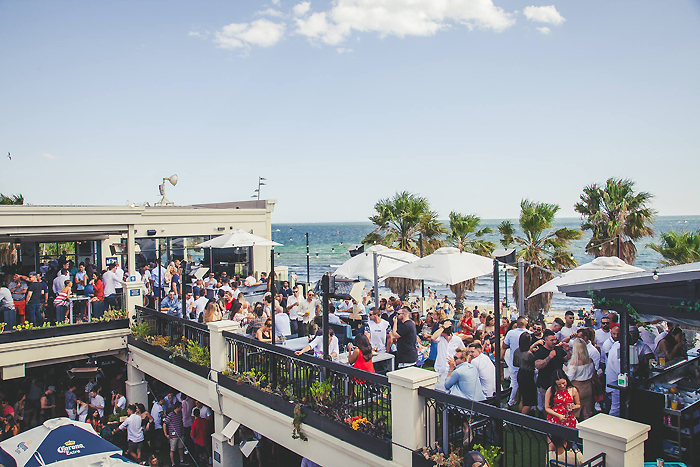 It's a party all the time at Captain Baxters.
Home Cup in Melbourne and Geelong
Time to bolt out of the starting gates and kick up your heels at Flying Brick Cider House on Bellarine Highway in Wellington. A short distance from Geelong and set on a lush green property, Flying Brick is set to race away on Cup day with a complimentary glass of Reserve Sparkling, while you wander the grounds with friends watching giant television screens. Dine from the a la carte menu on plates like Korean sticky wings and crispy confit pork belly, before a dead heat dessert of a cranberry ripe ice cream sandwich, coconut curd and whiz fizz.
Get the marquee experience without the hassle at Captain Baxters' Melbourne Cup cocktail party at the Atrium in St Kilda Sea Baths on Jacka Boulevard. Canapes, fashion, sweepstakes, complimentary bubbles and beers for the first hour are on offer; or enjoy a three-course shared-style long lunch with a glass of sparkling, alongside plates like tuna, smoked ponzu and wasabi, Great Ocean Road duck and twice-cooked potatoes. After the race is won and done, relax with a cocktail on the deck and contemplate the day that was.
Line up at the barrier for the feature race at Temperance Hotel on Chapel Street in South Yarra. The Temperance combines the warmth of a local pub with the savvy city-style Melbourne is renowned for with a stylish interior vibe, upstairs function room and Booth Bar. Don't be a late scratching, get in early to book your table for a two-course lunch on Cup day, watch and cheer all the races live, then stick around for live music from early evening.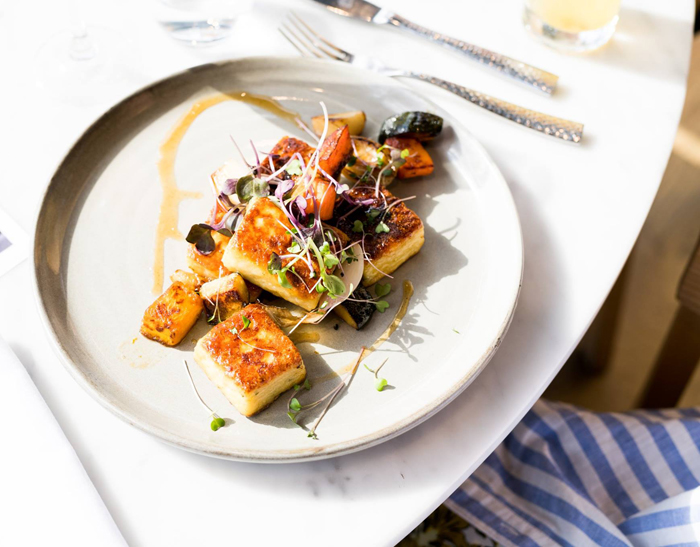 Delicious food and views at The Reveley.
Melbourne Cup Day out West
Party away this Cup day at The Reveley on Eastern Promenade in Elizabeth Quay, Perth City. For the ultimate rooftop party including breath-taking sky-high views of the city, head to Henry's Rooftop for a glass of Veuve and Belvedere cocktail on arrival, roaming canapes and oyster station, plus live music and entertainment. Door prizes and sweepstakes are available as you watch the race live; their first-floor riverside dining room Cup package is already sold out, so get in quick to cheer the horses on at Henry's.
Sip a glass of Chandon on arrival at Firewater Grille on St Georges Terrace in Perth CBD. Located on the lobby level of the Duxton Hotel Perth, Firewater is an elegant and stylish addition to not only the hotel but also the city's dining scene with its retro-style cocktail bar and spacious restaurant area. Tuck into a delicious buffet lunch come Cup day, with prizes and sweepstakes available and big screen TVs so you don't miss any of the action if there is a photo finish.
Still looking for the ultimate birdcage spot to watch the race? Click herefor more options.