By Leigh O'Connor.
There's no better feeling in the world than a warm pizza box on your lap, so how about making your own slice of heaven instead of ordering in? We've put together five easy recipes to tempt the family and have them saying: 'I love you with every pizza my heart!'
Known for his decadent desserts at his South Yarra store Burch & Purchese Sweet Studio, celebrity Chef Darren Purchese also loves a good pizza pie…especially for breakfast.
"I love pizza, but especially cold left-over pizza for breakfast when I am feeling a little seedy after a big night," he says. "I'm not talking about left-overs here though. I am talking about a dedicated fresh pizza made especially for breakfast."
Darren's breakfast pizza is topped with crumbled pork sausages, eggs, buffalo mozzarella, cherry tomatoes and prosciutto.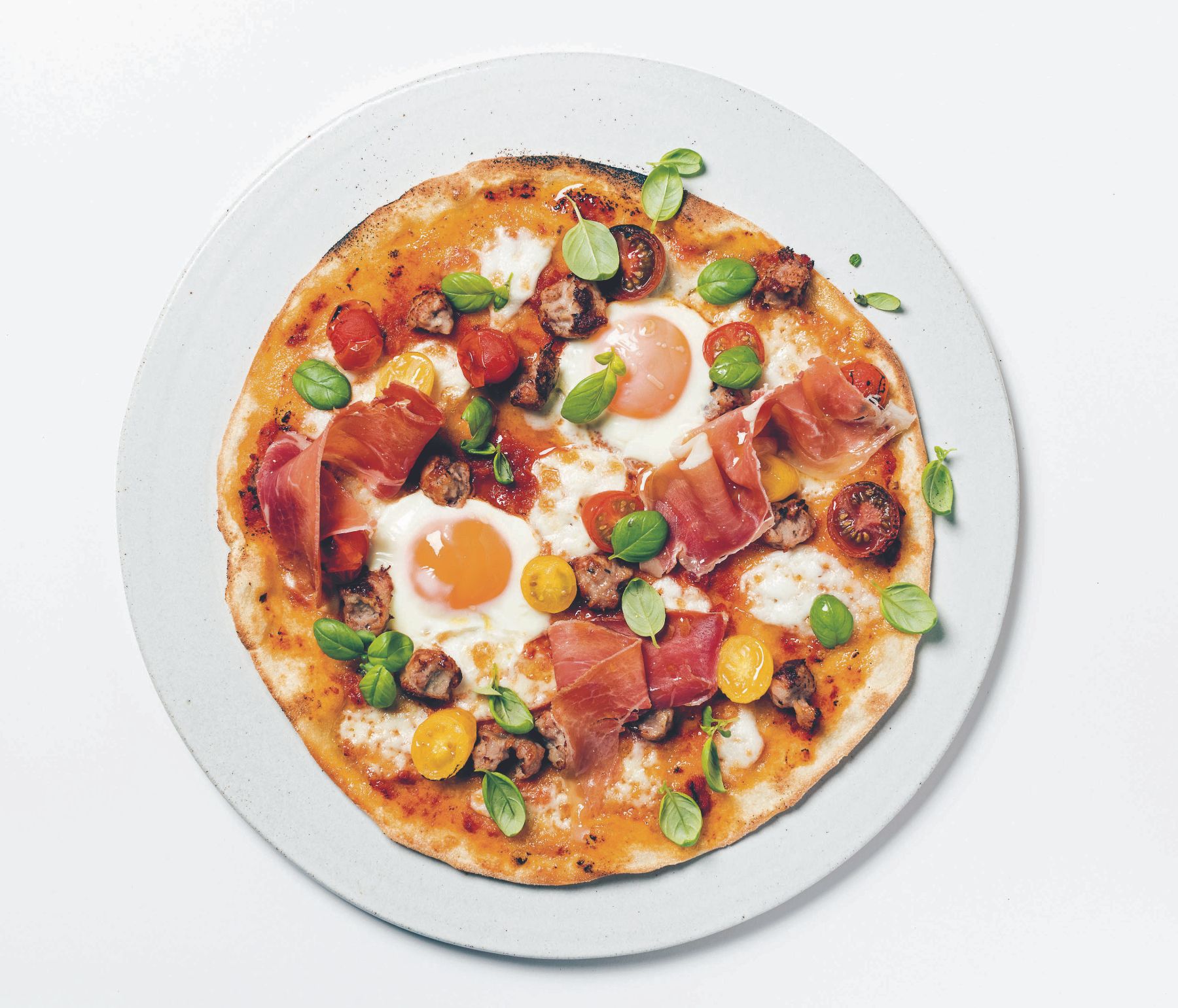 "Toppings are up to you but this is my ultimate breakfast suggestion. Now we're talking."
Plan this pizza well in advance to give the dough plenty of time to prove in the fridge. A slow and cold prove slows down fermentation, resulting in a better texture and flavour; Darren also suggests buying an inexpensive pizza stone from a kitchenware store to pop in the oven for an authentic 'cooked in a pizza restaurant result.'
There's nothing more authentic than a margherita pizza and this recipe from La Favola Chef Fabio Stefanelli doesn't disappoint. Created in the kitchen of his vibrant King Street restaurant in the heart of Newtown, you can make this classic pie at home using tinned tomato sauce, mozzarella and basil.
There is enough dough to make four bases, meaning you can freeze some for another pizza night later in the week.
For a quick and easy weeknight meal, try this chicken pizza and watch as it disappears off the plate with finger-licking smiles. Using store-bought or homemade pizza dough, cooked and shredded chicken and tangy barbeque sauce, it is simple enough to let the kids have a go, while you enjoy a glass of red and supervise.
Chatswood pizza lovers know where to head for their favourite slice at Terrazza Pizzeria inside The Mix at Chatswood Place. Dishing up a contemporary mix of modern and traditional Italian food, there's plenty of pizza and pasta on the menu, including this capricciosa pizza topped with Italian shredded ham, mushrooms, black olives, marinated artichokes and mozzarella.
If you make your own dough for this recipe – you can use store-bought dough and Napoletana sauce – you need to leave it in the refrigerator overnight to rise; then another 24 hours after rolling out, before using.
It is best cooked in a wood-fired oven for about three minutes, or a conventional oven on a high heat until the top is golden and the base cooked.
There's plenty of people out there with gluten intolerance, so here's a recipe just for you - hazelnut crust pizza and peppery rocket. Pizza is often one of the big no-nos when trying to go gluten-free, but don't miss out with this version, using ground hazelnuts, pesto, red onion, cherry tomatoes and peppers.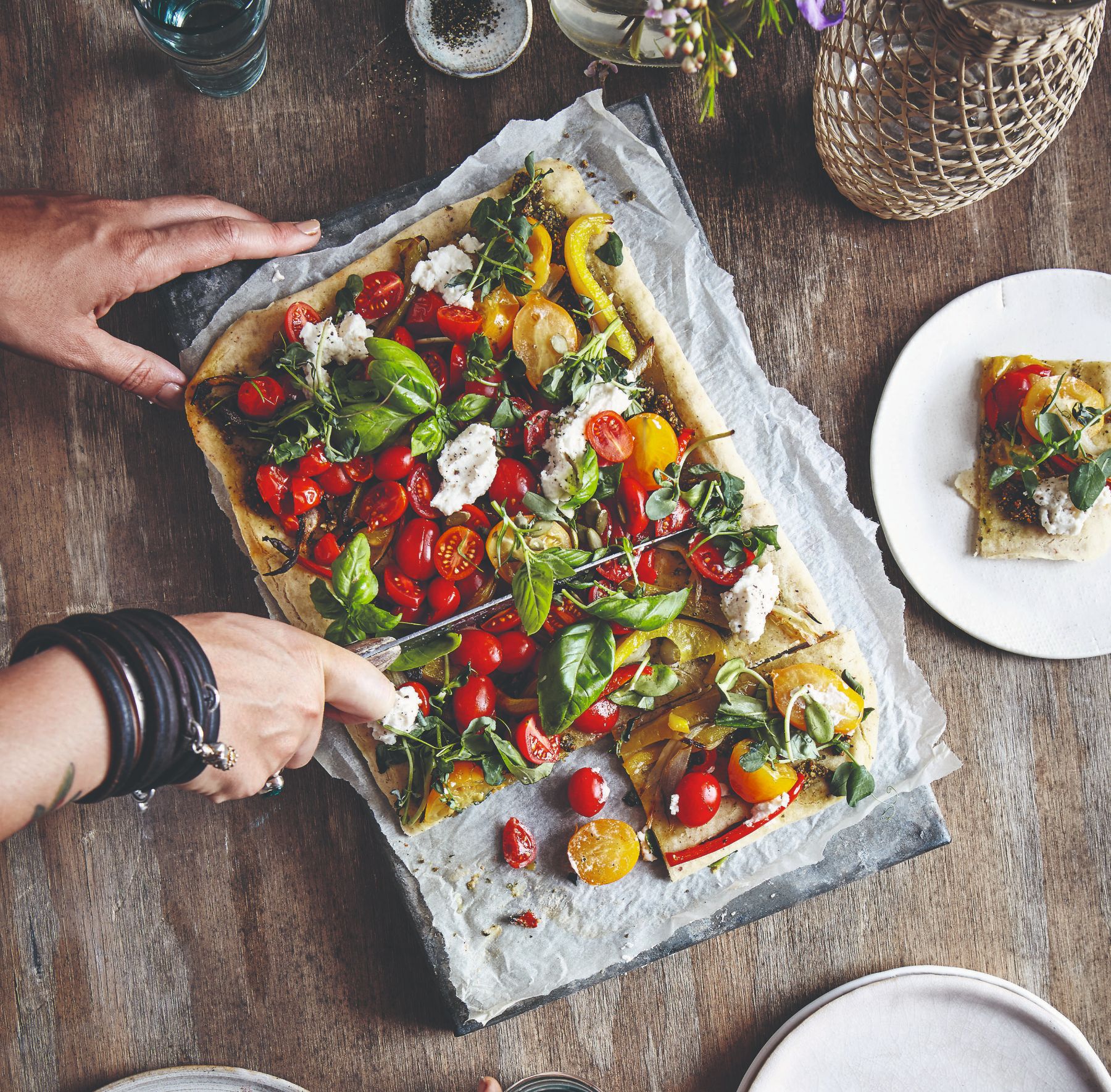 You can pre-make the pizza base, cook it in the oven, wrap it in greaseproof paper, or plastic wrap and freeze until needed. Then all you have to do when you feel like pizza, is top it off with your favourites and pop it into the oven.
Just don't be like Aunty Acid, who burnt 1200 calories because she forgot the pizza was in the oven! For more sensational slices, click here.