"You hold the right book in your hands. Learning from it will be delicious." – Anthony Bourdain.
It wouldn't be an exaggeration to suggest that culture was created over a steak.
When early humans first wrangled fire it provided warmth and light, while hunting brought quantities of meat; it was only when the two came together a defining moment was created.
Cooked meat reduced the time our bodies required for digestion – it also created conviviality, culture and a damn fine meal.
Fifth-generation butcher Anthony Puharich and food writer Libby Travers explore myths, truths and recipes in the ultimate cook's companion book Meat, with a foreword penned by close friend Anthony Bourdain, shortly before he passed away.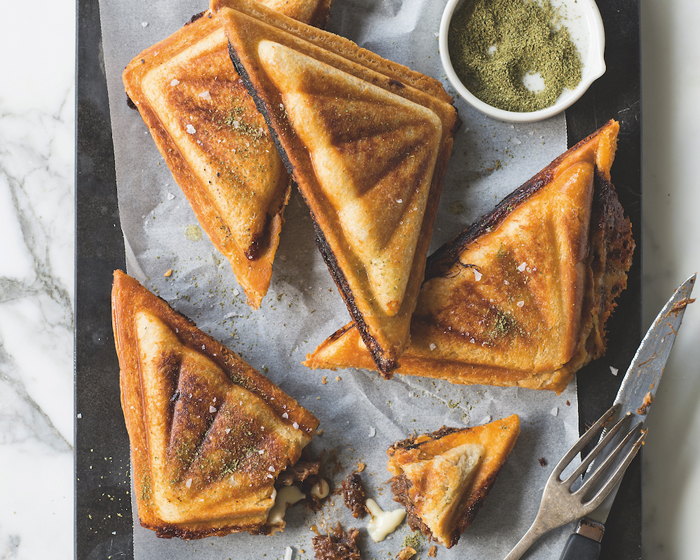 Kangaroo Jaffles by Chef James Viles, of Biota Dining (recipe below).
Wholesaler of quality meat to many of Australia's finest restaurants and co-owner of Victor Churchill butchery in the Sydney suburb of Woollahra, Anthony holds a unique position in the food chain Down Under, linking the farmer and the Chef.
Over the years, he has developed an in-depth understanding of what is required for a producer to be the best; animal husbandry, breed and feed and the techniques required at the butcher to respect these animals.
The philosophy behind the book is based on three guiding principles – to eat better quality meat, but less of it; to eat the whole animal; and to encourage people to eat more wild animals. Meat explores the topic through the eyes of the farmer, the butcher and the best cooks, with more than 110 recipes showcasing major cuts, cuisines and Chefs from around the globe.
"Among the choices we make every day, the decision as to what we put on our plates – and into our bellies – has to be one of the most important," Anthony says. "And yet, with three meals a day, it can also be the one that feels the most tedious. This book is designed to help."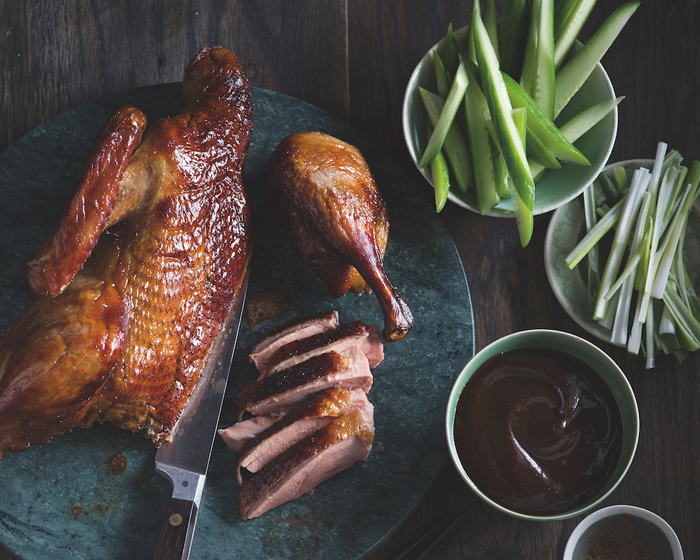 The rich fattiness of duck, coupled with the slight sweetness in the flesh, is a delicacy enjoyed the world over. Lacquered duck is ideal served with mandarin pancakes, hoisin sauce, spring onion and cucumber, while leftovers can be added to fried rice or a salad.
Anthony says duck fat is a culinary marvel in itself, so make sure you save any fat that is left in the bottom of your roasting tin, strain and store in a jar in the fridge, ready to make deliciously crisp roast potatoes.
In Old English, words like oxtail and ox cheek were used to refer to the cuts of beef that were available for the poor. The flavour of these cuts tells a different story in the mouth – a working muscle slow-cooked on the bone for at least three hours, they make for excellent eating.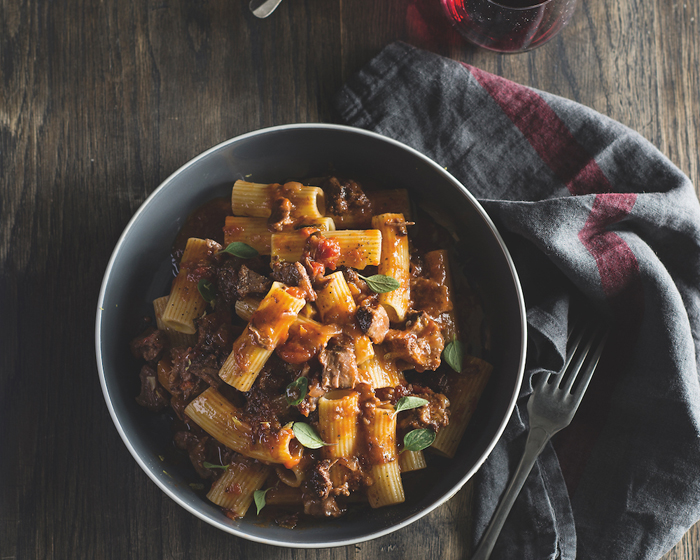 Braised oxtail is a beautifully versatile dish, which can be served spooned over soft polenta, creamy mash or pasta as in this recipe, with red wine, Italian tomatoes, onion, celery and carrot.
The flavours of Australia's native plants and animals are an amazing untapped resource and provide the opportunity to cook with history. There are 48 species of kangaroo here, but only four are commercially harvested – the red, Western grey, Eastern grey and wallaroo.
James Viles is a great friend of Anthony's and a Chef who has incorporated hunting and foraging into his cooking in a way unlike many others. His recipe for kangaroo jaffles combines kangaroo tails with tomato and garlic ragu and béchamel sauce, for an unusual take on the humble toasted sandwich.
This landmark publication is far more than a cookbook… it covers the history of every major animal we raise for meat, international breed maps, cut diagrams and descriptions, alongside beautiful photography and recipes.
It is sure to command pride of place on shelves and kitchen benchtops of many households in the country.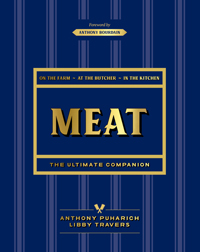 Images and recipes from Meat by Anthony Puharich and Libby Travers. Photography by Alan Benson (with exception of images pages 6 & 11, which are by Paul Gosney), Murdoch Books, RRP $79.99.