Monday, 30th April 2012 - 9pm GMT
Who's Going to Win?
This year marks the milestone 10th anniversary of Worlds 50 Best Restaurant Awards and over time the academy has consistently revealed imaginative venues that gastronomes across the globe revere for proven quality and innovative prowess. The AGFG is amongst the fine dining lovers chomping at the bit for this year's announcement.
Known as the S. Pellegrino & Acqua Panna Worlds 50 Best Restaurants, this sophisticated sparkling water brand has nothing to do with the actual awards selection, rather the iconic sponsor stands for refinement and style - they are synonymous with gourmet wine and food culture across the globe. Nothing is required per se to win a spot on this prestigious list as there are no culinary "rules" in adjudication, rather all restaurant elements are regarded by an extensive panel of trusted judges, well-travelled gourmands.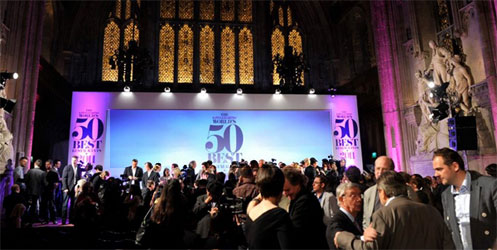 The sponsored awards night will be held on Monday, 30th April 2012 at The London Guildhall and curious foodie eyes will be on the lookout for top spot winners. With baited breath we'll await the final list, seeking Australian representation with nationalist fervour – last year we had 4 winners in the top 100. If you're as excited as we are, information about event streaming is available through FDL and we'll blog the results for your reference on Tuesday morning, the 1st May.
What are the Best Restaurants in the World?
The jury of 837, divided amongst 27 global regions, is comprised of industry notables, culinary experts, food journalists and reputable writers. Looking at more than just good food, there are many factors for consideration such as artistic innovation and anything with a "must try" impact. The 2011 winner was Noma, run by Rene Redzepi; having won the title for two consecutive years, this Danish chef has become one of the first chefs to be featured on the cover of Time Magazine - will Redzepi's tour de food force continue this year with yet another win?
Australia in the Top 50
Last year representing Australia in the Top 50 was Quay(Chef Peter Gilmore) at #26 for its nature-based cuisine; located at Sydney's Overseas Passenger Terminal, West Circular Quay they were also awarded the title Acqua Panna Best Restaurant in Australasia.
Australia in the Top 51-100
Our Australian temples of taste in the Top 51-100 included Attica(Chef Ben Shewry) at #53, in Melbourne; Tetsuya's (Chef Tetsuya Wakuda) at #58, in Sydney; and Marque (Chef Mark Best) at #70, in Surry Hills.
Eating the World
S. Pellegrino and Acqua Panna World 50 Best Restaurants is a unique award system with a ranking criteria designed to allow panellists the freedom to vote far and wide. It is experiential and opinion based, be it a small establishment tucked away in a remote region or one of the most popular restaurants in the world. Other distinctive categories include Chefs' Choice, Highest New Entry, Highest Climber, Continental Awards, Lifetime Achievement Award, Best Female Chef and The One to Watch.
The publicity of receiving Top 50 recognition in the Worlds Best Restaurants awards can be astonishing. When a restaurant first lands on the list, at times it is their foray into the global gourmet food village echelon; more often than not there are only a handful (if that) of award winners within their own country so their status within the nation's culinary elite is secured. That trend of success is also experienced by establishments in the Top 100 who definitely gain recognition, though to a lesser degree.
If you have an Australian restaurant in mind that you feel needs to maximize their national exposure, we welcome your suggestionand are happy to assist people in eating Australia.