August 2012
Chef, Writer, Woman & Leader
Last spring Christine Manfield released her award winning masterpiece Tasting India, her first true food and travel book. In it she presents over 250 recipes with prowess, testament to her chef career spanning over 25 years and repeat visits to India for almost as long.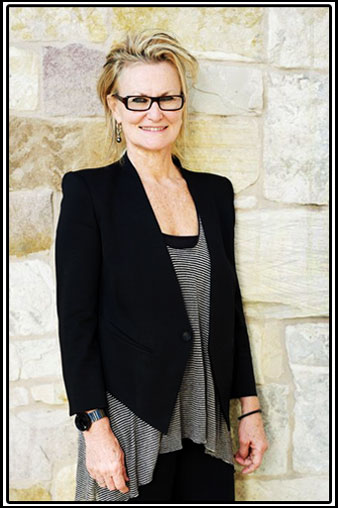 Delicious Spectrum Career of a Talented Chef
Christine's restaurants have represented her unique style and proven ability as a chef that she is famous for today, and those who find themselves fortunate enough to dine at Universe Restaurant in Sydney's Darlinghurst will be delighted by choice.
She is known as a daring adventurist who leads a full life with an open heart; her vibrant personality combined with perfectionistic precision in the kitchen has brought the world a plethora of distinct and distinguished dishes.
Dining at Universal is a unique experience, as is getting to speak with this busy career woman one on one. Her recent writer's coup was the release of yet another book, and so began our candid Q&A with Christine Manfield whose fire and spice shines through in words and actions.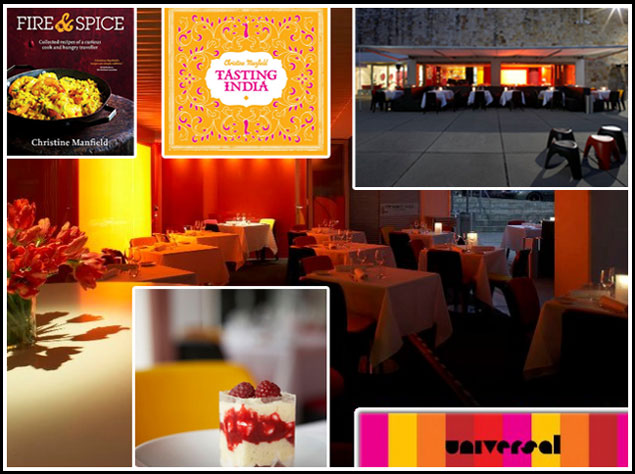 Universal Love Affair with Food & Travel
AGFG: May 2012 marks the release of your seventh book, Fire & Spice where you acknowledge that "life is too short to eat bad food". What was the driving force behind your decision to become part of the good food world by becoming a chef when you did?
CHRISTINE: I started cooking in my early twenties and discovered food as an opportunity to do something completely different from what I'd done in the past. When I grabbed that stick 25 years ago there was no game plan and I'm still running with it. At the time it looked like a bit of fun and I thought, let's see where the journey takes me…. There have always been challenges and things are constantly falling out of the sky, take it or leave it, it's never mundane.
AGFG: When you were running East@West in London's Soho district, between 2003-2005, were you nostalgic for Sydney?
CHRISTINE: No, I was constantly backwards and forwards. My home base has always been Sydney, but wherever you're at you have to step outside the comfort zone. It's looking at the big picture instead of a small market.
AGFG: Universal Restaurant showcases your flavourful food masterfully wine matched and has been named one of Australia's 50 Great Restaurants, amongst other prestigious accolades. What is your style?
CHRISTINE: Cooking for me is all consuming and I'm pretty obsessive about it. Cooking is a constant pursuit of excellence and almost always a constant reinvention. Fresh ingredients and great aspirations all come into play. This is an extraordinary industry but multi-layered and difficult to explain. I'm critical when pure production and money prevail versus passion.
Fire & Spice and Everything Nice
AGFG: In Fire & Spice you present the Raspberry Ripple dessert recipe that you developed in London, receiving something of an iconic status. What is your current signature dish and do you know intuitively when one is going to stand out?
CHRISTINE: Testament to how well we develop our dishes at Universal, they are all signatures - people remember me for many dishes. We have such an extraordinary repertoire that the menu changes every week; our food is a continually evolving work in progress.
I am confident enough to know what is going to work and what isn't. It's like a score of music; when all the elements are in place it will not be monotonous. It's all unique so no matter what the order is, whatever you choose to eat, whatever sequence you select, there is synergy and harmony.
AGFG: Your experience working with reputable Phillip Searle is referred to in Fire & Spice, as he taught you how to incorporate the delicate flavour of spices into desserts and has influenced your thinking about food on the whole. What is your form of leadership and mentoring others?
CHRISTINE: The way I work is really inclusive but very demanding. Through my restaurants I have inspired many young chefs and am active in the Tasting Success women chefs' mentoring program. I've also been mentor and judge for Electrolux Appetite for Excellence Young Restaurateur of the Year since 2008.
AGFG: Desserts have always drawn particular attention in your restaurants, down to their fun and playful names, such as Queen Bee and Pearl Necklace. Universal Gaytime dessert made its debut during Sydney's Gay and Lesbian Mardis Gras and it's now evolved into a pyramid as seen in Fire & Spice. How do you deliberate which organizations to give credence and lend support?
CHRISTINE: At Universal we receive hundreds of letters a week requesting money, free this, or free that. As much as I'd like to, we can't say yes to everyone so every year we sit down in house and plan a budget, allocating funds to a few different causes; international, national and local. It is not static or stagnant, and changes every year so we can spread the love. We currently support Plan International, OzHarvest, the Cathy Freeman Foundation as well as AIDS and cancer funds.
Literary Salons, MasterChef, Discussions & Influence
AGFG: Amongst various community endeavours you also host exclusive events where guest authors present readings and offer signed copies of their books. How do you hand pick guests for Universal's literary salons and what is your design process for thematic menus?
CHRISTINE: Each year we set out to be creative in offering a new restaurant experience and this year we have broadened the field by inviting authors to speak about their newly published works, such as Sydney author Charlotte Wood on Love and Hunger scheduled for 8th August. We aim for diverse and different to engage the audience, and guests are responding well through bookings.
Apart from having a restaurant experience guests get up close and personal with authors, asking questions, engaging and experiencing dialogue, trying to really capture that social experience. Judging by the popularity, I believe it will be an ongoing program month to month and the salons are currently scheduled up until March 2013.
I can write a menu around anything…. Even if the books aren't about food, I can get a sense of the author from what food memories they have and work from there.
"Very few Australian chefs can successfully marry so many flavours into a single menu as Christine Manfield."
-Matt Preston, MasterChef host for 2011 Citibank Insider Guide
AGFG: During MasterChef Season 4 the contestants tried their hand at your popular Gaytime Goes Nuts deconstruction dessert in the grand finale. As a television personality on MasterChef and Junior MasterChef, as well as TV documentary presenter in Food for the Future, filmed in Zimbabwe, what do you enjoy the most about the mounting media publicity?
CHRISTINE: It's important to stand up as a role model without giving the wrong idea or impression about what it takes to become successful. I don't use the word "celebrated" chef, it's more a term from TV. Terms like that must be maintained with humility as being a chef is hot work, in steamy environments, confined within a small space. It is not as glamorous as it's made out to be; you need to be emotionally resilient, mentally tough, and physically strong.
AGFG: Has your expanding public profile increased your abilities to effect social change?
CHRISTINE: No, I don't know if I have effected social change. I hope the documentary hit people's social consciousness. I hope that some people will pick up the idea and run with it, but don't have control over it.
TV on the whole is just another medium to get the word out there; it gives people a chance to understand the many elements of cooking. But it is all underwritten by supermarkets selling goods; unfortunately, not really effecting social change. People are more taken by the visual image. It has a more immediate effect in contrast to a book you treasure.
Personally, I love books and have over 4000; to be able to hold them and be able to read them is an essential part of my life. I support 'Room to Read', a brilliant educational program for girls in third world countries, for that very reason.
Australian Writer's Personal Spin on Food & Travel
AGFG: Considering that food evokes cherished memories, when it comes to creating your clever and diverse menus at Universal, roughly what proportion of dishes are textured by personal experience?
CHRISTINE: They all are as I'm frequently exposed to new things through reading and travel, plus we have an enormous variety of seasonal produce available to us. My food is a direct response to what is available, ethical, in season, and based on local ingredients, not imported.
AGFG: When describing our cultural heritage to friends overseas, what Australian ritual involving food comes to mind?
CHRISTINE: I'm a beach baby at heart. I love our coastal lifestyle, the warm, tropical weather, and the light, healthy and clean food that's associated with this type of lifestyle.
AGFG: Can you pinpoint one most memorable, uniquely Australian experience that satiated appetite for adventure?
CHRISTINE: There is never just one memory and everybody's experiences are different; good things to do that are fun will vary with a 70 year old versus a 20 year old. Every Australian person has to see the centre of Australia and marvel at Uluru, looking at the base with a proper Aboriginal guide to get a pure sense of what it means to them because the rest of us are all immigrants.
Christine Manfield Explains Her Beef
AGFG: You modestly reflect "the more I see, the less I feel I know" in Fire & Spice; however, your culinary repertoire and broad spectrum career suggests otherwise. Appeasing your constant curiosity, what are you working on at the moment?
CHRISTINE: I've been writing since 1995 and everything except Tasting India (released in October last year) documents work through my restaurants. Tasting India is recipes collected from people - at home, in the street, and in palaces.
Fire & Spice is an anthology of my favourite recipes from both Fire and Spice which are currently out of print. Fire was all about travel and how I cook, sharing recipes as interpretations and ideas from a particular regional experience. Spice is a bible on how to use it. I'm thinking about and working on a new book idea at the moment.
AGFG: Last year's Tasting India is truly a cookery & travel lit masterpiece. In it you describe food as an addiction that makes you "feel alive, healthy and sensual when you indulge". In ayurvedic tradition pure vegetarian food is considered food for the gods and we're wondering what dishes from Universal's vegetarian menu will bring us closer to godliness?
CHRISTINE: You just have to look at the latest menu online. I cook the way I like to eat. I'm health conscious and nutritionally driven, part of keeping my body wellness in tact. Because I lead a very demanding work life, that's my bent; keeping fit and having a fitness regime combined with the type of food I eat.
The swing to such obesity and disgusting display of crap fast food in Australia is appalling. The marketing for people with not enough money to eat the right kinds of food is a bit of a beef of mine, costing health services more and more money every year.
Portion size is one thing but if you're eating too much it's bordering on gluttony issues and there's eating bad food - Krispy Kremes and empty calories are dreadful for the body. When we talk about the resurgence of farmers markets and understanding where food comes from, it's a decreasing number of people that know the facts. So we need to educate our kids because over the past 30 odd years it's petered off.
Heart & Soul of Writing "Tasting India"
AGFG: In February earlier this year you hosted a 3 week tour of Central and Northern India, coinciding with the release of Tasting India in the UK and India. What has your 20 year love affair with India and its beguiling culture revealed overall?
CHRISTINE: My experience with India has evolved through years of personal travelling. I'm always on the lookout for new things and have a strong support group, including a ground operator giving me the insider information. As a travel host people are paying for that direct conduit into the heart and soul of the country that includes connecting with the local people. On the street, in the restaurant or in a rare opportunity to sit with people in their homes, it all comes about through serious networking.
AGFG: Few famous Australian chefs showcase a specialized familiarity with Indian cuisine and spice. Did you ever imagine your travel and food discoveries would unveil this area of expertise in your career?
CHRISTINE: No, I experience something new every time I revisit, explore and eat in India. A sense of adventure is required as India tends to polarize people, you love it or hate. Some tentative travellers become open and receiving and break down their misconceptions. The bigger story comes through understanding its extraordinary diversity and I encourage people to experience it and feel its essence.
We travel with an open heart and open mind for different experiences and do not want monotone ones. I desire to throw myself off the deep end, be brave enough to go with the flow and grab every opportunity on offer.
Christine has recently released two books, Fire & Spice(Penguin Aus, 2012) and Tasting India (Penguin Aus, 2011).