Island indulgence
With a strong food and wine culture, Tasmania knows taste. Producing some of Australia's best quality fruits, meats, seafood, wine and delicacies such as black truffles, leatherwood honey and cheese, this state is a foodie's paradise. Demand from interstate and international restaurants gives Tasmania a cut above the rest for food tours so why not loosen that belt buckle and let your tastebuds go on a holiday of their own with a Tasmanian gourmet weekend?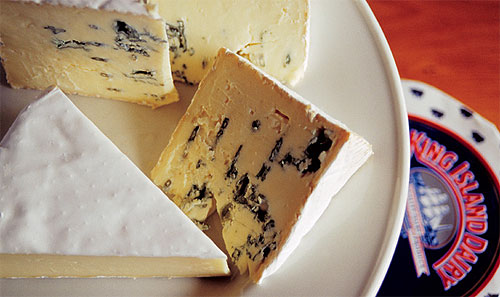 What are some of Tasmania's gourmet goods?
The world's largest supplier of abalone, Tasmania flourishes in seafood production, due to its wild, unspoilt coastline and pristine inland waters. Crayfish, mussels and scallops are harvested in Tasmania from the Southern Ocean, with the only farmed salmon in the world that does not require treatment to remove impurities. Just as renowned for high quality beef, Tasmania has banned the use of hormones on cattle, the result being some of the finest meat products in Australia.
Delicacies and niche foods are nothing new to the small Tasmanian shores, having been specializing in luxurious – not to mention delicious – products for years. Honey, chocolate and fudge are just some of Tasmania's gourmet treats, alongside wasabi, saffron and olive oil.
For those who really want to indulge, a trip to King Island between Tasmania and Victoria in the Bass Strait will have you feeling like the cat that got the cream. And aptly speaking, cream is just one of the many products King Island specializes in, home to one of Australia's best known dairy fromageries that produce a variety of mouthwatering cheeses, yoghurts and desserts. King Island is also a seafood lover's dream, where everything from oysters to king crabs are caught in abundance.