Salads don't have to end with Summer - cauliflower, broccoli, Brussel sprouts, potatoes, pumpkin, the possibilities are endless to put a Winter salad on the plate come dinner time.
A great accompaniment for slow-cooked meats or a tasty weekend lunch, the crisp crunch of cabbage and kale or the hint of sweetness from roast pumpkin, Winter salads can add vibrancy and warmth to any meal during the colder months.
Take a look at some of our favourites this Winter: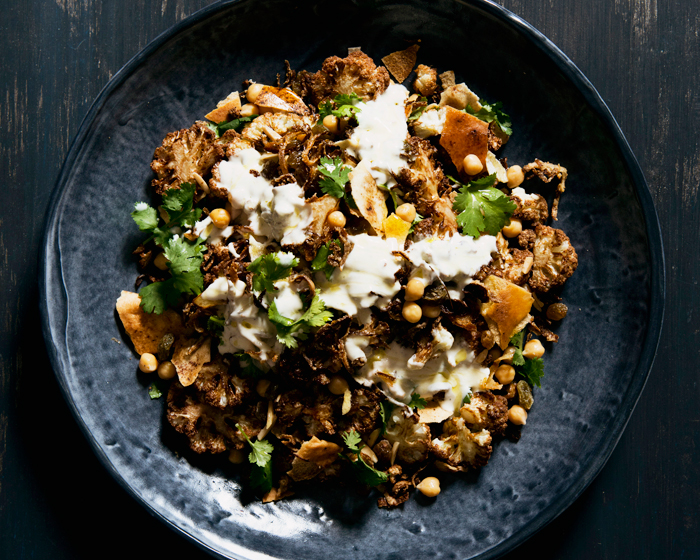 Inspired by a classic Lebanese fried cauliflower dish that is primarily eaten as a sandwich rolled up in flatbread with hummus, this recipe for cauliflower and chickpea salad with almonds, fried onion and sultanas is a Winter winner.
To cook the chickpeas, start the night before by soaking them in cold water; the following day, drain and rinse, then cover them with fresh water and bring to the boil. Reduce the heat and cook for 90 minutes or until tender, strain in a colander and toss with a splash of olive oil.
This recipe uses a tahini dressing for the fried cauliflower florets, but hummus works just as well, while slivered almonds and sultanas add texture. A great weekend lunch served with Lebanese flatbread; the salad is also an ideal side for a perfectly cooked steak of choice.
Fennel has a mild aniseed flavour and is used extensively in many cuisines, whether eaten raw, braised, baked or sautéed. A good source of vitamins A and C, it has become increasingly popular in Australian cuisine and a delicious accompaniment for roast meat or chicken.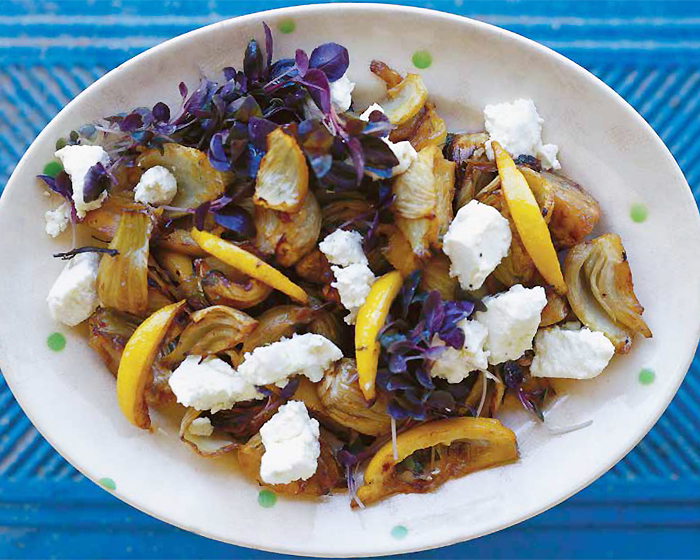 Maggie Beer's fennel with goats' curd salad is quick and easy, making it a go-to for a Winter weeknight dinner to tempt all the family. Quarter a large fennel bulb and fry in butter and olive oil to seal both sides, before simmering in verjuice or white wine until cooked through.
Serve as a warm salad, topped with spoonfuls of goats' curd and baby purple basil or chopped parsley, for a colourful and tasty dinner treat.
Everyone loves potatoes, right? How about a warm German potato salad with bacon, eggs, and tangy cider vinegar dressing to go with crunchy fried chicken and steamed broccoli to ward off Winter chills. Potatoes are in abundance during Autumn and Winter, so much so that we can easily get sick of boiled, roasted or fried ones on the plate.
Boil the peeled and sliced potatoes first until tender, but firm – drain and once the bacon has been fried in a small pan, add the potatoes to absorb all that delicious bacon fat for extra flavour. Sliced hard-boiled eggs add some extra protein, while the creamy mayo brings everything together, best served at room temperature.
The sweet bite of honey harissa dressing makes this Moroccan salad with sweet potatoes, chickpeas and red quinoa perfect to partner with lamb cutlets or chops cooked still pink in the middle. Toasted pumpkin seeds, pecan halves, fresh mint, dried cranberries and pomegranate seeds bring the taste of the Middle East to your Winter mealtime.
The sweet, nutty taste of this butternut pumpkin salad marries well with slightly sweet meats such as roasted chicken thighs, or sautéed pork chops; making it a great quick and easy partner for a family dinner. Sunflower seeds, spinach and a hit of coriander add texture and crunch, while the raspberry vinaigrette dressing combination of cranberry sauce and maple syrup is sure to tempt.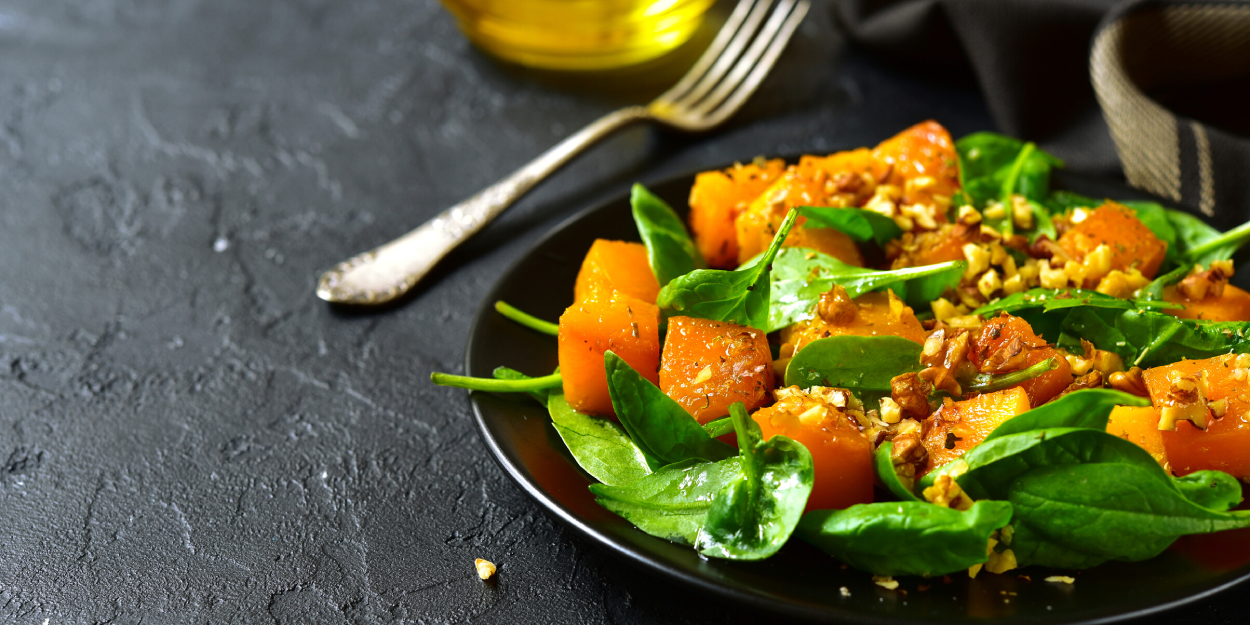 The butternut pumpkin is cubed, sprinkled with coriander and cumin and roasted, before being lightly pan-fried, tossed with all the ingredients and piled onto spinach, which has been lightly dressed with the raspberry vinaigrette.
Quinoa is one of the world's most popular health foods – it's gluten-free, high in protein and one of the few plant foods which contain enough amounts of all nine essential amino acids. Basically, a seed which is prepared and eaten similarly to a grain, this quinoa salad recipe uses lamb for protein and can be served warm or cold.
Fresh cherries, toasted pepitas and Greek feta add texture and flavour to this hearty salad - feel free to swap the protein for chicken or thinly sliced beef.
So next time you're stuck for a side to satisfy Winter hunger, think of a salad that brings together seasonal vegetables and flavours.