Spicy, rich, flavourful and diverse are words often used to describe Indian food. While many of us immediately think curry, there is so much more to this cuisine!
Due to climate differences and soil conditions, local cuisines in various regions can vary greatly from each other as they use spices, herbs and ingredients grown locally. Culture, tradition and religion also play significant roles in influencing what is served on the plate.
As Indian nationals prepare for Independence Day on August 15, we've put together some of our favourite Indian hotspots.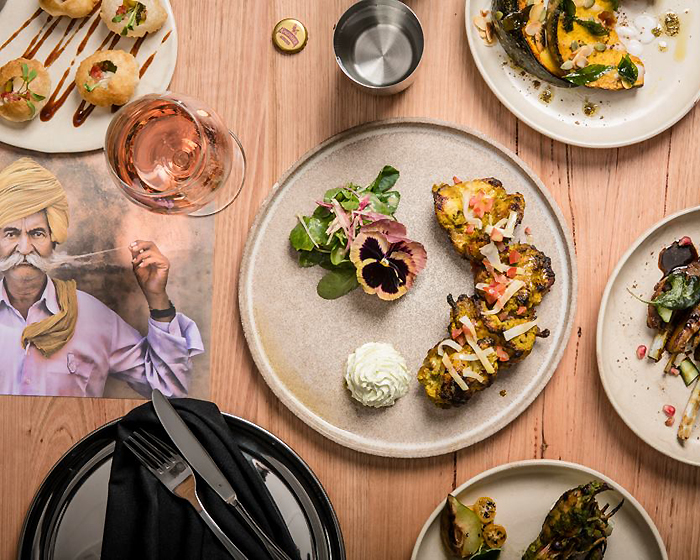 An Indian feast at Elichi.
Eat Indian in Melbourne:
Meaning cardamom in Indian, Elichi on Bluff Road in Black Rock delivers modern Indian cuisine that is second to naan. Sister restaurant to Babu Ji in St Kilda and Hawthorn's Piquancy, Elichi rocks a sleek fit out of charcoal tones, black leather and blond timber to set the mood for intimate dining and cocktails with an Indian twist.
Take a street tour with housemade samosas stuffed with spiced potato and peas; before a traditional main of Gippsland beef korma rump, cooked with roasted onions and a house spice blend, teamed with basmati rice and garlic and chive naan. Peanut butter parfait, black salt caramel and lemon appeals as a sweet finish.
One of the fastest-growing restaurant chains in the country, Dosa Hut opened its first restaurant more than a decade ago and now has outlets at Clayton, Footscray, Plenty Valley, Roxburgh Park and Tarneit in Melbourne. Considered pioneers of the Dosa culture in Australia, the venues were born out of a passion for great food, fuelled by founders Praveen Indukuri and Anil Kumar Karpurapu.
Expect snacks such as samosas and bhaji, or perhaps be tempted by a crispy masala dosa, filled with savoury potatoes, onions and spices; while curry lovers are satisfied with boneless butter chicken, cooked in the tandoor and finished with aromatic spices, cream and almonds, best paired with fried rice and roti. A chocolate and cashew dosa is an ideal treat to complete your meal.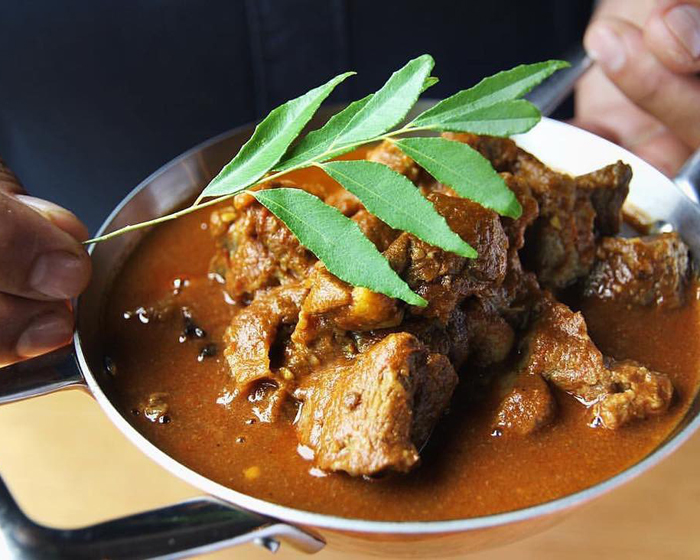 Slow-cooked goat curry at Nepal Dining Room.
Cosy and warm inside, Nepal Dining Room on Waverley Road in Malvern glows under charming lampshades, luring in guests with tantalising smells to enjoy formal dining with a relaxed ambience. A modern and bright décor with concrete floors and high ceilings awaits, along with a menu inspired by traditional Nepalese cuisine.
Expect to sample dishes like starters of steamed lamb, chicken or vegetable momos served with tomato and sesame chutney; before mains such as tender and succulent braised pork belly, with onion, tomatoes, garlic, ginger, ground cumin and bok choy, best enjoyed with basmati rice and wholemeal roti.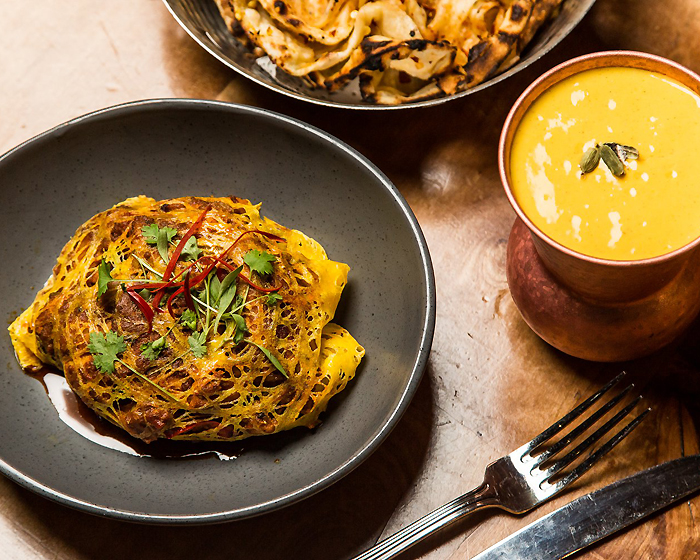 Bhoomi's Bird's Nest chicken jala.
Sydney Indian Restaurants:
Embracing the charismatic history of Glebe in surrounds of exposed brick walls and sandstone, with elegant touches of white-clothed tables, chandeliers and mood lighting, Bhoomi on Glebe Point Road is not a restaurant – it's a destination. This exotic Indian restaurant and cocktail lounge is filled with the aromas of traditional cuisine, while the clay oven brings a smoky flavour and texture to the menu.
For a hot start, choose fat green chilli pakora fingers, filled with potato mash, in a crispy Mumbai batter; moving on to Goan fish curry, with kokum petals, coconut cream, capsicum, onion, mustard and caraway. Those more adventurous may opt for crocodile meat, green chilli and garlic paste and a melange of spices, grilled to perfection on skewers.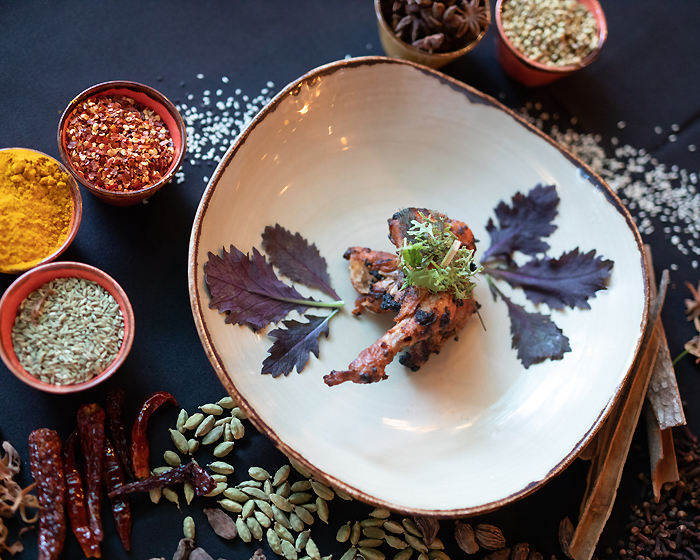 Tandoori spatchcock at Urban Tadka.
Enveloping diners in warm tones of red and black and submerged ambient lighting, award-winning Urban Tadka on Mona Vale Road in Terrey Hills delivers authentic Indian cuisine in relaxed surrounds. Specialising in North Indian, tandoori and Mughlai fare, the vast menu may include starters like stuffed pan-fried potato patties, topped with fresh mint and coriander chutney; or slow-cooked baby spring chicken.
Delve into mains such as pork junglee – juicy pork fillets, spiced pumpkin, curry leaves and North-east Indian aromatics – or agari lobster, wok tossed in a pan with mesmerising Urban Tadka sauce; joined by sides of basmati jeera rice, chilli naan, crispy pappadums, mint and yoghurt chutney.
With magical views of Darling Harbour, Manjits Wharf is the latest dining sensation offering a culinary journey to reimagined Indian cuisine. Immerse yourself in scenic surrounds at this Lime Street location in the heart of Sydney's CBD, with inspiring vistas and a creative menu like nothing you have experienced before, changing your idea of Indian fare forever.
Start your spice journey with Crystal Bay prawns, marinated in deggi mirch and tandoori spices, oven-roasted and served with fresh lemon; while for the main affair be enticed by Chef Varun's confit duck legs, slow cooked for 12 hours and finished with a fresh Indian jus, capsicum, green chillies and coconut. Curry lovers are invited to try tender Dhaba goat, cooked in a roadside-style onion and cassia bark gravy.
An extravagant interior with an uber contemporary fit out of polished concrete floors, high ceilings and a moody colour palette of charcoals await diners at Spiced by Billus on Barangaroo Avenue. After a day of sightseeing around Sydney Harbour, head to this modern Indian restaurant for flavoursome dishes to excite the senses from an authentic menu.
A magic carpet ride awaits with starters like salt and spiced calamari, drizzled with Chef's housemade chilli sauce; while signature dish Jag's lamb shank – tender braised shank with warm spices in a tomato-based gravy – appeals for a memorable main, along with whole snapper, smeared with secret spices and roasted in a traditional clay oven.
Indian Hot Spots in Brisbane and Mackay:
Brisbane foodies seeking all things Indian and delicious head to Dosa Hut Upper Mt Gravatt on Logan Road. This trendy restaurant welcomes diners indoors with reclaimed timber floors, worn brick and globes suspended on thick strands of knotted rope, while a feature wall mural extols the extensive menu for all to see.
With more than 90 varieties of dosa on offer, seat yourself beneath a bicycle mounted on the wall and tuck into a crispy crepe, stuffed full of butter chicken or palak paneer; while from the clay oven come temptations such as lamb seekh kebabs and fish tikka. For an Indo-Chinese choice, perhaps try deep-fried prawns, tossed with red chilli, bell peppers and a special blend of spices.
Suave and contemporary inside, Roshni Indian Restaurant on Victoria Street in Mackay offers a family-friendly dining experience with upmarket panache. Nestled a block away from the Pioneer River, Roshni is decked out in a calming palette of cream and earthy browns, while a well-stocked bar holds promise of tempting pre-dinner drinks.
Lamb cutlets marinated in turmeric-infused yoghurt and spices, then roasted in the tandoor are a tasty starting point; while Chef specials such as slow-cooked goat curry, or garlic chilli prawns cooked in soy sauce, honey and tangy spices present for mains, with sides of cumin and pea rice, butter naan and crispy pappadums.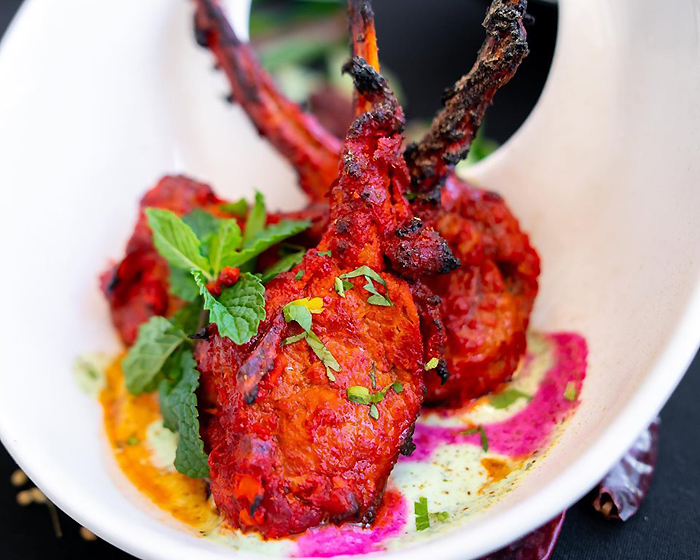 Lamb cutlets marinated in yoghurt, garlic, ginger, lemon juice and red spices at Manjits Wharf.
Canberra Indian Eateries:
Promising a distinctly modern Indian dining experience, Blu Ginger Canberra adds a dash of exotic spices to the lively dining scene of Genge Street. Featuring a vast, vibrant and contemporary interior and an impressive wine list, the menu blends local produce with spices imported from India, for a tantalising blend of classic and new creations.
Succulent baby lamb cutlets, marinated in yoghurt, ginger and garlic then broiled in the tandoor make an ideal starting point, or perhaps opt for street food like spicy vegan beetroot patties, served with mint sauce. Seafood lovers will salivate over a Kerala favourite of prawns, scallops and fish with ground coconut, onions, tomato, fresh curry leaves and mustard seeds; while Chettinad beef curry satisfies those who like it hot, not just spicy!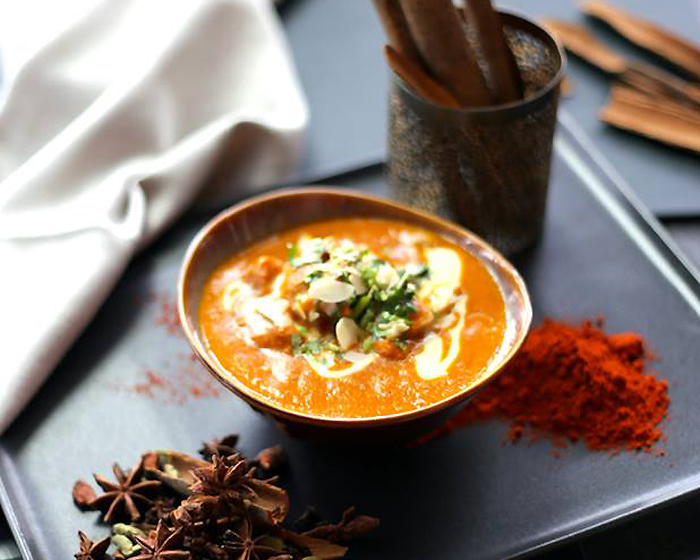 Butter chicken at Spiced by Billus.
Canberra diners have fun in chic surrounds with a distinctive wall mural depicting Indian life at Spice Affair on Kingsland Parade in Casey. This authentic restaurant is not just a place to eat, it is an ideal venue to relax with a drink of choice on monochromatic furniture under subtle drop spotlights and peruse a menu brimming with fresh produce and regional dishes.
Chef's secret recipe Amritsari chickpea battered ling fillet with lovage seeds is just one of many enticing starters, while chicken Madras cooked with roasted mustard seeds, curry leaves, exotic south Indian flavours, coconut milk and fresh coriander set tastebuds tingling as a main offering. Gulab jamun covered with sweet syrup and served with ice cream provides a sweet finish.
Eat Indian in Perth:
A fusion of Indian and Malaysian cuisine awaits Perth diners at Cinnamon Vic Park on Albany Highway. A stunning storefront of wide windows invites passersby into an elegant atmosphere of timber flooring, where an open bar is illuminated by sultry chandelier lighting, ideal for intimate gatherings. Those looking for a casual catchup can meet in the alfresco alleyway with a feeling of eating on streets abroad.
Share a platter of vegetable pakoras, onion bhaji, samosa, chicken tikka and seekh kebab to begin, then opt for house specialty baby goat curry, cooked in Chef's special herbs and spices, with aromatic saffron basmati rice and whole wheat paratha. Cool things down with mango-pistachio kulfi, or highly recommended cinnamon milk tart.
For more Indian restaurant recommendations near you, click here.