By Leigh O'Connor.
As a young boy growing up in the Hunter Valley, Thomas Boyd would come home from school to watch cooking shows and try to replicate their recipes with whatever his Mum had in the cupboard.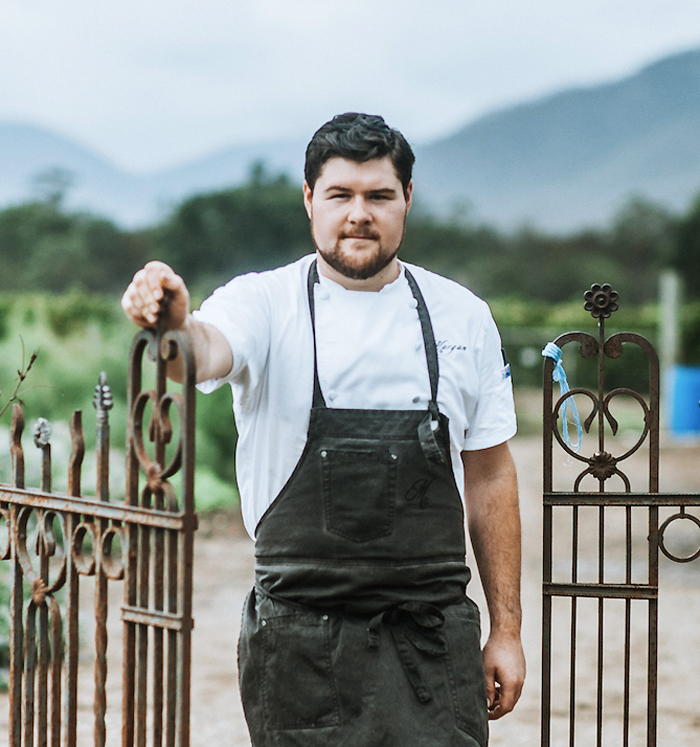 Now years later, he is Head Chef at award-winning Margan Restaurant, in his element working with the riches of the abundant Margan Estate, to create dining experiences which provide each visitor with a unique sense of place.
Nestled within the vineyards of Margan Winery, this fine diner embraces the beautiful rural setting on Milbrodale Road in Broke, where breathtaking views of the vines and Brokenback Range add to the classical surrounds of white tablecloths, fine cutlery and a European-inspired menu.
"It wasn't until I went on work placement for school that I decided I wanted to be a Chef," Thomas says. "I loved the creativity, the challenges and being proud of the work I was completing. I was lucky enough to be seriously nurtured at the beginning of my apprenticeship and was well taught, which provided me with a great foundation."
Thomas began his journey at Margan in 2013 as a second-year apprentice, when he was named Apprentice of the Year by the Australian Culinary Foundation. His passion for his craft saw him progress through the ranks of the kitchen, working his way to become junior Sous Chef.
He was then presented with an incredible opportunity – a job at London's two Michelin-starred restaurant The Ledbury, alongside renowned Chef, Brett Graham.
"Working in London, I learnt a lot about myself and how to work under pressure. Yes, I learnt technical skills but what has stuck with me are things like communication, handling stress, teamwork, consistency and integrity."
After some time eating his way around Europe, Thomas felt it was time to return home to the Hunter, Margan and its 'estate grown, estate made' ethos.
With a menu based around the estate's one-acre kitchen garden, the majority of what is served on the plate is grown on site, as well as rearing their own lamb, free range chickens and beehives for honey.
"I love taking guests to the garden after their meal and they can see the produce they had for lunch," he says. "We differ from other restaurants as we are based around fresh, seasonal produce which we grow ourselves. We have a full-time gardener to ensure the menu has a wide range of quality vegetables all year round.
"The business is essentially a farm that provides produce to the restaurant and we are very much at the mercy of the seasons and weather. While we strive to produce as much as we can on site, what we can't we source from within our region and ensure these farmers or providers share our sustainability philosophy."
Environmental sustainability is important to Thomas and he is always trying to find new ways to reduce waste and adhere to that plan in the kitchen. Some of Margan's initiatives include a glass crusher for all wine and beer bottles, while the oil from the kitchen fryers are turned into bio diesel.
There's also a rainwater catchment, solar panels for power and a seriously comprehensive recycling system.
"Our most recent inclusion is our Close Loop System; this machine processes all of our waste, including protein and small bones," Thomas explains. "The bioproduct, after it's been sent away for testing, is then rehydrated and added to our compost system, which eventually ends up back on the garden to provide nutrients to the soil."
So, what makes Margan Restaurant the complete destination for wining and dining?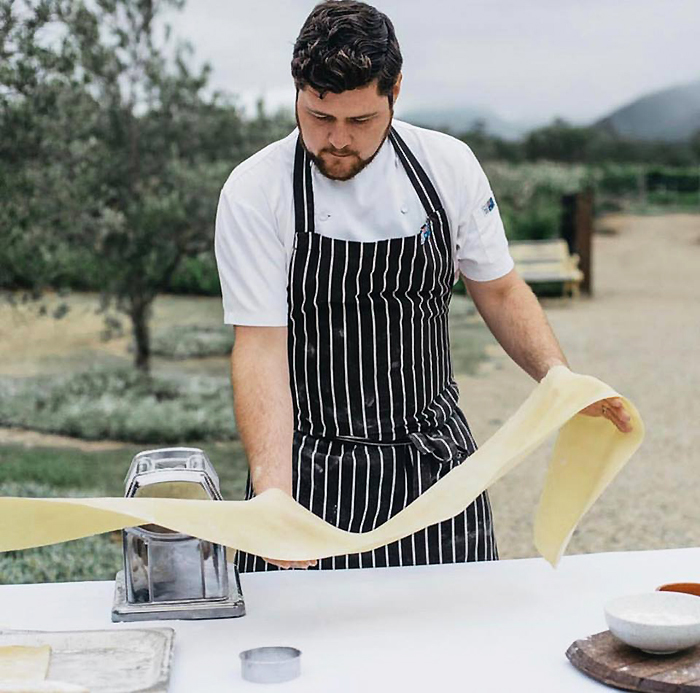 "Being able to sit in a restaurant with a glass of wine, where you can see where the grapes were grown and the wine was made, enjoying a meal where you can wander through the garden where the produce was grown with a view of Brokenback mountain range sounds like a complete food and wine destination to me!
"We want people to feel relaxed and at home when they are dining out, but with quality food and friendly and intuitive service."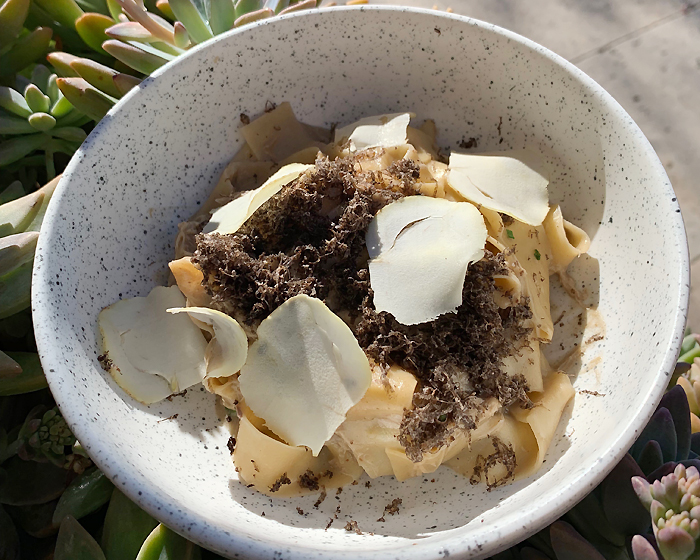 Thomas's recipe for rabbit, pappardelle, chestnut and black truffle is inspired by the current truffle season.
"We source our truffles from Anne and Denzil at Tarago Truffle, just outside of Goulburn; while we make the pasta using our own chicken eggs, which produces a very rich style of pappardelle. Rabbit isn't something we use of lot of, as it is one of those things that has to travel. However, the truffle, chestnut and rabbit are just a perfect combination."
An ideal wine pairing for the dish is Margan's 2018 White Label Chardonnay, which has a lovely acid structure and fruit as well as some oak complexities, which are able to stand up to the truffle and rabbit.
One of Thomas's favourite food and wine combinations at the restaurant is honey parfait with thyme and macadamia, with a glass of Margan 2015 Botrytis Semillon. The dish is made using local macadamias, estate eggs, honey from the beehives and thyme from the garden.
"It has a delicious dacquoise base and a light honey flavoured centre," he says. "The dish isn't overly sweet and the Botrytis has a nice balance of acidity and sweetness, so they complement each other."