There is no doubt that we're a nation of meat eaters and producers – in fact, we rank among the highest sellers and eaters of meat in the world, according to several surveys conducted over the past two years.
We not only love our beef, but lamb is also high on our list of desired plates of meat, as we consume on average about 94kg per person each year. Whether grilled, barbequed, roasted or stir-fried, most of us enjoy being a carnivore most days of the week and eating out is no different.
There are restaurants all around the country devoted to serving the best steaks, lamb and pork dishes they can create. Here are some of our favourites: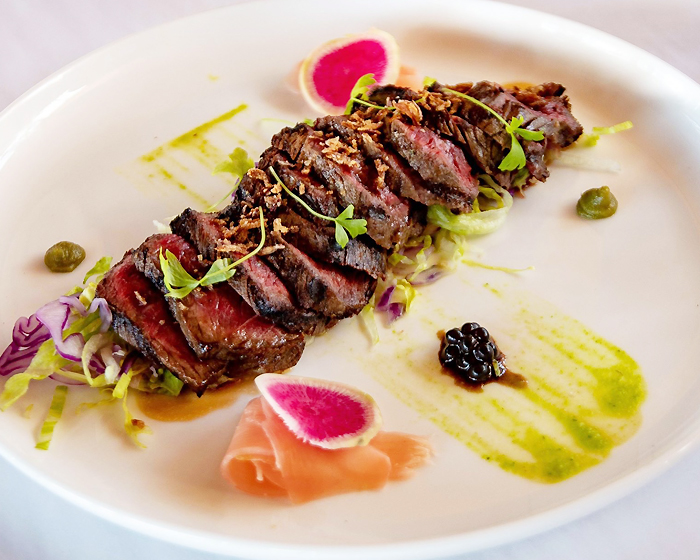 Steak at Black Angus Grill (credit: The Marina Village Sanctuary Cove).
Let's Eat Meat in Bundaberg and Sanctuary Cove:
For a steak to remember, Bundaberg locals and visitors head to Eleven Acres on Branyan Drive for a complete wining and dining experience in a charming, rustic ambience surrounding guests in style. Born out of the challenging floods which devastated the area in 2013, the venue also offers boutique accommodation for those who decide to stay the night.
Lunchgoers can wrap their hands around an Eleven Acres double, made with Australian beef, burger sauce, cheese, onion, tomato, Acres pickles, iceberg lettuce and bacon jam, with 'skin on' fries; while evening diners can slice a knife through a perfectly cooked 300g Black Onyx rib eye, with potato, mushroom and blistered cherry tomato.
An idyllic place to relax perched beside the marina's glistening waters at Sanctuary Cove, Black Angus Bar & Grill on The Promenade specialises in steak and seafood, as well as a range of gluten-free and vegetarian options. On balmy Gold Coast days, dine alfresco and take in peaceful views as boats glide past while sipping a glass of choice from an extensive wine and liqueur selection.
Perhaps start with sticky beef rib, with spicy BBQ glaze and sweet potato crisps, or crispy skin pork belly, kimchi slaw and Szechuan sauce. Opt for a specialty hot rock and cook your own eye fillet at the table, accompanied by fries, garden salad and choice of sauce; or delve into the likes of braised beef cheek, cauliflower puree, red cabbage, cherry tomatoes, duck fat potatoes and jus.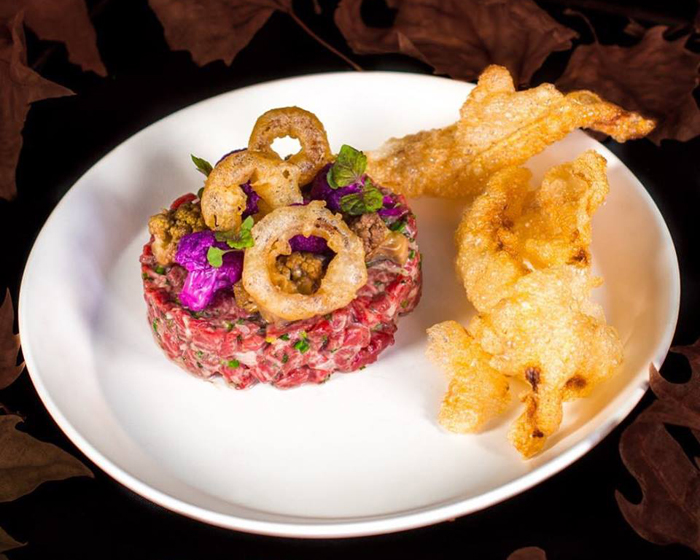 Steak tartare at Steer Dining Room.
South Yarra, Red Hill and Portland Meat Restaurants:
Showcasing Australian beef such as Black Angus and Wagyu cooked to perfection, Steer Dining Room on Claremont Road in the foodie hub of South Yarra embraces a paddock-to-plate philosophy, mixed with hints of the vibrant flavours found in Asian cuisine. A jazzy, moody vibe awaits as diners step through the door, ready to contemplate a menu boasting the very best meat, with a variety of flavour profiles.
Start with Wagyu rump cap tataki, served with pickled vegetables, ginger ponzu broth and fresh Tasmanian wasabi; before delving into venison loin and shank, with beetroot textures and saltbush, with sides of potato mash and charred cauliflower, mustard oil and smoked macadamia pesto. Steak lovers are appeased with Scotch fillet, Porterhouse and rib eye options, cooked your way.
A charming and historic old post office on Cliff Street is home to Clock by the Bay restaurant, just a short stroll from Portland Wharf. It's hard to miss this grand two-storey venue, standing on Bentinck Street roundabout, with tall arched windows and terraced balcony, while inside embraces diners in a warm ambience as they enter.
A Modern Australian menu of mouth-watering offerings showcase local produce from course to course, with entrees like Angus beef tartare, togarashi, sesame aioli, coriander and crisp rice; while mains present plates of Clock's pepper steak, Tuscan cabbage and Shiraz jus, or lamb rump, with cumin puree, sheep's milk and curry leaves.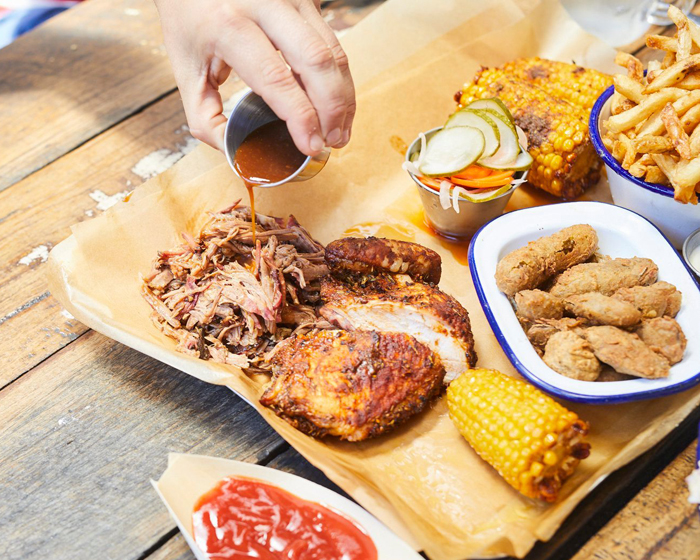 BBQ spread at Red Gum BBQ.
Team slow-cooked succulent meat with craft beer and Mornington Peninsula wines at Red Gum BBQ, on Arthurs Seat Road in Red Hill. Australian-smoked, American-style meat, along with Southern sides and sauces, awaits diners at this rustic barbeque and beer hall, where dried plants suspend from the ceiling on ropes and chunky recycled timber tables overflow with plates of deliciousness.
Get ready to roll up your sleeves and chow down on Pitmaster Martin Goffin's fall off the bone beef ribs, mac 'n' cheese, crunchy pickles, golden cornbread and creamy slaw; or dig into a tray of pulled pork, with smoked Portobello mushrooms, chipotle butter, broccoli salad and Grandma's cobb corn, with Creole butter.
Wollongong and Mayfield Meat Destinations:
Follow the aroma of wood-smoked meat on the grill to Steamers Bar and Grill on Marine Drive in Wollongong. A smart blue and white nautical theme with hanging brass lanterns and blond wood furniture along with sparkling sea views evoke memories of ocean side holidays, while tastebuds salivate over grass-fed Tasmanian Pinnacle tomahawk steak, cooked on the bone, ideal for sharing.
In chillier months, opt for slow-braised lamb shoulder, smashed potatoes, greens, dukkah carrots and jus; or wood-fired sticky beef ribs, with Steamers' special sauce and fat chips. Want a little taste of seafood? Opt for surf and turf and add fried calamari, split King prawns and ponzu oysters to ribs and sliced sirloin, with chilli relish, lemon and chips.
The alchemy of slow and low cooking is on show at Texas Bar-B-Q Grill on Industrial Drive in Mayfield. Stop by for a classic cocktail, craft beer or wine for a date night, or enjoy a family feast at this casual and welcoming new restaurant, part of Wests Mayfield, where there's something on the plate for everyone in trendy and eclectic surrounds of graffiti-style wall murals and communal tables.
You'll be drooling over a vast menu of smoked ribs and wings, burgers, pizzas and prime-grade, hand-trimmed and naturally aged steaks, along with classic steakhouse sides, seafood and desserts. Kick start a BBQ bonanza with American pork ribs, house pickled vegetables, coleslaw, steak and sweet potato fries; while serious carnivores won't go past the Rattle Steak – 18-hour slow-cooked ribeye.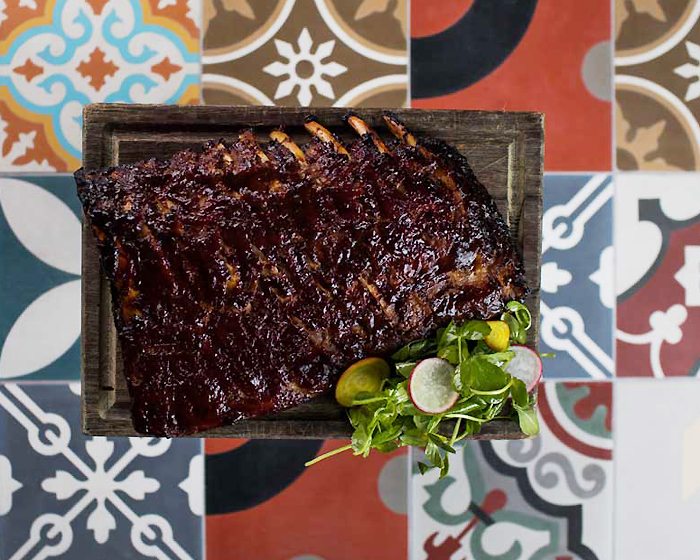 Ribs at Texas Bar-B-Q Grill.
Time for Meat in Bayswater:
Cooked on site in 'Ole Hickory' – a smoker made right on the banks of the Missouri River – Porkies BAR-B-QUE on Railway Parade in Bayswater is the place to go for sticky-fingered, lip-smacking good ribs and icy beer. All meat is sourced locally, smoked with Australian hardwood and slathered in signature sauces, designed to complement Porkies' spicy rubs.
Grab a booth or pull up a black and red chair and tuck into a Porkies' Platter of a full rack of ribs, half a chicken, pulled pork, sausage, apple slaw, creamy scallop potatoes, a gourmet salad and crispy mac and cheese. Those with lighter appetites may opt for The Orgasmo sandwich, with beef burnt ends, Sagie sauce, ranch and nacho cheese, served with apple slaw, dill pickles and fries.
Enjoy Charcoal Grilled Meat in St Morris:
Tempting aromas waft from the charcoal grill as diners indulge in smoky sensations at Hoosegow Charcoal Restaurant on Magill Road in St Morris. A popular venue inspired by exotic tastes of Latin America and Asia, dine surrounded by vibrant red, pink and orange hues, dark timbers and colour artwork, from a menu, embracing fresh, local produce and fiery chillies.
Cooked on crackling Mallee Root charcoal to seal in enticing textures, embark on a flavoursome journey with a meat plate for two – guajillo lamb rack, slow roast soft pork belly, 8-hour smoked beef brisket, signature chilli chicken, Spanish chorizo, patatas bravas with smoked chipotle aioli. Steak lovers can chow down on a Scotch fillet, fat chips and smoked, spicy tomato relish.
Hobart Meat Hot Spot:
Boasting a colourful history and housed in a convict-built building, Ball & Chain Grill restaurant on Salamanca Place in Hobart appeals to both locals and tourists alike, attracted to its casual vibe. Emanating a charming, old world-style from the stone building's historical prominence, take a seat among rustic timbers and peruse a Mod Oz menu championing meat, carefully chosen from local farms.
Grilled over charcoals to release the natural flavours, choose a specialty steak such as Porterhouse, with hot pepper creamy sauce and a side of char-grilled vegetables; or try comfort food such as tender, chunky lamb shanks, served on potato mash, enhanced by a tasty rosemary and red wine sauce.
Meat Canberra-style:
Giving pub fare a make-over, The Old Canberra Inn is a family-friendly hotel along Mouat Street, dating back to 1857. Enjoy a piece of history in the heart of Lyneham, as The Inn radiates warmth with lounges by two cosy fireplaces and décor from recycled railway sleepers, while three beer gardens and two equipped function rooms, ensure events are well catered for.
Using MSA grass-fed beef, an inhouse smoking machine delivers succulent high-grade meat with a smoky flavour, as seen in plates like rib eye and mushroom sauce, with garlic mash, grilled corn and jalapeno butter. For those more adventurous, perhaps try rare pan-fried kangaroo fillet, with beetroot jam, hand cut chips and mixed green salad.