From the waters surrounding Australia comes a diverse bounty of unique taste sensations, which have seafood lovers salivating at the thought of lobster, prawns and oysters.
Whether you reel in a fresh fish yourself to cook on the barbeque or are lured in by offerings plated up every night at a local eatery – there's no denying Aussies love their seafood.
Take the ocean drive from water to your plate and drop a line at some of our favourite seafood restaurants.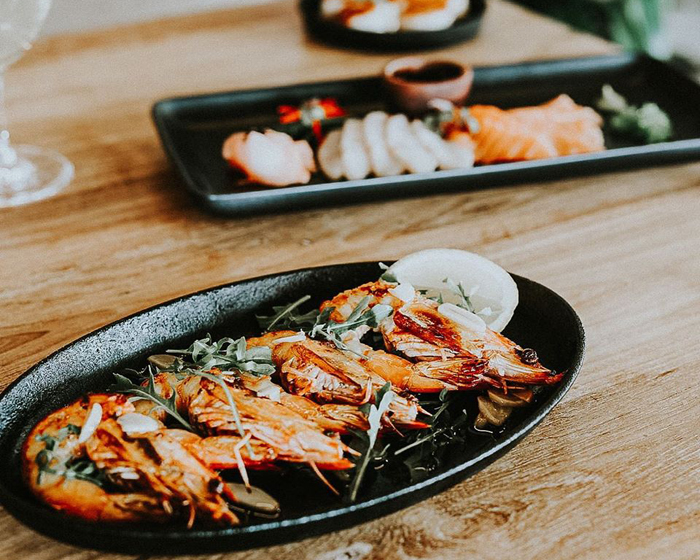 Cooked King prawns at Beef & Beach.
Sydney, Batehaven and Byron Bay Seafood Hot Spots:
Absolute beachfront restaurant Zimzala on the Esplanade in Cronulla blends award-winning seafood with a relaxed and stylish atmosphere, as guests watch surfers conquering rolling waves through bifold windows, while sipping a refreshing drink. Find solace with the sand between your toes and the big blue lapping at your feet from breakfast until sunset, when a Beach Bum cocktail of vodka, Paraiso, lime, lychee and passionfruit is the order of the day.
Sydney rock oysters with champagne vinaigrette, finger lime and salmon roe are an ideal first-up catch, before reeling in a main of Cone Bay barramundi fillet, soba noodles, baby bok choy and lemongrass broth.
There's nothing like the aroma of fresh seafood cooking on a Josper grill to whet the appetite for a Summer feast at Beef & Beach on Jonson Street in Byron Bay. Natural timbers, antique brass and polished concrete, alongside two balconies to take in sea breezes and an intimate dining area, make this coastal restaurant ideal for every occasion.
Grilled octopus tentacles, steamed Kipfler potatoes and a side of black olive tapenade entices as a starter; while lobster tail Josper-seared in creamy garlic sauce with fresh lemon, sweet potato chips, heirloom tomato, garden leaves, pickled eshallots, lemon and oil dressed salad and roasted garlic aioli is sure to be catch of the day.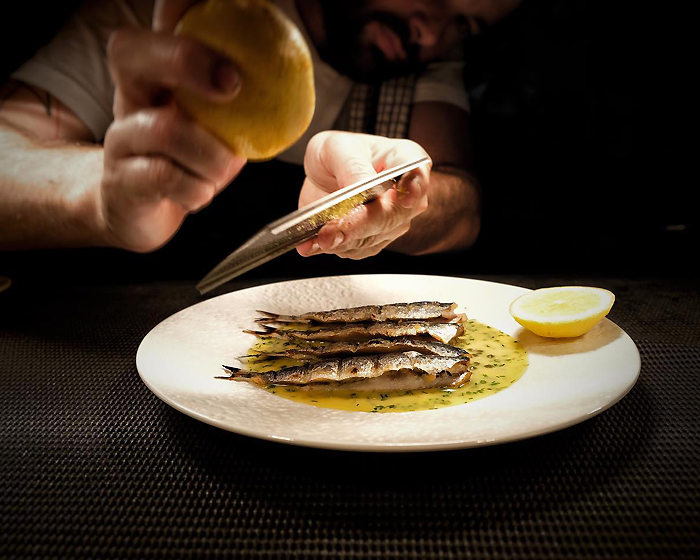 Sardines, capers, dill and organic lemon zest at Moxhe.
With a concept of serving wild species to diners, Moxhe on Macpherson Street in Bronte brings the diversity of the Sydney fish market to the table. Staff net sustainable and line caught seafood, as well as live crustaceans, from the market daily to be served up in a sleek ambience of banquette seating and cosy wood tables for two under the glow of copper globes, while stacked wine racks adorn an end wall.
From a daily changing menu, expect to hook plates like zucchini flower, red gurnard mousseline, pipis and nori, or New Zealand alfonsino, with Spring vegetables and chickpea panisse; finishing indulgently with banana gelato, white sesame praline chou and coffee.
Best slurped sitting alfresco at black table settings not far from the water, there are no more juicy or fresher oysters in Batemans Bay than those at Berny's on Beach Road. The succulent shellfish come from Berny's own oyster leases on the Clyde River, while almost everything else on the old school menu is housemade from hand-cut chips to prawn cutlets, skewers and calamari rings.
Prawns are sourced directly off the trawler in Cairns, cooked on the boat and snap frozen, ensuring freshness; best enjoyed with a catch of battered or grilled Grenadier, Dory, perch, flathead or flake, alongside potato cakes, Tassie scallops, battered savs and salt and pepper squid. Want to enjoy the fresh air? Take your feast to the park across the road – just bring cash as Berny's doesn't take cards but does have an ATM on site.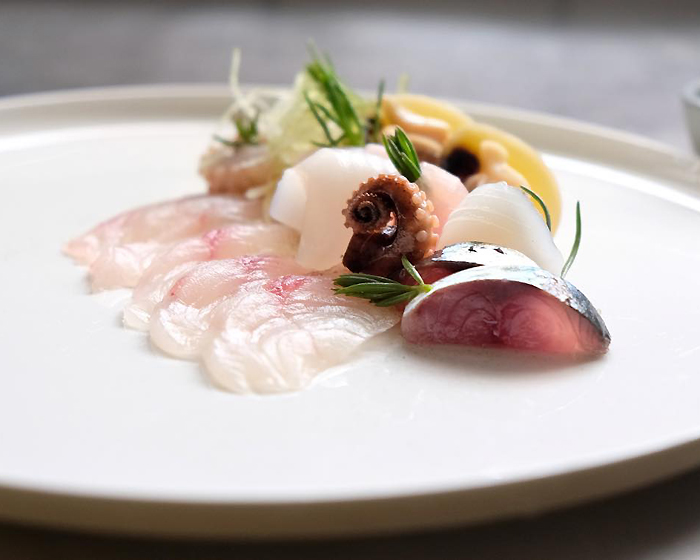 Diverse choices on the RAW menu at Moxhe.
Sensational Seafood in Noosa, Newstead and Mudgeeraba:
What better way to surf the seafood wave than on a luxurious sunset cruise and three-course a la carte meal while surveying the stunningly beautiful Noosa waterways aboard Noosa Cruiser Restaurant. Say ahoy as you come on board this boat, purpose-built for river cruising in relaxed, yet refined surroundings, whether enjoying a champagne breakfast, leisurely lunch or romantic dinner.
Geoff the Chef casts his net wide to discover sumptuous seafood to be cooked fresh on board, from juicy Atlantic salmon and seafood platters to salt and pepper squid, fresh prawns, oysters and mussels. Tempting desserts complete a cruisy way to not only satisfy appetites but also soak up the best way to see Noosa, with a sundowner cocktail in hand.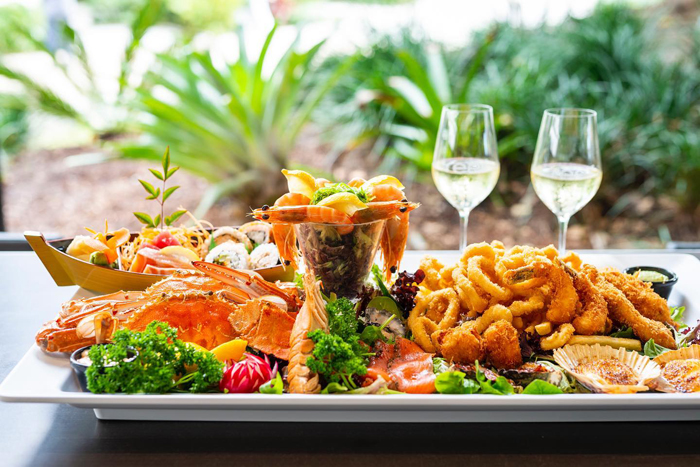 A delicious seafood platter at Reef Seafood & Sushi.
For a Japanese twist on the freshest seafood available, swim on over to Reef Seafood & Sushi on Skyring Terrace in Newstead. Soak up the Brisbane sun as balmy breezes rustle trees while sipping drinks under market umbrellas at this alfresco eatery nestled in the Gasworks Plaza and ponder an East meets West menu of seafood and sushi.
With their own crabbing boat, this family-owned restaurant, sushi bar and mini fresh seafood mart dishes up everything from sashimi and sake to fish and chips with white wine. Set sail with tempura oysters and tendashi, or crumbed yellowfin tuna with anchovy sauce; then cast your net over mains like whole crispy John Dory with pepper ponzu sauce, chips and salad, or a signature share platter.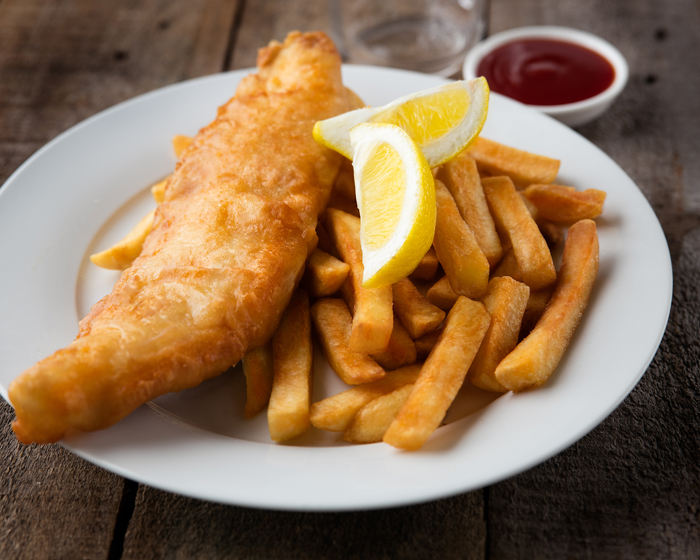 Classic battered fish and chips at Mudgeeraba Seafoods.
Drop anchor at one of the best fish and chips shops on the Gold Coast and around the country at Mudgeeraba Seafoods on School Street. Don't be shy, come on by for freshly cooked seafood at this locally-loved eatery and admire custom décor hand-painted by Australian bush artist Damon Pettit, while sipping a milkshake or espresso coffee.
Seafood is sourced daily from Australian and New Zealand waters, before being battered, crumbed or grilled to order; alongside a range of salads like coleslaw, Caesar, Greek and other seasonal varieties. A must try are the housemade calamari curls – prepared with love, marinated in secret spices, lightly crumbed and then fried until golden brown.
Chill out in an open, contemporary coastal design kept at the cutting edge with regular renovations to maintain a trendy reputation and lure stylish Noosa locals and visitors into Bistro C on Hastings Street. This waterfront restaurant and bar is the ideal haven for ocean breezes, seasonally changing seafood dishes and local produce, while sipping a chilli and coconut Margarita.
Cast a wide net over entrees of ponzu glazed tuna tataki, with seaweed, shaved radish and wasabi leaf salad, freeze-dried yuzu and native lime-avocado oil; then dive into mains of Atlantic salmon, grilled nduja polenta bianco, Tuscan beans, celery heart, confit garlic, capers, watercress, shaved fennel and olive tapenade.
Tantalising Tasmanian Seafood Restaurants:
Tasmania has an abundance of fresh seafood from oysters to salmon and everything in between – it's all on the menu at Brisbane Street Bistro in Launceston. Born from a love of good food, this bistro delivers the flavours and textures of the Apple Isle to locals and visitors alike, from an old-world building where elegance and refinement go fin to fin with fine fare.
Embracing an ethos that good food – like good thoughts – are best when they are concise, expect a menu anchored by carefully chosen ingredients as seen in entrees like cured kingfish, grilled King oyster mushroom, toasted pine nut, rice wine pickle dressing and soft herbs. Float into mains such as grilled market fish, confit chicken wings, XO broccoli, sweet corn puree, pickled turnip and ginger butter sauce; or opt for the degustation menu.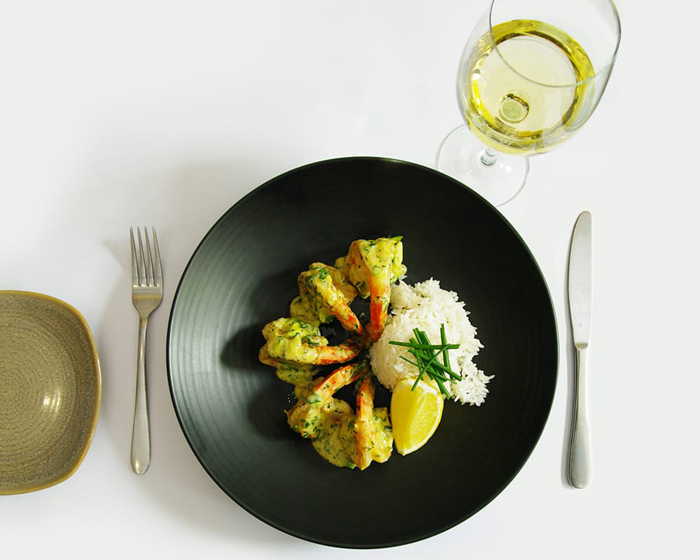 Garlic King prawns at Box Seafood Restaurant.
Fish for Seafood in Melbourne:
Dive into Melbourne's CBD to fish for great seafood at Box Seafood Restaurant on Collins Street. White clothed tables set with flowers, vibrant artwork and plush drapes set the scene for catching fresh fish and shellfish, creatively prepared by a dedicated team of Chefs for your dining pleasure.
Bait your appetite with starters like a King prawn cocktail, with watercress citrus salad and housemade sauce, or scampi spring rolls with mushroom soy and Thai sweet chilli dipping sauces; while Moreton Bay bug halves, pan seared with garlic, ginger, chilli and spring onion, served with steamed jasmine rice may entice for the main course.
With phrases from celebrities about fish and chips plastering the walls, Rock Salt & Vinegar on Smith Street in Collingwood is the place for classic seafood dishes. A dark blue façade invokes visions of the ocean, while indoors a glass cabinet displays the freshest, sustainable seafood on offer; ready to be grilled, battered or crumbed to perfection.
Thai-style octopus with coriander, lemongrass, ginger and chilli, served with chips and salad, may tempt some guests; or perhaps grilled barramundi, mixed lettuce, tomato, cheese and housemade tartar sauce, hits the spot. Those time poor can grab a Family Feeder pack to go – battered fish, seafood sticks, potato cakes, calamari rings, pineapple fritters, salad and chips.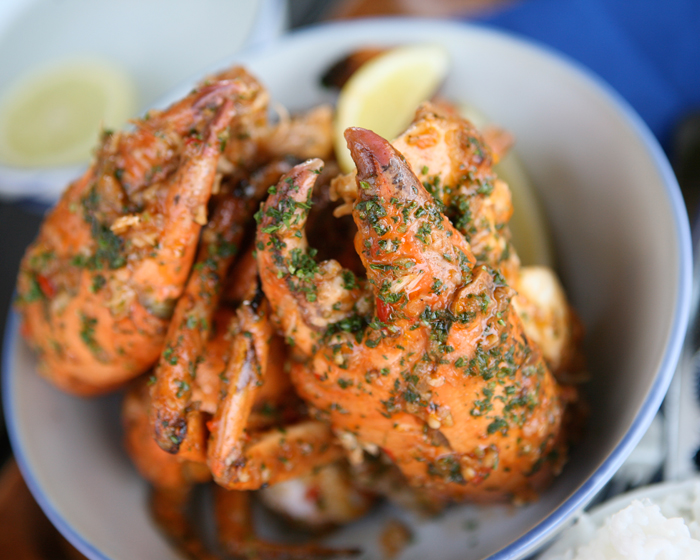 Chilli mud crab at Wharf Restaurant.
Best Seafood in Broome:
Sit on the balmy patio and take in ocean views over Roebuck Bay, or visit at sunset with a cocktail in hand and watch the sun set slowly in the western sky at Wharf Restaurant on Port Drive in Broome. Serving seafood the way it should be – fresh, local and simple – the Chefs reel in freshly caught fish to tempt all tastebuds, along with WA marron, signature barramundi wings and Kimberley crab.
Throw out a line with spicy Korean-style oysters, or jumbo battered prawns with dipping sauce; then delve into slipper lobster, grilled with butter, lemon and herbs, with steamed rice and Chef's coleslaw. For larger appetites, indulge in whole crispy reef fish when available, accompanied by Mediterranean Greek salad and chips.
Still fishing? Click here for more seafood restaurants near you.