Cast a line into Lake Burley Griffin
Native fish in and around the Canberra region swim in abundance, making it one of the best native fishing destinations in Australia. Carp, in particular, is one of the most popular catches in Canberra's local lakes and ponds, alongside a large quantity of perch, trout and Murray cod. Fortunately for all the keen fishermen and women, the ACT does not require fishing licenses prior to casting a line, however there remains some protected species in the ACT that if caught, must be returned to the water immediately.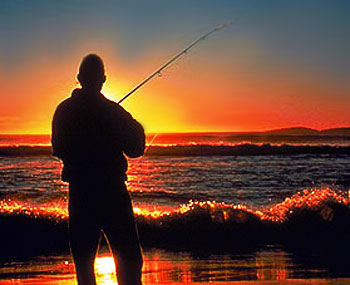 Where are some of the best fishing spots in the ACT?
One tenth the size of Lake Burley Griffin, Lake Tuggeranong is an artificially created waterway, home to Murray cod, perch and small redfin. Power boats require a permit in these waters, with lure fishing the best means of catching a bite.
Lake Burley Griffin is one of the most popular fishing locations in the Australian Capital Territory, the most common catch being carp. Additionally, catches such as Murray cod, silver perch, rainbow trout and brown trout are also found in Lake Burley Griffin, with peak fishing from early September to mid October and again from mid February to late April. Deciding where to fish around Lake Burley Griffin can be somewhat confusing and can differ throughout the year.
Supplying Canberra with drinking water, Googong Reservoir is another of Canberra's popular fishing destinations, where Murray cod and an abundance of brown and rainbow trout the prize catches. Additionally, the Cotter, Gudgenby and Goodradigbee Rivers are favourite areas for fly fishing, where rainbow and brown trout are mainly caught.
Find more of Australia's favourite fishing spots here