A seasoned traveler will always tell you that a perfect foodie holiday is a balancing act between exertion and consumption. Orange in New South Wales is the perfect landscape for just that type of holiday. Bordering on The Great Dividing Range, Orange is a stunning country town, rich in character with activities galore and an abundance of gourmet delights to be tasted. It has also made a name for itself as one of the best wine producing regions in the country. They say life is too short to drink bad wine and we say your trip is also too short to be planning on the go, so we have compiled a list of the must do's for your stay in Orange. If you're travelling to Orange during April 8 to April 17, be sure to be a part of Orange F.O.O.D Week, more information here.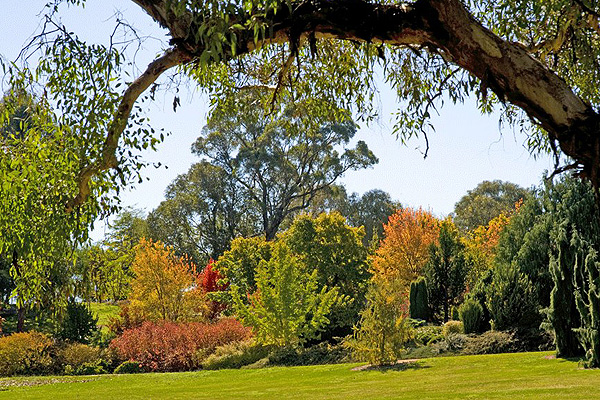 Orange Botanic Gardens:
After your travels, there is nothing more energising then going for a long walk and filling your lungs with the crisp, fresh high country air. Orange's botanic gardens is the perfect place to start your stay on the right foot. The gardens were officially opened in 1988 for the Australian Bicentenary with plantings ranging from original native and exotic trees to newly developed displays. The gardens offer various walks including strolls through the apple orchards and exotic and indigenous woodlands. The colourful heritage rose garden is set below a quaint historic church.
Millthorpe Providore:
Fresh produce is readily available in Orange, and what better way to enjoy it than by grabbing a pre-packaged picnic basket. Millthorpe Providore is a gourmet delicatessen offering perfectly brewed coffee, cheeses, delicious sandwiches, baked goods and sweet treats. You can select from a range of items to be included in your basket or simply just grab a couple of items to go.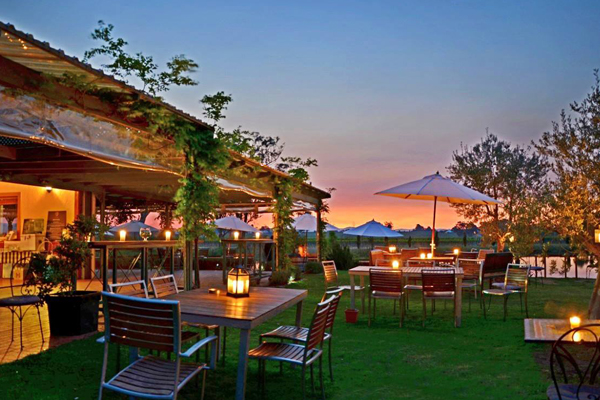 Wine tours:
Cool climates are the ideal growing conditions for many varieties of grapes. The Orange region has encapsulated this by hosting some of the best vineyards in the country. There are several types of grape varieties grown here, including Arnies, Chardonnay, Sauvignon Blanc, Riesling, Pinot Gris, Cabernet Sauvignon and Merlot, just to name a few. The Orange terroir is unique in that its grapes are grown in a region that is 600m above sea level. It is in fact the only terroir in Australia to be defined by its altitude. Taking a wine tour is the perfect way to see the best of what the Orange wine scene has on offer. For a collated list of wineries in the region, check out our Central NSW Winery section, or check out Orange Wine Tours.
Restaurants:
Pay a visit to vibrant hotspot cafe and award-winning venue, Dotted Eight Café and Studio for a kick of caffeine and a snack in Orange. A wide selection of classic and contemporary breakfast dishes are available such as baked eggs with mushroom, garlic, baby spinach and tomato relish, topped with Parmesan cheese on toasted rye, with exciting specials on rotation to tease the tastebuds.
If you're a little homesick, then make your way to Bissys café for some good old fashioned home cooking and great conversations – we suggest their delectable spread of home-made cakes and slices or perhaps pick up one of their hampers for a picnic best enjoyed on the hills of local wineries.
Don't set your sights on just inner-city Orange, as a short drive will find you on the doorstep of Chicane Bar & Grill, located in the Rydges Mount Panorama Bathurst Hotel. Chicane Bar & Grill is innovative and versatile, lending itself to occasions both casual and refined with its spacious and contemporary layout, booth style seating and chic colour palette of red, black and cream.
If it's indulgence you're after, then a dining experience at taste Canowindra should do the trick. Located in the historic township of Canowindra, this Star Cellar Door award winner offers all the warmth and comfort of a country restaurant combined with displays of the region's artistic, theatrical and musical talent. A haven for creatives and foodies, the newly renovated establishment woos diners with sweeping Belubula and Lachlan Valley views in addition to a seasonally changing menu.
For more suggestions, visit our article on the best ways to enjoy Orange F.O.O.D Week.
Orange Region Farmers Market:
If you are visiting Orange on the right weekend, a visit to the regions finest growers market is imperative. Sourcing food fresh from the farm and straight to your basket, the markets offer seasonal varieties including fruit and vegetables, fresh eggs, cheeses, olive oil, Artisan breads, an extensive range of meats including salt bush lamb and beef, cut flowers and mustards, chutneys and sauces. The perfect end to your visit, bringing home with you some of the produce delights that Orange has to offer.
By Freya Ensbey, images supplied and experiences by the AGFG Foodies.