Synonymous with comfort, British cuisine has the ability to make you feel stuffed and satisfied – and mid winter happens to be the perfect time to put our preaching into practice.
Sifting through our collection of sticky sweet tarts, pies and puddings, we have compiled our top 5 favourite British puds that we believe make you feel like royalty. Just for the record, we're pretty sure the Royals consume their desserts under blankets on the couch too...
5. Spotted Dick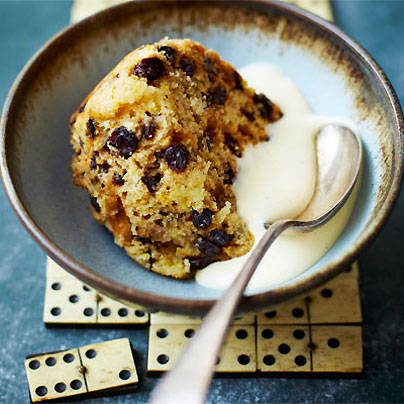 Yes yes. Once we finished having a laugh at the name we decided to give it a whirl - and the iconic boiled British pud didn't disappoint. With some of the earliest recipes dating back to 1847, this long standing favourite has many a theory of where its name originated come from, the most plausible being the evolution of "pudding" to "puddink" to "puddick" and then just "dick". Quite recently, several hospitals across Britain attempted to rename the pudding to "spotted Richard"... but the attempted political correctness never really caught on and the humorously named British dessert lives on strong.
Made with pastry dough of suet and raisins or dried fruit which is then either steamed or boiled, spotted dick is never really complete unless accompanied by custard. Find the classic spotted dick recipe here and laugh all the way to the kitchen.
If you're Irish, you may also know this as being a variant of 'spotted dog' ... but let's face it – nobody thinks that's fun to say.
4. Orange Marmalade Bread & Butter Pudding
Originally known as 'whitepot' (which we believe is a much less appealing name), bread and butter pudding is the fail proof go-to for an easy winter dessert; chunks of buttered bread, raisins and a creamy milk/egg mixture infused with winter's signature aroma (aka, vanilla, cinnamon and nutmeg). Dating back to 1845, this no fuss pud is an ever popular English favourite, limited only by the size of your baking dish.
Whatever recipe you choose, it's essential that the assembled pudding is left about an hour before cooking for the bread to be able to sit and soak up the cinnamon custard-y goodness. If the thought of white bread is too ... white bread for you, experiment with fancier flavours like sliced brioche or panettone. We're adding a little extravagance to our English dessert by going with a recipe for orange marmalade bread and butter pudding.
3. Eton Mess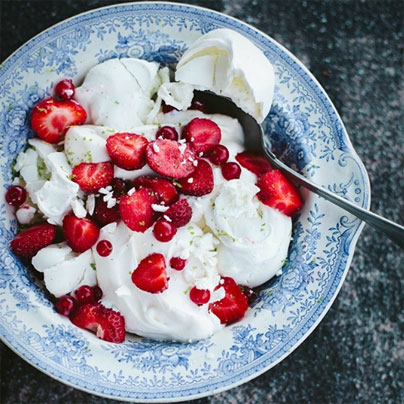 Fact: Eton mess was NOT created when a meringue dessert was accidentally crushed by a dog while travelling to a picnic – but the myth would make for a pretty interesting origin story. Traditionally created and served at England's famous Eton College, this mouth watering mash up of broken meringue, berries and cream is so easy to make – and consume. For added ease, use pre made meringues, which will leave you more time to keep spooning this brilliant British dessert into your mouth. Head over and start mashing your meringue and making a mess here.
2. Banoffee Pie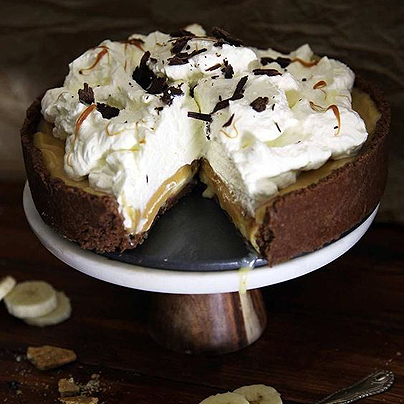 Crunchy. Sticky. Creamy. The famous banana toffee hybrid ticks all the right boxes for deliciousness and in our books, is a dessert fit for a Queen. Invented by Nigel Mackenzie and Ian Dowding (who, by the way is pedantic about the original version, detesting the use of "that horrible cream in aerosols") in 1972, the original banoffee pie veers from the use of a buttery biscuity base, using shortcrust pastry and a topping of coffee flavoured cream, delighting patrons of 'The Hungry Monk' as a staple dessert item on the menu until its closing in 2012.
We went against the warnings of banoffee inventor Ian Dowding and cheated with this one, using a biscuit base for our banoffee pie recipe – and just for the record, cheating tastes delicious.
1. Queen of Puddings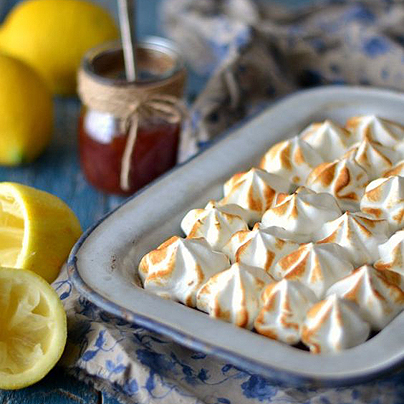 Rich, elegant and quintessentially British (just like the Queen herself), this retro British milk pudding layers together baked milk soaked breadcrumbs, jam and fluffy meringue, resulting in a right royal feast. Perfect eaten hot on a chilly night, Queen of Puddings looks just as good as it tastes and makes for a bold statement for your next winter dinner party. If you're looking to cheat a little or perhaps clean out the sweets tin, replace the breadcrumbs with left over or slightly stale cake. We're sticking to the classic Queen of puddings recipe, but this regal retro dessert can be made with a modern flourish with fresh flavour combinations like rhubarb and ginger, peach and lavender or chocolate and orange for a dash of decadence.
By Brittany George.