Friday April 8 to Sunday April 17.
Feast on Central NSW's freshest autumn produce and fine food at this year's Orange F.O.O.D. (Food Of Orange District) Week, celebrating 25 years as Australia's longest running regional food festival. Spanning the towns of Orange, Cabonne and Blayney, Orange F.O.O.D. Week is one of NSW's premier food festivals and offers more than 90 events across ten days.
Celebrate the region's cool climate produce through farm gate tours, interactive cooking demonstrations and picnics along with plenty of mouth-watering lunches and dinners by local restaurants.

For more information and social media, head to Taste Orange, run by Brand Orange. Photo by Pip Farquharson.
Get the recipe for their 25th anniversary cake here.
Kick off the festivities with a night at the F.O.O.D. Week Night Market at Robertson Park on opening night. With over 50 stalls bursting with local Orange produce and wines, there's bound to be something for everyone.
If walking tours are your thing, be sure to check out FORAGE on Saturday April 16. This pleasant 3.6km frolic will guide visitors through the region's vineyards and paddocks, with the option of sampling fresh produce along the way.
Another festival highlight is the 100-Mile Dinner, featuring dishes made with ingredients sourced within a 100-mile radius of Orange. Held in Molong's Village Green on Monday April 11, this year's banquet will showcase the collaborative efforts of chefs, cooks and vignerons from Bathurst, Canowindra, Young, Cowra, Molong, Mudgee and Orange – with the spot of dancing underneath the stars to finish!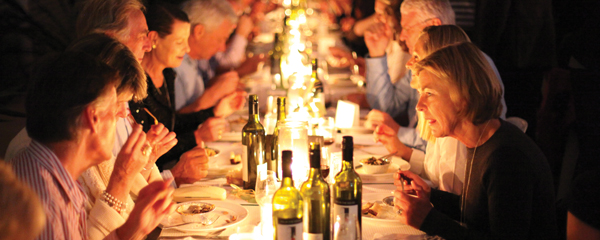 For those who would like to meet local producers and wine-growers for a more an interactive local experience, program highlights include: hunting for your lunch in a Truffiere at Borrodell Vineyard; the 'Long Orchard Feast' dinner, wine and music at The Farm Gate orchard; a holistic vineyard tour at Cargo Road Wines; 'The Foraged Brunch' farm tour and foraging adventure with The Agrestic Grocer; and a cider festival at Small Acres Cyder.
This year the festival also encompasses a series of local art and photographic exhibitions being held at the Orange Regional Gallery, The Corner Store Gallery, the Colour City Creatives Studios and Galleries, and the Good Eddy café.
"Over the last 25 years, Orange has become synonymous with quality food and produce. With hatted restaurants offering fantastic dining experiences and world-class wineries, the region has become a must-visit destination for lovers of food and wine from across the globe," said Member for Orange, Andrew Gee MP.
For more information about Orange F.O.O.D Week, visit: http://www.orangefoodweek.com.au