By Sean Melrose.
Now that St Patrick's Day is drawing close it's time to break out the inner Irishman in all of us. Let's put on some Dubliners tunes, whip up a cocktail storm using the below recipes and start jigging like a jolly leprechaun in a field of four leaf clovers. Then, in typical St Patrick's Day tradition loudly toast, "may the roof above us never fall in, and may we friends beneath it never fall out." We're going outside the box, or bottle, on this one so the Irish coffee is noticeably absent, though it's covered from every angle in our article 'Wake up like an Irishman' over here.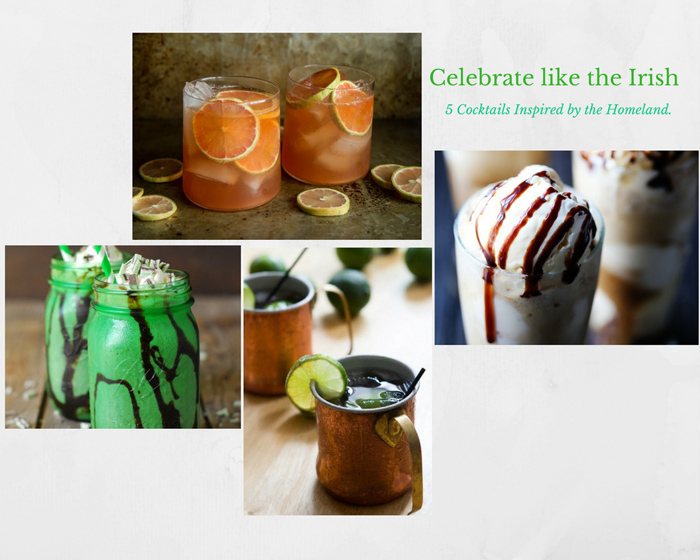 Right up there with the Irish coffee, Guinness would have to be the most recognisable Irish drink. Though Guinness is renowned for its creamy, dark wheat flavour and has legions of thirsty fans, the taste may not appeal to everyone at first sip. Which is why this float combines the sweet creaminess of ice cream with the darker, bitter notes in Guinness, creating the ideal introduction to this tasty ebony nectar. Pairings for Guinness are certainly not limited to ice cream though, the list of combinations for the black custard appear to be endless with Champagne (Black Velvet) and lemonade (Guinness Shandy), two of the more popular partners.
This one, while containing Irish whiskey also has the added benefit of being a brilliant emerald green, which will match your leprechaun hat. The idea behind people wearing green for St Patrick's Day celebrations comes from Saint Patrick, who is said to have used a shamrock to explain the holy trinity to the pagan Irish, each leaf symbolising in turn the father, the son and the holy spirit. Saint Patrick is said to have been born in Roman Britain, but was kidnapped by Irish raiders when he was 16, then after escaping returned later in life as a missionary.
The whiskey sour seems to have started out at sea, sailors using what they had, namely lemons and limes which prevented scurvy, sugar and of course rum which was safe to drink. Granted this has absolutely nothing to do with Ireland, but anything with Irish whiskey in it becomes a little Irish. Besides, St Patrick's Day can't be all green, let's stick up for the underappreciated orange part of the Irish flag for once. Aside from Jameson, Tullamore Dew and Redbreast will do nicely.
Mint and chocolate is certainly a winning combination, found in everything from After Eight Mints, to Aero chocolate bars and of course the hero of this recipe, mint chocolate chip ice cream. A glorious dessert cocktail and while the recipe says whipped cream is optional, let's be realistic . . .
A solid name for a solid drink, the Irish Mule's double shot of Irish whiskey is no doubt the supplier of a good kicking. It goes without saying that much depends on the type of whiskey, so go with your preference, Jameson is a popular go-to and they've been around since John Jameson started making whiskey in 1780. Good quality ginger beer and handfuls of fresh mint will take this over the top.