Irish coffee has not been around for as long as some may think, only making an entrance into Ireland's rich folk law in 1943. As legend has it, a flight from Shannon Airport was cancelled with the head chef of the airport nearby restaurant, Joe Sheridan, deciding to comfort the freezing passengers by adding whiskey to the coffee he was serving them. Upon being asked if they were drinking "Brazilian" coffee, Sheridan announced that it was, in fact, Irish. It wasn't long before Stanton Delaplane, an American travel writer drank one of the sweet, boozy delights at Shannon Airport, bringing the cocktail idea with him back to San Francisco, having it added to the menu of his local haunt, Buena Vista Café.
Since then, the Irish Coffee concoction has taken many forms, but one element has always stayed the same, consume too many of these and you'll be seeing leprechauns.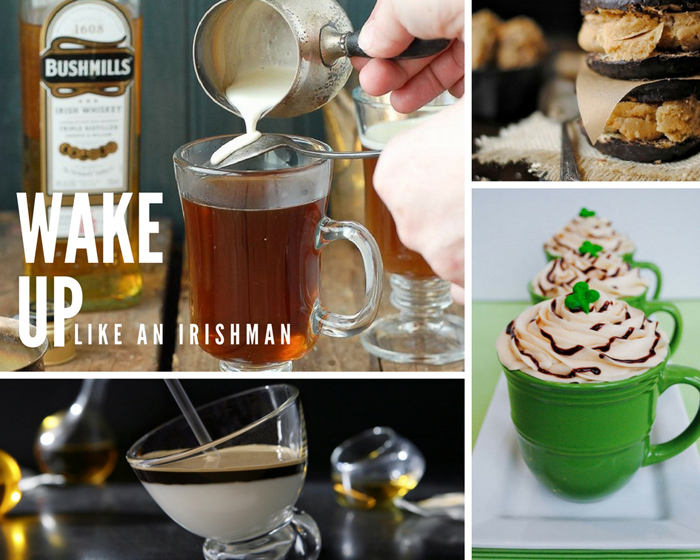 For a kick start to your day or even as an invigorative nightcap, this authentic Irish Coffee recipe is a tried and tested classic. Using warm water to prepare the glass before topping it with strong, hot coffee, stirring in granulated sugar and adding the whiskey, it's finished by slowly pouring the cream onto the back of a spoon, allowing it to flow over the sides of the spoon and float on top of the created elixir.
Enjoyed with a spoon instead of a straw, these cupcakes are a festive take on the standard cocktail and make a great option to whip up as party pleasers this St Patrick's Day. Drizzled with a chocolate whiskey ganache, these Irish inspired cupcakes are finger licking good.
Jamie Oliver's Irish Coffee Recipe
Jamie Oliver shares his expert tips and tricks to creating the perfect Irish Coffee, explaining that each stage must be closely followed to execute this classic well. Ensure the cream is not over-whipped and the coffee is piping hot and as strong as possible to combat the strong flavours of sugar and alcohol. With the number one tip for making any Irish Coffee, that it is never, ever stirred.
Lavazza's Upside Down Irish Coffee
Lavazza have shaken things up with their take on the standard Irish Coffee. The velvety soft cream of this recipe blends with the bold flavour of the warming Irish whiskey and rich Italian coffee. An ideal treat to whip up for those lazy Sunday mornings in bed.
Ok, so this isn't an Irish Coffee as such, but one cannot devour an aperitif without having a little treat or 'tree' to follow. These doughnuts are served cut in half, spread with Nutella and topped with smooth coffee ice cream, satisfying any sweet tooth.