By Sean Melrose.
In light of upcoming St Patrick's Day, we caught up with Irishman come Aussie celebrity Chef Alastair McLeod, to talk favourite recipes. For Alastair, there are some hard and fast rules to making something his favourite, you can't have any old dish, it has to pass through a vigorous screening process. It's about story and simplicity, not to mention the three most important things: produce, produce, produce.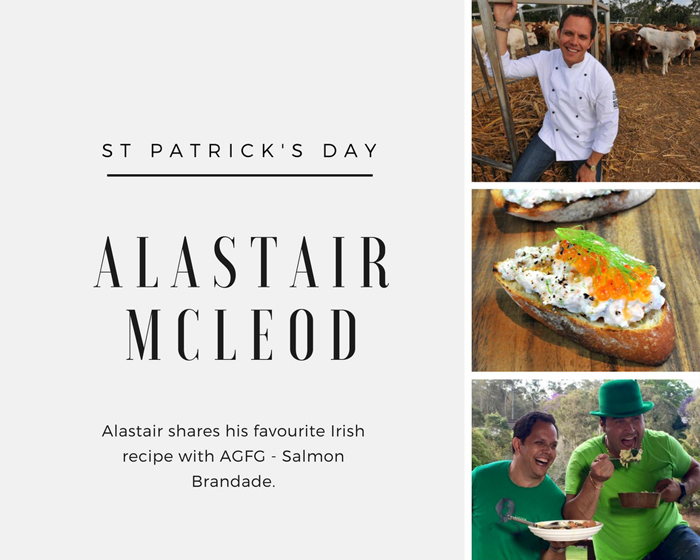 The Why . . .
"Choosing my favourite dish is easy. It's salmon brandade with Irish wheaten bread and caviar. Contemplating why requires a bit more reflection."
The Process . . .
"It's paramount that I enjoy preparing it; in fact, I never tire of cooking it. Once that zeal is compromised, so is the flavour."
The Story . . .
"Next it has a story. The dish was born in Provence, the home of brandade de morue where I spent time 20 years ago. The salmon nods to the wild salmon that live in the lattice of rivers, streams and tributaries in Ireland."
The Produce . . .
"I use fresh local salmon, verjuice made on the Granite Belt, oil from Millmerran, flour from Greenmount, buttermilk from Gympie, herbs from my garden and caviar hand milked on the Rubicon River."
The Concept . . .
"Lastly, it has to be simple; I see no correlation between the deliciousness of a dish and its complexity. The spotlight must shine firmly on the produce and the producer."
Get into the spirit of the St Patrick's Day season with
Alastair's Salmon Brandade recipe right here
, employing the same zeal as recommended above and then it's just a matter of letting tip top produce do the talking. When lunch is drawing to a close, why not drag it out a little longer with a few of our Irish cocktails?