Chow Town Down Under
January 21, 2013
With Red Hot Chilli Peppers as the headlining act of Big Day Out - Summer 2013, there couldn't be a better year to launch Chow Town. This year it's not just popular lyrics rolling off the tongue of spirited festival-goers, it's what's firing up the tastebuds.
One of Australia's most popular music festivals, Big Day Out has adopted the world-famous gastronomic blueprint originally established by Lollapalooza in conjunction with a Michelin starred consultant in Chicago.
Big Day Out is now a much tastier experience with over 30 of Australia's hottest chefs firing up the grill for ravenous moshers and mild meanderers alike. This year the Aussie Chow Town debut includes a line-up of feature chefs from various venues, depending on the host city (the five cities and tour dates are listed below).
Over the past few months you've probably seen co-chefs Ben Milgate and Elvis Abrahanowicz on the tube promoting Chow Town. These award winning Sydney chefs own both Porteno and Bodego, and represent kitchen talent whilst embodying another important ingredient, the quintessential rocker image.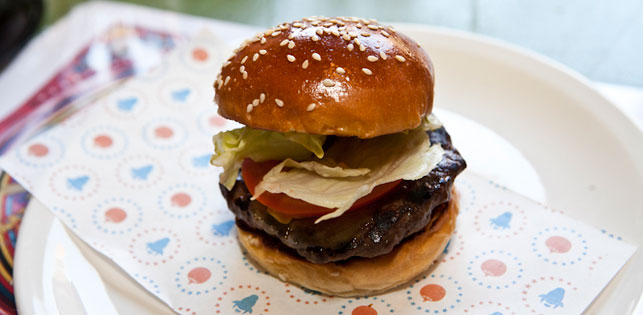 Everyone wants to taste what these brothers-in-tattoo-sleeves produce and this year, brylcreemed and ready to go, they served Sydneysiders BBQ wagyu beef brisket with Old Bay coleslaw on a brewski bun.
Our review, however, is based on yesterday's Gold Coast experience where - like Sydney Big Day Out - we discovered Kettle & Tin's confit duck nachos had SOLD OUT. Fortunately, we had a chance to taste the coveted morsels before the deluge of muso-gastronomes flooded in for a quick feed. It was definitely the draw of refried beans, tomato salsa, avocado and sour cream alongside the melt-in-your-mouth canard.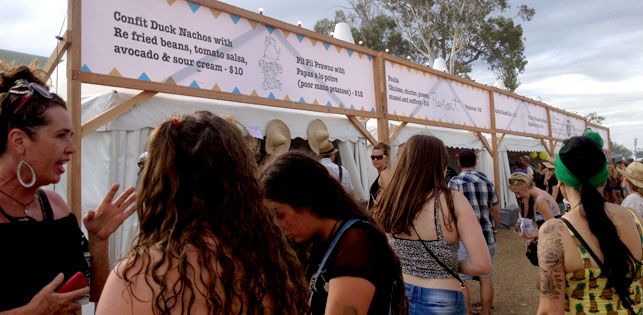 Prices ranged from $10-$12 offering tapas sized festival friendly portions - no room for gluttony when dancing's next up. The entertaining gourmet food alley a.k.a. Chow Town definitely had us dipping in for more throughout the day. If ever there was a deterrent it was the massive line-ups, a sure sign that Chow Town has hit the spot with their crowd pleasing pick of pop-up participants.
Peasant restaurant served paella with chicken, chorizo, prawn, mussel and saffron or the vegetarian version, while Cabiria Luncheonette Oyster Bar was set up right beside them, feeding the masses with truffled pumpkin and goats cheese tortilla.
Top Shop Byron Bay brought us braised mushrooms sourced from Witches Broomstick Farm in Bangalow, serving them as a burger with beetroot, sunflower sprouts, goat's cheese and relish. JR's Smokehouse Barbecue filled their rolls 12 hour slow smoked Angus Beef Brisket in Texan BBQ sauce with onions and dill pickles.
Chow Town could have used a few more of the sweeter things in life, as there was a scarcity of dessert options - maybe next year. But the added dimension of gourmet flavours to a day known by music lovers as an annual auditory overload is one more welcome addiction. Many music fans are foodies too and in our minds, the inclusion of good food at Big Day Out has graduated it into an oasis for those with a broad-spectrum appreciation of creative elements combined.
Sydney- Friday, 18 January 2013 - SOLD OUT
Gold Coast - Sunday, 20 January 2013
Adelaide - Friday, 25 January 2013
Melbourne - Saturday, 26 January 2013
Perth - Monday, 28 January 2013