The Largest Tomato Throwing Festival in the World
Travel Calendar 2014 – Wed 27th August

Attack of the Killer Tomatoes
We invite you join 40, 000 global travellers on the last Wednesday of August for La Tomatina, the largest food fight in the world. Death by tomato? Hardly, but this massive tomato schmozzle in small town Bunol of Valencia, Spain draws in tourists from all over the world.
The edible equivalent of mud wrestling, La Tomatina Festival is your chance to romp around in the muck with your friends and enemies (and friends turned enemies) in a pool of tomato sauce. Schmuck your loved ones in the face with ripe tomatoes and reserve the rotten ones for sweet revenge on fated rivals; La Tomatina is your chance to take it to the streets.
Even if you can't take it to the streets in Spain this year, check our AGFG restaurant guide to discover La Tomatina inspired Spanish restaurants and specials on home turf.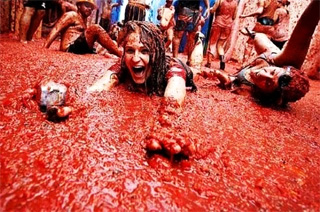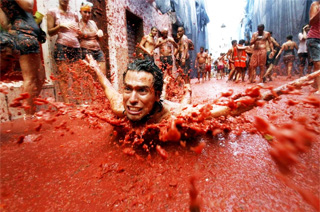 Bunol's Saucy Tomato Tousle
The Spanish love street festivities (think bull running a- la Pamplona), and La Tomantina is no exception. This year, come Wednesday 27th August, the town of Bunol will be painted red with 125,000 kg of ripe tomatoes as locals and visitors partake in the "biggest vegetable fight in the world". Technically it's a fruit fight, but you get the gist.
The tomato battle of Bunol, fondly referred to as "La Tom", is one messy affair. The whole point is to pelt your partner with slimy veg/fruit, lob or launch the juiciest picks at your travel buddies, and catapult random tomato ammo into the crowds made up of 39,999 of your closest new slippery friends.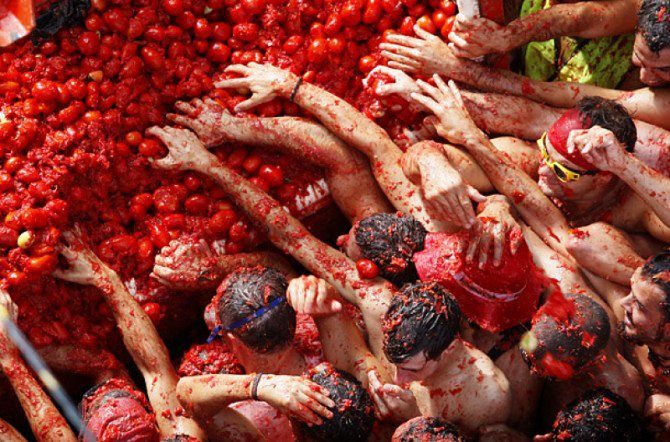 Food Fight or All out War?
Although there are no official records of how La Tomatina first originated, the legend suggests that the tradition of tomato throwing in the town began as a modest Spanish-style fiesta. As the story goes, there was an accident involving a local produce cart, spilling over thousands of ripe tomatoes into the street. In the spirit of it all, little rebellious rascals raided the remains and began hurling the fresh fruits at one another. At first the public were appalled by this fleeting madness, but soon their annoyance faded into good humour because it looked like so much fun - laugher filled the streets as everyone got involved.
Today, La Tomatina shuts down the town of Bunol on the last Wednesday of every August, and for a couple of hours, pure pulpy chaos ensues. Souvenir La Tomatina wet T-shirt contests occur on the side, local entrepreneurial adolescents look after tourist backpacks for extra money, and industrious businessman sell local brew and chilled sangria on the street corners.
Savvy travellers; on the last Wednesday of August - this year it's the 27th August, 2014 - spend your tourist dollars wisely and take part in this once in a lifetime tomato extravaganza. Make no mistake La Tomatina is all out tomato war, but a friendly one at that.

Throw a tomato … into your gob
If you prefer to chomp your tomatoes rather than chuck them, chow down on some of our classic tomato based meals in our AGFG recipe section. Classics for the cooler months include;
- Seafood linguini with tomato pesto