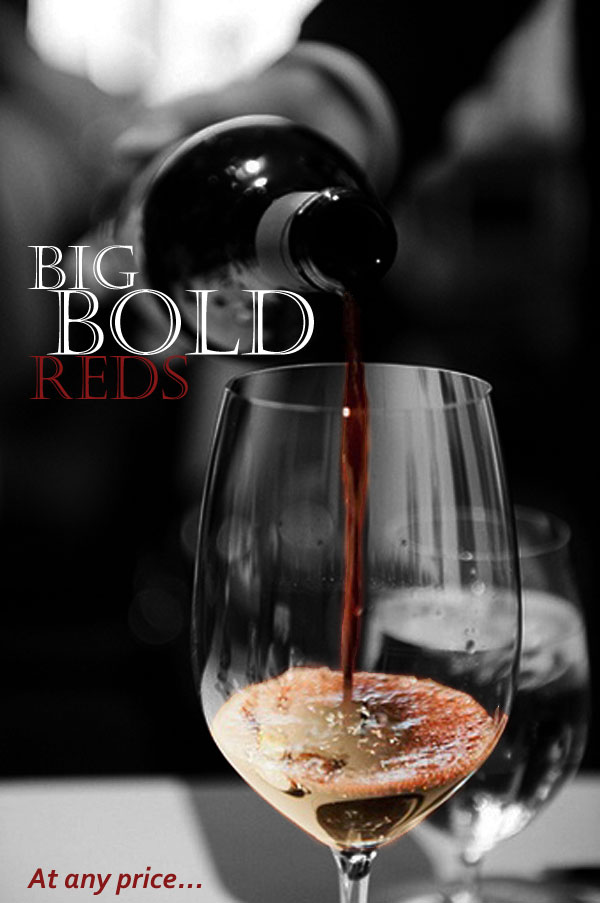 Relish the last few weeks of Winter by savouring the last drops of those big, bold reds sitting in the cellar. If you have savoured your way through your collection, we've done the hard work for you, well not really, because drinking wine is never hard, but it is arduous, so here's a collection of suggestions for you no matter what price or region your palate enjoys.
Cottontail Wines, Cabernet Sauvignon 2013. Purchase: $22 a bottle from cellar door. Wagga Wagga NSW.
Winning a Double Gold Medal at China's largest wine show (CWSA the Chine Wine & Spirit Awards), Cottontail's Cab Sav has an intensified body due to 16 months in the barrel where its well-structured tannins will ensure longevity as the wine ages. An addition of 10% Shiraz brings out fruit characteristics which give it its award-winning taste and is well suited to be paired with BBQ short ribs and other red meats.
LynneVale Estate, Cabernet Shiraz 2009. Purchase: $25 a bottle. Mandurang Valley VIC.
With deepened rich hues and a vibrant colour, taste exceptional flavours of blackcurrant, spice and mint with notes of tobacco and oak, complemented by fine silky tannins. Pair with leg of Spring lamb, Wagyu beef or rack of venison.
Cloud 9 Farm, Shiraz Cabernet Horizon 2015. Purchase: $25 a bottle from cellar door. Pipers Creek VIC.
The first Cabernet blend to be released in the Cloud 9 Farm range has been running out the cellar door and is now Cloud 9's biggest seller. The Shiraz and Cabernet blend was matured in French oak barrels for a year and was given the "Horizon" label as winemakers are yet to know the full "flavour horizons" of this blend. Ready to drink now or leave it in the cellar for more complexity.
Eldredge Vineyards, Blue Chip Shiraz 2014. Purchase: $28 a bottle. Clare Valley SA.
The Blue Chip label was first released in 1996 using Clare Valley fruit and the 2014 vintage is no different, producing a wine with a delicious dark red colour with purple hues that exhibits a rich and sweet dark berry fruit on the palate. Ready to drink now or improve its tannins with age.
Auldstone Cellars, Durif 2012. Purchase: $28 a bottle. Glenrowan VIC.
Made from a small parcel of fruit from a vineyard at Mt Bruno, this Durif is a big, dark wine that shows numerous notes of spicy aromas with hints of mint and pine nuts. Your palate will be full of blackcurrant and ripe plums with a lingering finish that is soft and silky. Drink now, or age for 10-15 years.
Banjo's Run Winery, Merlot 2013. Purchase: $30 a bottle. Exeter NSW.
A great expression of the fruit from the cool climate of the Southern Highlands in NSW, this Merlot is pronounced on the palate with a medium body and subtle yet delightfully expressive red berry and blackcurrant notes. The tannin is spicy, but freshens up the finish at the back of the palate. Drink now.
Passing Clouds Winery, Graeme's Blend 2014. Purchase: $31 a bottle. Daylesford VIC.
A delightful blend of 55% Shiraz and 45% Cabernet Sauvignon from grapes from the Bendigo region. Graeme's Blend is Passing Clouds Winery's signature red and they have been producing it since 1980, the 2014 blend has delicious mulberry and late summer plum notes as well as lively aromas of blackberry, cassis, liquorice, spice, chocolate and blue fruit with a subtle oak finish. It's a classic Australian blend, either decant for an hour or cellar for 10 years.
Gapsted Wines, Ballerina Canopy Durif 2014. Purchase: $31 a bottle. Myrtleford VIC.
Sourced from grapes in Victoria's King and Alpine Valleys and South Australia's Barossa Valley, Gapsted Wines' Ballerina Canopy 2014 Durif is a rich, deep red, popular with those that enjoy bold wines. Displaying a deep, inky red colour with a nose of intense spice, vanilla, raisins, fruitcake and blood plums, this Durif will leave your palate satisfied with complex toasty oak notes. Recommended to pair with beef cheeks and roasted parsnip - peak drinking is between now and 2020.
Anderson Winery, Verrier Durif Shiraz 2008. Purchase: $32.50 a bottle. Rutherglen VIC.
Durif is a regional specialty for Rutherglen and it produces a wine that is rich and full bodied. This 2008 showcases dark berry fruit with a mid-palate of lush plum and a silky smooth finish. It has won 2 gold medals and has been rated 95 points by Rob Geddes, 94 points by James Halliday and 93 points by Huon Hooke.
Sam Miranda, 'TNT:' Tempranillo, Nebbiolo, Tannat 2011. Purchase: $35 a bottle. King Valley VIC.
This wine is inspired by the love of each savoury blend and combined together, they produce a wine that is juicy, balanced by powerful finesse and an aggressive palate. This is a wine that is all about texture and length of flavour and will reward those with patience over the next 20 years.
Sirromet Winery, Signature Collection Shiraz Viognier 2014. Purchase: $35 a bottle. Mount Cotton QLD.
Bearing the signature of Sirromet's founder Terry Morris, the Signature Collection utilises the fruit of Sirromet's Seven Scenes vineyard located in Queensland's Granit Belt. This wine is a distinctive cool climate Syrah style that is delicate on the palate with intense cherry and plum notes with hints of apricot and oranges thanks to the 5% Viognier fruit added. Pair with pan-fried pork fillet finished off in the oven with ripe apple and truffle jus and a wild mushroom risotto.
Woodstock Estate, Woodstock 'Pilot's View' Shiraz 2013. Purchase: $38 a bottle. McLaren Flat SA.
Inspired by pilot Douglas Collett A.M (acquirer of Woodstock Estate in 1973) this Shiraz produces raspberry and red cherry fruit characters to the nose with herbal notes of green pepper and black cardamom, while leaving the palate smooth and round with plenty of juicy flavours. Drink now with slow cooked beef fillet with red wine braised onions, Jerusalem artichoke and crispy kipfler potatoes or let it age gracefully for 8 years.
Tokar Estate, Cabernet Sauvignon 2014. Purchase: $40 a bottle. Coldstream VIC.
Hand-picked from Tokar Estate, this Cabernet Sauvignon has been matured in French oak barrels and shows an opaque bright ruby colour with strong coffee and cassis notes to the nose. A medium body follows these scents on the palate with silky tannins and fresh acidity. This wine will cellar well.
Seville Hill Wines, Reserve Shiraz 2013. Purchase: $40 a bottle. Seville VIC.
Delight in the full but soft palate of black cherry, boysenberry, aniseed, mocha coffee, spices and white pepper with oaky tannins found in this Reserve Shiraz. This wine will develop with long term cellaring, so if you're patient it will reward in decades to come.
Somerled Wines, Somerled Shiraz & Somerled Reserve Shiraz 2012. Purchase: $46 and $90 a bottle respectively. McLaren Vale SA.
This signature wine of Somerled Wines has been described as the closest thing to Grange you'll ever get because winemaker, Rob Moody is a former Penfolds tenure with more than 30 years of experience. It wasn't until 2001 when Moody finished with Penfolds that he began making wine under his own label, Somerled, which has consistently produced high quality Shiraz made from 100% McLaren Vale Shiraz. Experience the difference with their Somerled Shiraz and if you're intrigued, go further and purchase their Reserve Shiraz.
High Country Wine Cellars, Mt Terrible Reserve Pinot Noir 2013. Purchase: $45 a bottle. Mansfield VIC.
Voted 95 points by James Halliday, this Pinot Noir is impeccably balanced and blushes with red and black cherry fruit that is powerful on the palate.
Ravens Croft Wines, The Waggee 2012. Purchase: $50 a bottle. Stanthorpe QLD.
A Bordeaux blend of 50% Cabernet Sauvignon, 40% Petit Verdot and 10% Merlot – the perfect wine to cellar to 2025.
Howard Vineyard, Amos Cabernet Sauvignon Cabernet Franc 2014. Purchase: $50 a bottle. Adelaide Hills SA.
Howard Vineyard's Amos range produces their most premium wines and this blend shows elegant Cabernet notes as well as opulent black fruits, cedar and cigar box aromatics that merge perfectly with notes of olive and cassis. Winemaker and Viticulturist, Tom Northcott produced this wine and confirms that it will last for decades and will match strong Asian dishes like braised mandarin ginger beef.
Sanguine Estate, D'Orsa Reserve Shiraz 2014. Pre-order for August release at $60 a bottle. Heathcote VIC.
Family owned Sanguine Estate had their first vintage bottled before they realised that their great, great grandfather, Petro D'Orsa had planted vines nearby in the late 1800's. As an ode to Petro, Sanguine Estate produces a reserve Shiraz each year under the D'Orsa label and the 2014 has achieved the 5th best Shiraz in the World at the 2016 Mainfreight World's Greatest Shiraz Challenge. The official release is in August where an opulent wine with intense aromas of blackberry and plum with hints of spice and black pepper will be on offer.
Preston Peak Wines, East West Shiraz 2012. Purchase: $64 a bottle. Toowoomba QLD.
With spicy nutmeg and cinnamon notes weaved through an array of wild raspberry and dark chocolate flavours this wine will truly deliver for those that enjoy savouring their red.
Keith Tulloch Wine, 'The Kester' Shiraz 2013. Purchase: $70 a bottle. Pokolbin NSW.
This wine expresses signature Kester elements of dense, blood-plum colouring and a racy flavour energy with seamless French oak integration. Taste inky aniseed, cassis and dark spiced chocolate with dry spice and deluxe French oak. Produced from fruit grown on 85-year-old vines, this wine commands the need for cellaring with a recommendation of 20 years (although, produces a charming drop for now).
Providence Vineyards, Providence "Miguet" Reserve Pinot Noir 2002. Purchase: $120 a bottle. Launceston TAS.
Made by Andrew Hood and with 10 months aging in Seguin Moreau French oak barriques (as well as a considerable bottle age) this 2002 Pinot Noir was listed in James Halliday's "Best of the Best" list in 2005 and Providence has held some bottles back for you to enjoy now. With drinking potential up to 2018 – be one of the last to enjoy this delicious drop that can be served alongside nearly any dish.