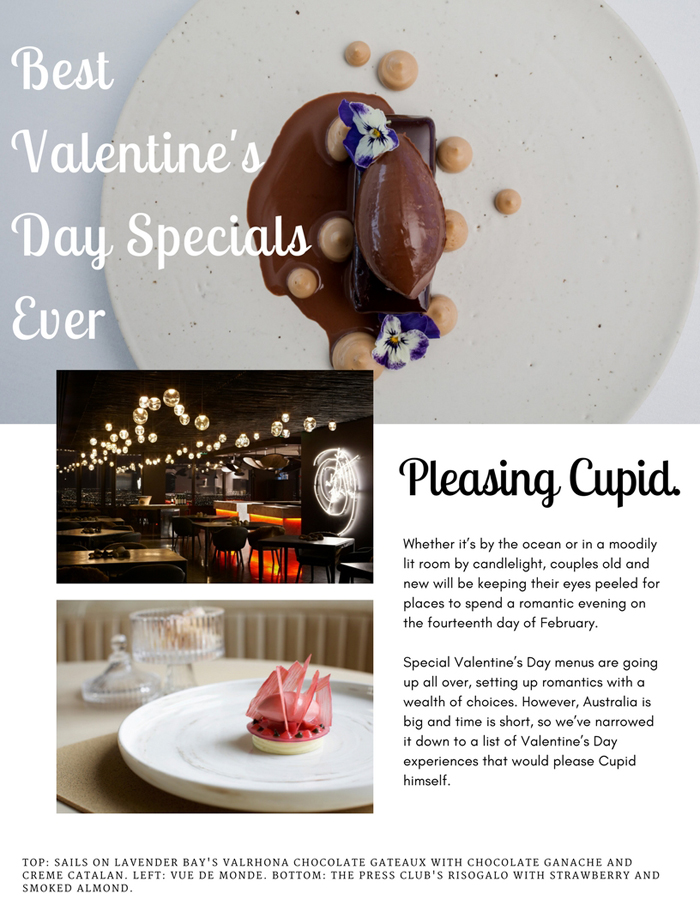 Sails on Lavender Bay | Sydney NSW
Sails have queued up a Valentine's Day five course tasting menu sure to rise to the occasion. Chef Jim Wilson's menu is exciting without being pretentious and matching wines are a plenty. As one of Sydney's longest running restaurants, it's a time honoured Valentine's Day destination. The tasting includes wines as well as tea and coffee for $195 per person.
The Press Club | Melbourne VIC
George Calombaris' The Press Club couldn't fail to feature in a list of Valentine's Day restaurant experiences. Fine dining aspects blend with an intended feeling of relaxed Greek hospitality, making it ideal for a romantic evening sheltered by the famous curved leather booths. For Valentine's Day, six memorable courses are gracing the table for $225 per person.
Vue de Monde | Melbourne VIC
Well known as one of the country's best restaurants, an evening at Vue de Monde is one that's unlikely to be forgotten. Perched high up in the Rialto, the restaurant looks out over a sea of twinkling Melbourne nightlife, that's if there's a spare moment for guests to take their eyes off the food - which is captivating. This year Vue will be offering a range of Valentine's Day experiences, from a two course tasting along with a canape at Lui Bar for $85 per person, through to the full seven course dinner and matching wines for $450 per person in Vue de Monde restaurant.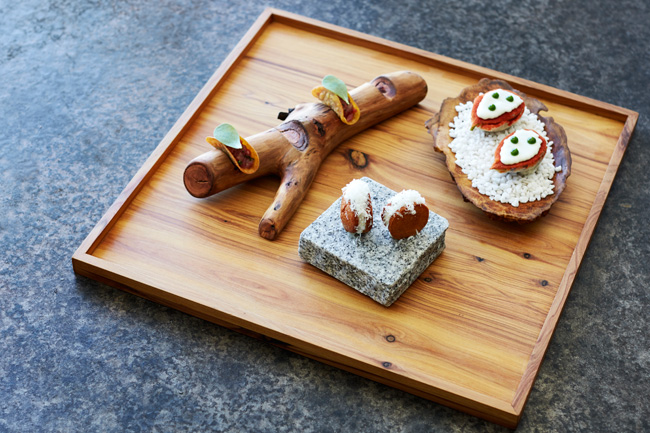 Ormeggio's Vitello Tonnato: veal tartare with anchovy oil and tuna mayonnaise in polenta tacos, eggplant parmigiana - baby eggplant tempura with tomato dust, mozzarella cream, and basil gel truffle pecorino sandwich - polenta sandwich with truffle pecorino cream (suggestive).
Ormeggio |Sydney NSW
Straddling the shoreline of the charming Middle Harbour is Sydney's romantic go-to, Ormeggio. Exquisitely presented dishes that ooze elegance roll out, one after the other, delighting the eyes as much as the palate. The Valentine's Day four course degustation journey will run visitors $135 per person.
Sunset Food & Wine | Kangaroo Island SA
Residing on the highly sought after Kangaroo Island off the coast of South Australia is renowned restaurant, Sunset Food & Wine. With undisturbed ocean views, the surrounding environment has influenced a coastal interior, with driftwood, shells and pebbles adorning natural timber tables. On offer is a delectable three course menu for $65 per person.
Wildflower | Perth WA
This year, celebrate Valentine's Day at height in sophisticated surrounds at Wildflower, occupying COMO, The Treasury hotel's rooftop space in Perth. There's a stunning view across the Swan River from tables either inside, through floor to ceiling glass windows, or out on a breathtaking terrace. Kick things off with a glass of Taittinger, before embarking on a five course tasting menu including wines for $250 per person.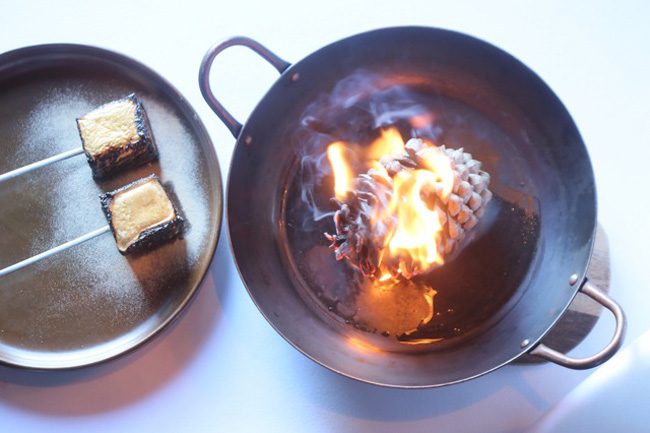 Highline Restaurant | Melbourne VIC
A Daintree Chocolate marshmallow (above), roasted at the table over a pinecone on Highline's own Oak Valley Campfire, is the type of thing that just puts a smile on someone's face. For a touch of the spectacular, Highline Restaurant are offering a Valentine's Day, paddock to plate, six course degustation exploration of some incredible produce for $110 per person. Premium or classic pairings are $85 and $55 respectively.
Alchemy Restaurant and Bar | Brisbane QLD
Alchemy's tantalising Valentine's Day tasting menus can be experienced with stunning views of the moonlit Brisbane River and sparkling Story Bridge in the background, while sitting surrounded by glass chandeliers and elegant furniture. A two or three course menu is on offer for $78 and $98 per person respectively, then there's the degustation's: $160 for six courses or $210 for six courses and wine.
Tamarind | Cairns QLD
An exotic sensory feast awaits Valentines at the multi-award winning Tamarind, signature restaurant of Cairns' Reef Hotel Casino, renowned for a contemporary culinary fusion of eastern flavours and use of the finest regional produce. After a complimentary glass of Mumm Champagne, settle in to a $120 per person contemporary degustation or $180 with matching wine.
If our suggestions aren't near you, there's 117 more options across the country.