By Shawn Sheather.
Valentine's Day brings around the time of year we get to spoil that someone special, but we also think it's a great reason to spoil yourself as well. After all, how much love can we give if we don't love ourselves first?
This year we are taking the stress away and transporting you to a place where the romance comes naturally and relaxation will be the default setting, allowing the Byron at Byron team to do what they do best. Byron at Byron is a multi-award winning Resort and Spa with its own subtropical rainforest located a short scenic drive south of the famous Byron Bay lighthouse. From the time you arrive, the tranquil setting will dissolve away any stresses and finally make those shoulders drop.
The accommodation itself is situated within the rainforest, with views across the thick impeding flora of palms, ferns and paperbark trees to an overhead canopy allowing just enough of the suns rays to enter, creating an ethereal light show cast throughout your room.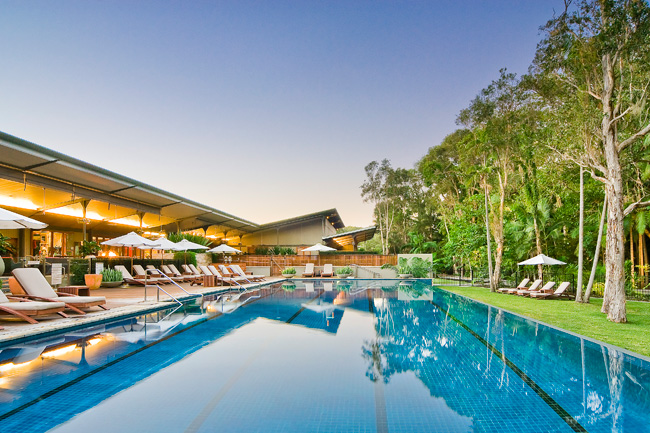 Byron at Bryon is designed with couples in mind, making it the ideal getaway to appreciate that someone special. With specially designed packages, you can get to know the Head Chef Gavin Hughes partaking in a trip to the markets or experience the indulgent offerings of the Byron at Byron Spa, with a Rainforest couple's treatment, being pampered in a private bungalow surrounded by the flowering water lilies and bird songs of the resorts wetland and lake.
The team at the resident restaurant provide an experience that will truly complete your stay. Unlike many other resorts the menu, location and service will have you never needing to leave. From the ever-indulgent breakfast buffet, to the pool side snack menu, through to the restaurant dinner menu, serving local produce, gathered by the Chefs who turn it into something special. The Byron at Byron restaurant is led by Gavin Hughes, and has a strong affiliation with local producers and suppliers, allowing Gavin and his team to create a regional, seasonally adaptable menu.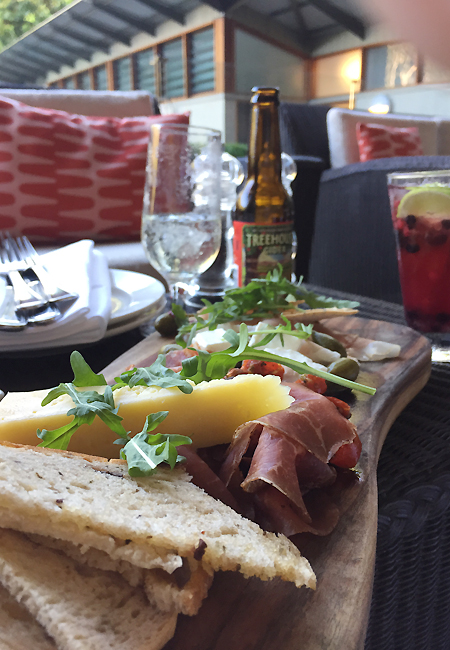 We experienced the charcuterie plate, pool side with a local craft beer from Stone and Wood. It was an ideal beginning to our evening, sitting poolside, watching the paperbark trees and rainforest illuminated by the casting lights of the infinity edged pool. For dinner, we followed the recommendation of sharing the native organic salt bush lamb for two with lemon myrtle and local macadamias dressed in a native mint sauce with bush dukkah and steamed seasonal summer vegetables, accompanied with a glass of red wine, it made a perfect meal to have shared with my someone special.
Gavin has created a dessert especially for Valentine's Day, offering guests this dish for several weeks, it has been designed for couples to "indulge in" as Gavin puts it. The creation is called Lovers Chocolate Pucker - an almond fine pastry heart, passionfruit custard and white chocolate custard with raspberry meringue, served with chocolate ice cream. The only concern is not arguing over the last bite.
Byron at Byron is the perfect getaway, it leaves you wanting to head back to the reservations desk and request an extra couple of nights longer. The Resort offers a place to relax, unwind and re-connect. The great thing is this is what they do all year, every day, with each spa experience and every dining service. So while we all focus on Valentine's Day, don't worry if you can't get there or make a booking this February, we recommend you simply go.
Check out the resort here and book your experience now.