In Autumn our minds are set on the harvest, with an emphasis on gathering seasonal produce, collecting preserves and creating earthy meals. By April we have well and truly replaced our vivid summer displays with more subdued hues and golden colours; and ambitious homemakers are already making jams, marmalade, preserves and even red wine.
Heart Warming Comfort Food:
Mushrooms are found year-round in Australia, though their dense and meaty texture is particularly desirous in heartier Autumn dishes. They deepen the flavour of your soups, risottos and other dishes, plus there is such a wide variety out there that you can seek them out in abundance and never get bored. Delve into Michelle Crawford's mushroom and spelt soup, before attempting Laura Cassai's rolled gnocchi with porcini mushrooms, caramelised onions and crispy sage. If you're looking for something quick and a traditional family favourite, Matteo Bruno's veal and pork meatballs with polenta and mushroom will be sure to delight.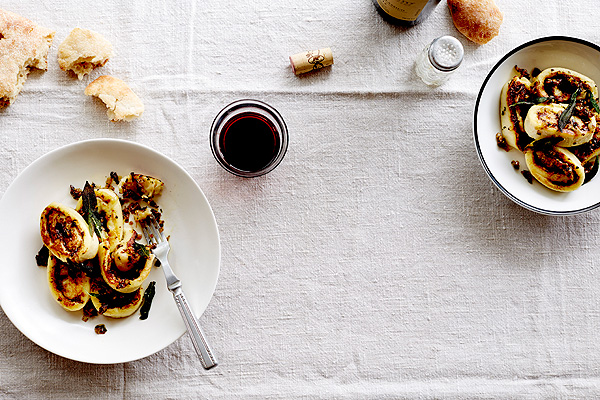 Rolled Gnocchi - This is an edited extract from My Italian Kitchen by Laura Cassai, Published by Hardie Grant, RRP $39.95 available in stores nationally.
In these colder months you can't go wrong cooking with red wine (and drinking some too). Varietals made from sangiovese or sirah grapes are particularly reminiscent of the Earth in aroma and flavour. Carrots, potatoes and turnips are classic vegetables that when paired with roasted meats will be a sure crowd pleaser. For the braised and beautiful, try ourbeef cheek with bacon clapshot puree and red wine jus. For those with a sweet tooth, Colin Fassnidge'scrumble with poached rhubarbwill be perfect!
For more suggestions see our Awesome Autumn post here.