India's vibrant culture, traditional cuisine and spirituality is celebrated by more than 110,000 Indian-born Australians, who now call this country home. Adding to the diversity of this wide, red land, they have influenced modern outlooks on life with a growing appreciation of not only food, but also yoga and meditation, as well as a fierce sporting rivalry on the cricket pitch.
As Indian nationals prepare for Independence Day on August 15, Australians also celebrate the bold flavours, delicious aromas and spices that are the basis of a cuisine rapidly becoming a household favourite. From mild korma to fiery vindaloo, let's take a magic carpet ride around the states with a look at some of the best Indian restaurants on offer.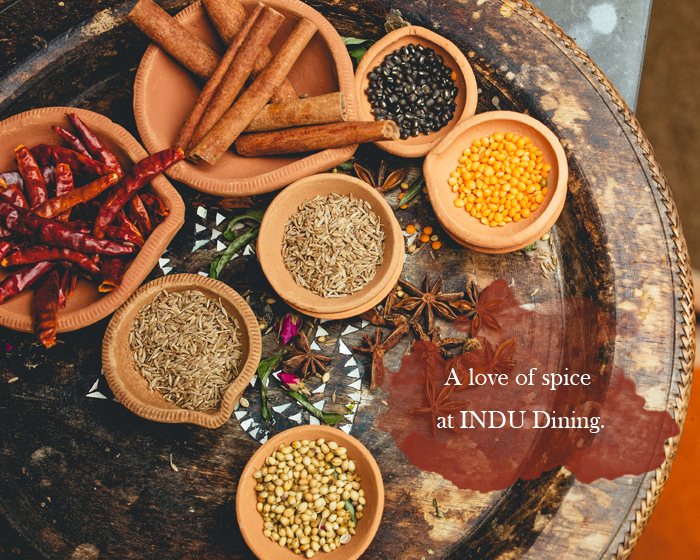 Indu Dining | NSW
Eastern mysticism meets Western culture at Indu Dining on George Street in Sydney. Guests embrace a moody ambiance of alcove dining with mosaic tile floors, exposed brick and candlelit tables, while perusing an Indian and Sri Lankan menu brimming with punchy flavours. Kick start the culinary adventure with flame-seared and turmeric cured salmon dosa with cardamom aioli and pickled fennel, or perhaps an egg hopper with pomegranate pearls, goats curd and coconut sambal. Then delve into hot smoked rainbow trout with lime infused coconut milk, tamarind compressed roe and crispy skin.
Spiced by Billus | NSW
An uber contemporary fitout of polished concrete floors, high ceilings and a moody colour palette awaits diners at Spiced by Billus on Bangaroo Avenue in Sydney. Offering an authentic menu, enticing crowds with flavoursome dishes to excite the senses, perhaps embark on the taste journey with a plate of chicken tikka marinated in fenugreek and cooked in a clay oven. Then be tempted by rogan josh with lamb, tomatoes, ginger, garlic and onion, before arriving at a sweet ending of rasmalai – a sponge cake in cardamom flavoured milk.
Shompen Dining Room | VIC
Named after the indigenous people of Southern India, Shompen Dining Room on Rathdowne Street in Melbourne's bohemian suburb of Fitzroy offers a modern and progressive menu of taste tempting fare. Enter from the tree lined curb to discover a colourful interior of bold geometric murals, dark timber and white table linens, creating a relaxed and warm space to watch the world go by. Begin with mint dip, beet juice and pickled shallots, or perhaps chilli soft shell crab, then delve into rack of lamb with cucumber raita and black garlic scented dust, or the palak paneer curry.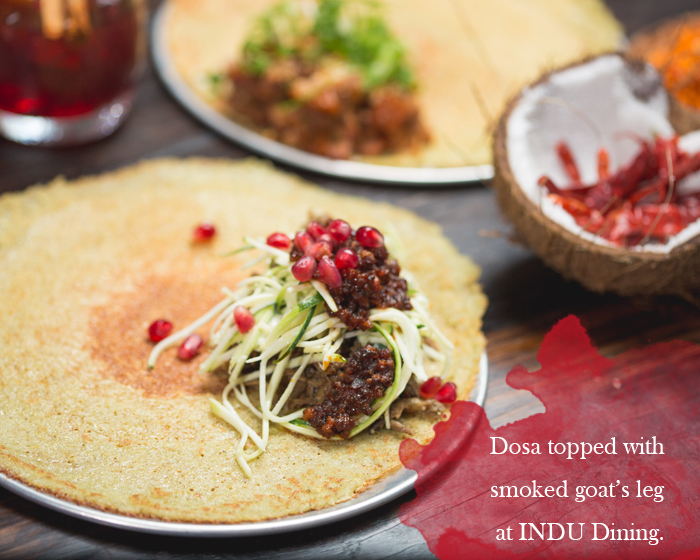 Masala Theory | NSW
Hipster food haven Masala Theory on Crown Street in Surry Hills is throwing a funky, new twist on authentic Indian fare, whether stopping by for a leisurely lunch or a dinner date. Take a seat at a mosaic tiled table, beneath a neon bicycle and eclectic artwork depicting Indian maidens on skateboards and prepare for a creative menu, where Bollywood meets old school curry. Start with Three Sisters chaat with crispy fried spinach, beans, chickpeas, date tamarind and mint chutney, before sharing a plate of village fish curry in a coconut milk broth with lemongrass and kaffir lime, teamed with basmati rice.
Curry Leaves Indian Cuisine | QLD
Diners are transported to the streets of India at Curry Leaves Indian Cuisine, in the coastal town of Warana. Tantalising aromas and a black and white tiled mosaic detailing the imposing serenity of the Taj Mahal, invites guests inside where there is plenty of room for couples to enjoy an intimate ambiance and large groups to mingle over a feast together. Dishes are inspired by authentic Indian fare with a dash of Sri Lankan influence, choose from the likes of fish curry braised in coconut cream with roasted spices, or perhaps pumpkin dhal curry with lentils, coriander and fried onions.
Indilicious | SA
Locally loved Indian restaurant Indilicious welcomes Parkside diners with a traditional interior of dark wooden tables adorned with gold detailing, while a colourful mural spread across a feature wall invokes a feel of just stepping off a plane and straight onto the banks of the Yamuna River. A scorching hot tandoor oven cooks naan breads in house, creating a crunchy, charcoal exterior and soft, fluffy centre – the ideal accompaniment to tear apart and dip into a delicious curry. Try enticing options such as chicken korma, simmered in a rich saffron, almond and coconut sauce and finished with cream, or perhaps a curry leaf based lamb madras.
Cinnamon Vic Park | WA
Fusing Indian and Malaysian cuisine, Cinnamon Vic Park on Albany Highway is the spot to grab a spicy fix. Tucked into Victoria Park, stunning wide store front windows invite diners into an elegant atmosphere of timber flooring, where an open bar is illuminated by sultry chandelier lighting, ideal for intimate gatherings, or catch up casually in the alfresco alley way with the feel of eating in the streets abroad. Authentic cooking methods and robust flavours can be found in menu favourites such as beef korma – cooked in yoghurt, cream and nuts and fragrantly spiced with saffron, or perhaps tuck into the house specialty of goat curry.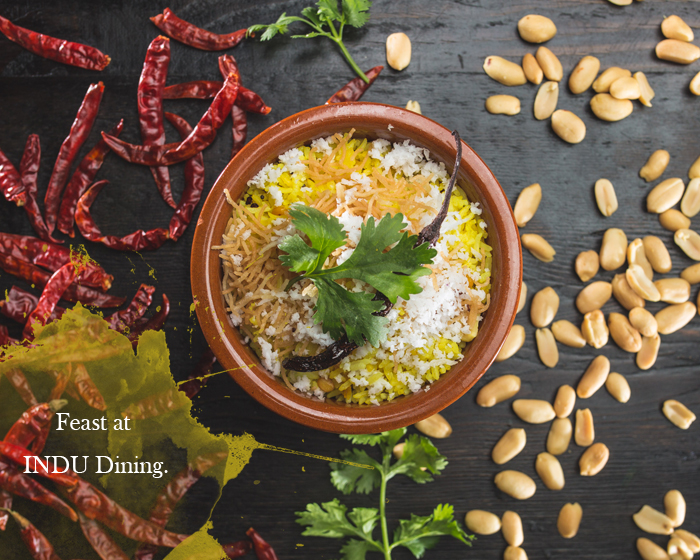 Jewel of India | ACT
Jewel of India in Manuka serves up a burst of vibrancy in both flavours and culture. Tucked away in Bougainville Street and recently refurbished, Jewel's spacious interior is set in tones of deep blue, from thick carpet to upholstered chairs, with intimate tables laden with white linen for formal dining. Wide windows provide a sunny outlook to the greenery of nearby trees, relaxing guests as they contemplate dishes inspired by tradition but with a modern take. Start with fried perch fillets flavoured with carom seeds and pepper, before enjoying signature curries such as chicken korma, lamb rojan josh and beef vindaloo.
AAJ Indian Restaurant and Café | TAS
Delivering mouth-watering aromas and punchy flavours, AAJ India Restaurant and Café in Launceston is a firm local favourite. Nestled on Charles Street, not far from the green gardens of Princes Square, AAJ emanates a smart, casual ambiance where diners are welcomed into a timelessly furnished fitout in warming tones of ruby red and burnt orange, while high backed black leather chairs and rich timbers add a touch of elegance. Be sure to peruse banquet options if dining with a group, or perhaps a Tandoori platter with prawns, lamb Seekh kebab, fish and chicken Tikka and lamb chops, served on a sizzler. Alternatively, if dining a la carte don't forget to order the Chef's special lamb passanda.
Hungry for more and nothing in your area? Check out our guide by location here.