By John Rozentals.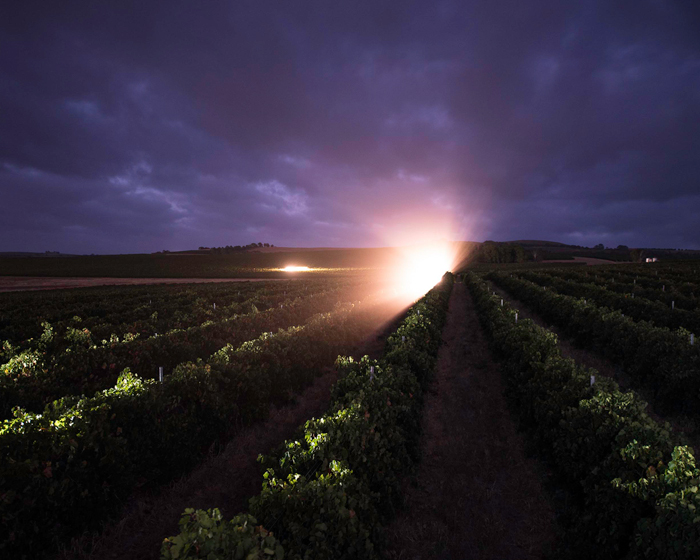 Sunrise in the Taylor family's Clare Valley vineyard.
I've long had a soft spot for Taylors. After all, it was the Clare Valley winery's first release, a cabernet sauvignon from the 1973 vintage, that helped convince me to cast aside my writing job and start studying to be a winemaker.
It might have gone full circle now and I'm back writing, but it's certainly with a lot more wine knowledge than before and I can still remember the velvety, rich yet quite firm flavours of the particular wine.
And I was certainly not the only one knocked over by the quality of that wine, which won the Montgomery Trophy for best red at the Royal Adelaide Wine Show and confirmed the belief of the Taylor family — well established Sydney wine merchants — that the 180-or-so hectares that they had purchased in 1969 and begun planting in South Australia's Clare Valley was ideally suited to their pursuit of great wine.
The Promised Land range takes its name from the Taylor family's description of the country where they'd established their wine-growing venture.
The wines themselves comes from a variety of South Australian regions and comprise, I guess, what the Taylors would term their 'everyday wines' — bottles that retail for about $14 at full mark-up, but that can be found on special for as little as $10.
But don't be fooled by the relative cheapness of these wines. I've recently tried most of the range and reckon that it offers some exceptional value, especially if you're prepared to buy six or 12 bottles to take full advantage of any deals. To know more, head to their website: www.taylorswines.com.au.
Wine Reviews:
Taylors 2016 Promised Land Shiraz ($14): This is a dry red with much more of the juicy flavour of dark berries and ripe plums than you've a right to expect for the price. There's also a hint of spiciness to the wine and just enough tannin to ensure that you know you're wrapping your gums around a true red wine. Enjoy it with a hearty stew while the weather is cold, and also have a glass as things warm up and you start firing up the barbie.
Taylors 2015 Promised Land Shiraz Cabernet Sauvignon ($14): I guess that this red blend developed in Australia many years ago because of the relative shortage of cabernet sauvignon fruit but it has certainly been successful enough to justify its long-term existence. Add the cabernet varietal flavour of cassis to the shiraz flavours I've described above and you'll see why I reckon this wine offers such good value.
Wine of the Week:
Samuel Wynn 2016 The Man from Nowhere Shiraz ($19): The Wynn name is an exalted one these days in the annals of Australian wine but it certainly wasn't one early last century when young Samuel Wynn fled Europe and started making his mark here as a wineshop owner, whole wine merchant and later as a winemaker. I like this fruit-driven dry red a great deal and reckon it delivers great drinking for your hard-earned, especially with some prime steak.