By Dhanya Samuel, The Spice Adventuress.
'And she would open her spice dabba, a round stainless steel box divided into chambers, which held an assortment of ground and whole spices like mustard, turmeric, fenugreek, chilli, coriander, cumin, pepper, cloves….'
Using her fingers mostly, my Mum would then add a selection of spices to the dish which might seem unmeasured randomness to the uninitiated, but years of experience had taught her to wisely judge which ones to use with her fingers playing measured accuracy.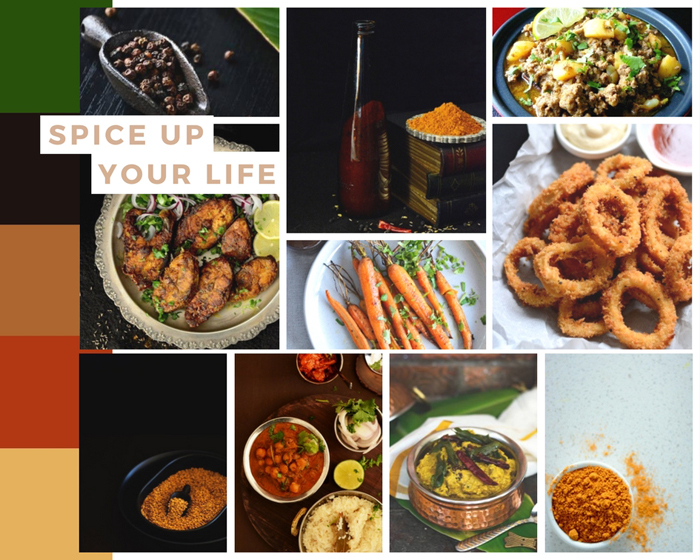 Spices have always fascinated me; not just for its varied flavours and aromas but also for its colourful, exotic and intriguing history as well. Whenever my Mum would make a dish, she would let me taste it and ask if the seasoning and spices were in balance. Little did I realise that subconsciously, my love affair with spices had begun at that point.
Indian cuisine has always been synonymous with spices. In fact, spices have played such an integral role in the historical discourse of my homeland; the discovery of black peppercorns being a prime example.
Perhaps one of the biggest myths that still exist is the notion that every Indian dish is made with a complex blend of spices. While that can be true for certain dishes, there are also plenty of traditional preparations that use just one or two spices, just enough to lift the flavour quotient of the vegetable or protein.
One of my favourite recipes is the simple potato stir fry. Heat some oil or clarified butter (ghee), splutter a few mustard and cumin seeds, a hint of turmeric powder, one slit green chilli and then toss precooked diced potatoes through this. Next time, ditch the fries and make this side dish to accompany your grilled meats; simple, delicious and healthy.
It would be impossible for me to pick a favourite spice but I must admit that I am partial to black peppercorns. I am a native of Kerala (a state in South India), which is home to Tellicherry black peppercorns, considered to be the finest in the world.
The cuisine of Kerala celebrates their native spice unlike any other cuisine of India or of the world. While there are so many to choose from, one of my favourites would be 'Kaalan' (yam and plantain curry with coconut, yoghurt and peppercorns); a vegetarian dish that is resplendent with the flavour of peppercorns.
The most popular spice blend from the Indian subcontinent has to be the garam masala. I like to make my own masala and I have 2-3 different versions that I use depending on the dish. It's best to prepare the masala just before using it, but if that's time consuming, it would be ideal to make small batches to ensure that the freshness and aroma of the spices are retained.
Garam masala is fragrant, aromatic and adds a complex layer of flavour and I love using it in curries like this North Indian style potato and lamb mince curry. But, one of my favourite ways to use this blend is while roasting vegetables like these roasted carrots with citrus and garam masala. The only rule to remember is that a little goes a long way, so don't be heavy handed with it.
While garam masala enjoys a pan Indian status, there are so many other spice blends from the different regions of the country that are practically unsung heroes. And, in my opinion, some of these are way more flavourful and versatile than garam masala. A good example of that would the East Indian bottle masala, an aromatic, fragrant blend from the East Indian region. It is often prepared in bulk and stored in used beer bottles and thus the unique name.
I love this blend for its versatility; use it as a rub or marinade like I have done for this East Indian fish fry or to spice up a curry like this chickpeas and mustard leaves curry.
I could go on and on about the different Indian spices and blends, its various uses and unique recipes but let's end for now with one more spice blend without which no household can function in Southern India … the Sambhar powder.
This blend has a base of lentils, dried chillies and other whole spices and is the key ingredient for preparing sambhar, the famous lentil curry of the South. But, I love to experiment in the kitchen and showcase the native spices in a modern way like these deep fried spicy squid rings with a dash of sambhar powder. Lipsmackingly delicious!