Don't know what baste to use this Australia Day? Don't worry, the BBQ experts from The Meat & Wine Co have a great basting recipe for you to try.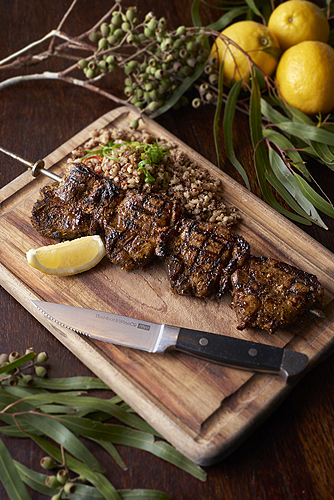 Ingredients:
500ml Extra Virgin Olive Oil?
3 Tbl Dried Lemon Myrtle?
1 Tbl Crushed Peppercorns (Black or Mixed)?
1 Tsp Sea Salt Flakes
1 Tsp Fresh Minced Chilli
Method:
Create a bouquet garni to use as a basting brush of young lemon/lime leaves and fresh lemon myrtle.
Tie it at one end to secure and use this side as your handle. This will be your tool to baste all your BBQ meats.
Heat olive oil until just over warm, but cool enough to touch, this will help release all the flavours into the oil.
Pour olive oil into an unused jar.
Blend and infuse all your ingredients by adding them and giving the jar a good shake.
You can baste right out of the jar.