The appeal of Asian food goes well beyond exotic flavours; it is considered by many as a lighter, healthier option full of fresh vegetables, seafood, meat and chicken.
Different regions offer different taste perceptions – each with their own distinct cooking style – from Thai to Malaysian and everything in between. Spices, sauces and herbs are integral parts of Asian cooking, added to enhance taste, texture, aroma and colour and send the senses into overload, as steaming plates arrive at the table.
Grab your chopsticks and get ready for a taste explosion as we look at some of our favourite restaurants to get your Asian fix.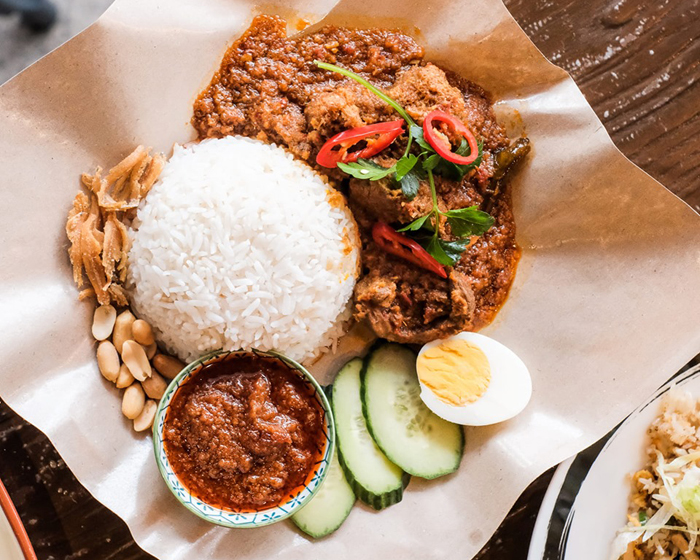 Beef Rendang at Passage Thru Malaysia.
Asian Fare in Port Melbourne and Greensborough:
A burst of exotic flavours awaits at Hanoi Mee Kitchen & Bar on Rouse Street in Port Melbourne. Booth seating and picturesque wall murals transport diners to the streets of Vietnam, setting the mood for a memorable Asian fusion dining experience, while worn brick and a bright neon sign add to a happily buzzing ambience.
Kick start your Asian adventure with roasted duck rice paper rolls, with cucumber, spring onion and plum sauce, or perhaps steam prawn dumplings and honey soy chilli dipping sauce; before mains like caramelised crispy pork hock, tamarind caramel sauce, cos lettuce and fragrant herbs. Dip a spoon into traditional Sher Wagyu beef pho rice noodle soup, finishing with a dessert of lemongrass meringue and ice cream.
Enter a rustic Asian backyard where the experience is more than just food, at Passage Thru Malaysia on Main Street in the heart of Greensborough. An adventurous gastronomic journey awaits, with framed photographs of old cities and homeware accents adding an authentic touch to whitewashed brick walls and cartoon murals, ideal for chilling out with a drink in hand.
Be transported to Malaysia with a starter of crunchy squid goreng, blended with a twist of secret seasoning, or chicken satay sticks with onion, cucumber and peanut sauce; then salivate over chilli King prawns, onion capsicum and eggs, or black pepper beef teamed with garlic long beans.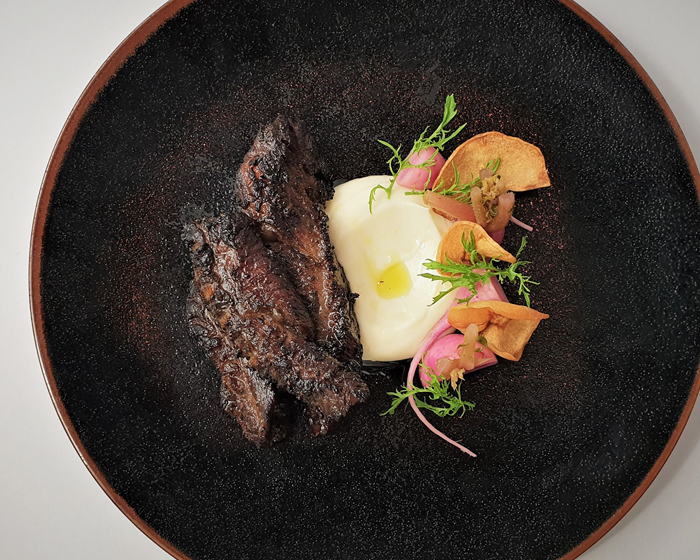 Wagyu kalbi at Kimchi Cheese Smile.
Brisbane Asian Hot Spots and Cooking School:
Contemporary cuisine inspired by punchy Korean flavours dished up in fun and funky surrounds are on the menu at Kimchi Cheese Smile on Stanley Street in East Brisbane. Black subway tiles, bright orange accents and picture windows looking out to the city streets set a cheery vibe for leisurely weekend brunches, delving into delights such as miso pork belly Benedict on sourdough with poached eggs.
Dinner guests may be enticed by small plates like octopus tartare, with fermented chilli paste vinaigrette, red cabbage, tobiko, sesame leaf and melba toast; while those with larger appetites delve into confit duck pasta, sujebi, hand-pulled Korean pasta, perilla cream, Spanish onion, cherry tomato and thyme. Finish with a dessert of cherry sorbet, pecan soil, lime granita and basil oil.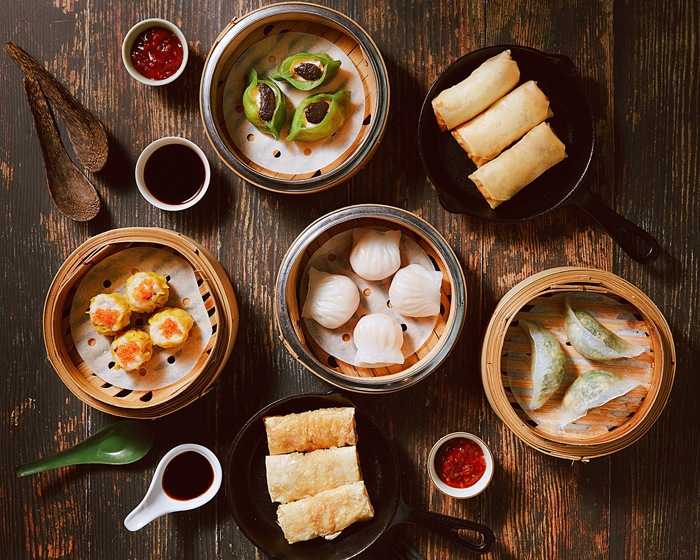 Dim sum menu at Canton Canton.
Eat Asian in Sydney:
Embracing Asian roots with a vibrantly colourful mural dominating one wall, De Lanna Thai on Addison Road in Marrickville is the place to savour flavours from the streets of Northern Thailand. This warmly lit restaurant welcomes guests with polished wood table setting and tiled floors, or on balmy days relax street side and peruse an authentic lunch and dinner menu promising enticing dishes.
Crispy soft-shell crab with sriracha-sweet chilli sauce and slaw is an ideal appetiser or perhaps famous spicy and sour tom yum soup with prawns. Then opt for Crying Tiger with char-grilled medium rare sliced striploin and tamarind roasted chilli sauce; or house special slow-cooked Massaman lamb shank in a cream curry sauce, roasted cashew nut, sweet potato mash, cinnamon, cumin and spices.
A slice of vintage Chinese street market-style brings Sydneysiders through the doors at Canton Canton on George Street. Located in the heart of the CBD and dishing up delectable plates to suit any occasion from long business lunches to intimate dinners, relax in an authentic ambience of worn brick, ornate hanging globes and wooden doors adorned with Chinese characters.
Start with a signature baked BBQ pork bun, crunchy on the outside and stuffed with savoury caramelised pork, or succulent prawns, topped with black garlic in a delicate jade green wrap; before choosing from the roasting station where Hong Kong-style duck and plum sauce tempt, alongside char siew and crispy pork belly. Steamed barramundi and Canton soy sauce will appeal to seafood lovers.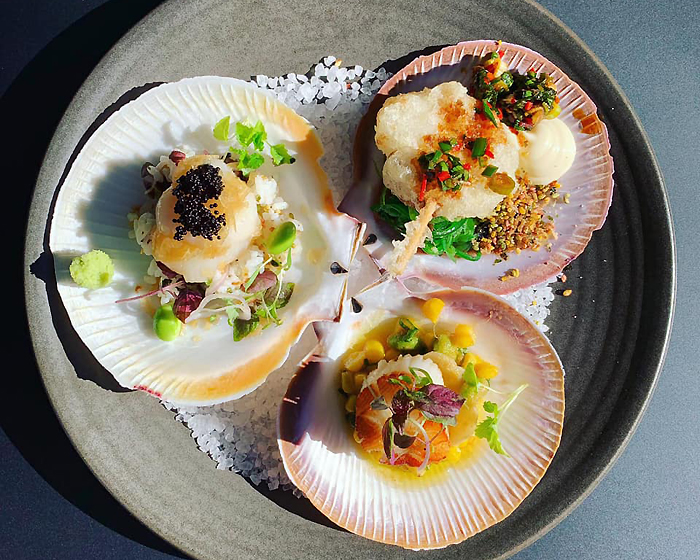 Omakase Plate: sashimi scallop with vinegar and rice, seared scallop with miso buttered sweetcorn and kushikatsu scallop with garlic chilli soy at Blue Mana Bistro.
Perth Asian Restaurants:
Bringing joy to the mouths of all who visit, Andly Private Kitchen on Oxford Close in West Leederville puts healthy eating and the art of plating on the menu. Chef Andly serves up a nightly degustation offering in elegant surrounds of dark wood, a stacked stone open kitchen counter and softly glowing pendents, creating an ideal foil for the cuisine brought to the table.
There is no set menu as Chef creates dishes accommodating guests' choice of key ingredients, such as green chilli chicken with orange and mango jelly sauce; Japanese miso smoked duck breast with sake okra and Taiwanese truffle salted crispy chicken. Finish with a divine dessert like passionfruit, white chocolate mousse and black sesame cake.
Under the watchful eye of the resident crab as lively conversation flows, Dunsborough diners are treated to Asian fusion fare at Blue Manna Bistro on Cyrillean Way. Perhaps relax under the peppermint trees with a delicious cocktail in hand or settle indoors to polished wood surrounds at black table settings, while enjoying Japanese street food like salt and pepper soft shell crab.
For something special, choose crispy whole fish with tamarind sweet chilli sauce, toasted peanuts and hot and sour salad; or Balinese Betutu duck with Asian vegetables, hawkers' rice and sambal matah. Vegetarians aren't forgotten with nasi goreng with broccolini gomaae, fried egg, roasted peanuts and cassava crackers.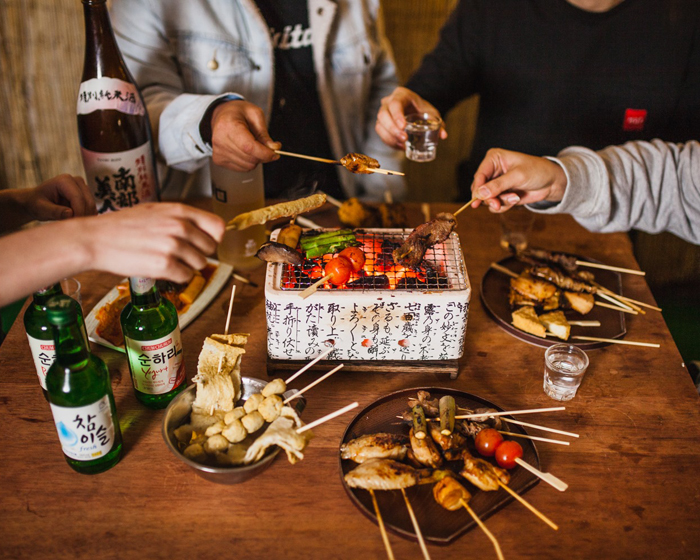 Cook your own skewers at BA:M.
Get Your Asian on in Adelaide:
Host Roz Chow welcomes guests into her multi-award winning Adelaide restaurant House of Chow on Hutt Street, where diners are surrounded by deep red tones, mood lighting and a glowing fish tank taking centre stage. Choose to dine in one of the private areas, or lounge at the bar with pre-dinner drinks in hand, while deciding from more than five menus on offer, abundant with Asian temptations.
Set things in motion with Emperor's Aphrodisiac – special oyster shots served with fresh tomato and cucumber puree, lemon juice, Worcestershire and tabasco sauce, with a touch of Russian vodka – followed by tender fillets of Mongolian lamb and succulent leek, cooked in a spicy chilli bean sauce served on a sizzling platter.
Offering a menu catering to diners seeking a traditional Asian dish with a modern twist, locally loved Korean fusion restaurant BA:M Adelaide resides along Currie Street in the heart of Adelaide city. Discover an interior fitted out with blond timber furnishings, bamboo ceiling features creating arches overhead and pendent lantern lighting, offering a touch of authenticity.
Let's start with kimchi arancini balls, filled with bocconcini, housemade Napolitana sauce and Parmesan sprinkle, or takoyaki octopus balls and dried bonito; moving on to signature slow-cooked and then flamed pork hock served with fresh vegetables, shrimp dipping sauce and house Korean chilli paste – a recipe that has been in the family for 30 years.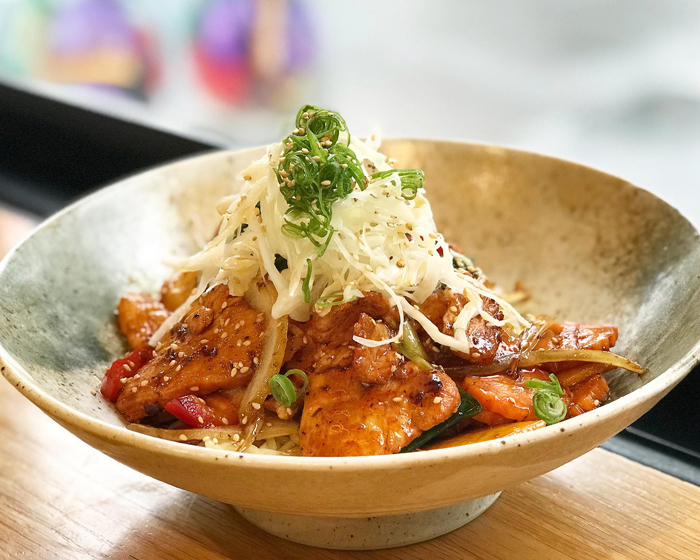 Noodles at Soi Noodle Bar.
Where to Eat Asian in Canberra:
The watchful painted eyes of a Geisha observe diners milling around a bright window bar, or settling into a cushioned bench at Soi Noodle Bar on Bunda Street in the heart of Canberra city. Featuring an industrial style and an earthy ambience with a palette of soft browns and blossom wallpaper, Soi encourages guests to choose their own noodles and flavours in a Thai food experience.
Alternatively, leave it to skilled Chefs and delve into set Japanese dishes and street food snacks, such as mixed seafood gyoza with citrus ponzu sauce; while mains present like chicken curry donburi, rice, pickled ginger, daikon, shallot and nori. Ramen lovers may opt for miso-based soup, topped with beef, wakame, nori, chopped shallot, bamboo shoots, boiled egg and fish cake.
Cultured Canberra residents looking for an exotic culinary experience head to The Cinnabar along Eastlake Parade on the Kingston foreshore. An interior of extravagant elements are sure to impress those with an eye for design – lampshades of gigantic proportions, while tables are divided by a veneer of thin tassels dangling from the ceiling, stretching down to the floor surface.
Asian fusion is on a menu plating up dishes like Cinnabar signature duck rolls with capsicum, onion and pine nuts to start; from the wok come tempters like kung pao King prawns with Sichuan peppercorns, chilli and cashews teamed with steamed rice. Carnivores won't go past Wagyu beef sirloin with cherry tomato and truffle oil, with stir-fried seasonal vegetables and garlic sauce on the side.
For more Asian restaurants near you, click here.