Contemporary Greek cooking gives nod to the seasonally based abundance of local produce raining from the homeland, making wide use of vegetables, grains, fish, wine, meat and of course one of its greatest exports, olive oil.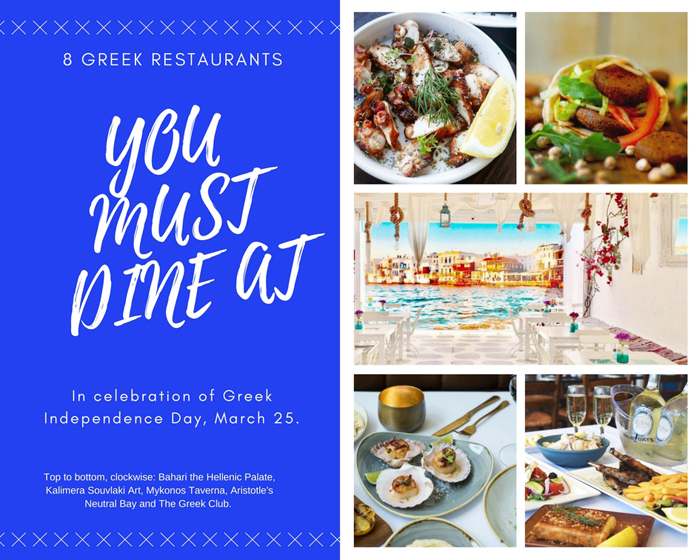 If there is any assurance of true Greek cooking, it's the company that it attracts; no Greek feast is complete without a table full of friends and family sharing in the celebration that is meal time, with conversation and laughter flowing just as steadily as the wine. So, gather up your loved ones and say 'Opa!' to eight Greek restaurants you must dine at, around the country.
FOS Kitchen & Bar | VIC
A short stroll from shady Lake Weeroona Park is Bendigo's authentic Greek destination, FOS Kitchen & Bar. A rustic setting provides a trendy backdrop for the inner-city foodies and new visitors that come looking for flavoursome, traditional Greek fare. FOS Kitchen offers an exciting menu of share plates as well as a large selection of more filling mains.
Mykonos Taverna | VIC
Save yourself the airfare and head to Portman Street in Oakleigh to discover a little slice of the Greek Islands at Mykonos Taverna. Take a seat in the alfresco dining area and be convinced you are shore side to the Mediterranean Sea overlooking a life size mural adorned with soft, whimsical fabrics, rope lanterns, stone flooring and relaxed deck style seating, transporting diners to a location beyond.
Aristotle's Neutral Bay | NSW
Situated in Sydney's lower North Shore, in the sought after location of Neutral Bay, resides Aristotle's Neutral Bay restaurant. A modern interior encompasses the sophistication and glamour of the shipping magnate it was named after, Aristotle Onassis, offering an energetic atmosphere with punchy dishes to match.
Kalimera Souvlaki Art | VIC
When made properly, souvlaki is a thing to be admired and few follow this practice as well as Kalimera Souvlaki Art, an Oakleigh eatery that has patrons lining up from near and far. This vibrant eater dishes out parcels full of daily produce and tender meat fillings.
Bahari The Hellenic Palate | VIC
Take a break from Melbourne's CBD to taste the distinctly 'Gringlish' (Greek / English) flavours of Bahari. Tassie duo, Chef and Restaurateur Philip Vakos from Masterchef Series 2 and friend Stell Kaponas, enjoy the freedom of not publishing a set menu, instead choosing to explore the fine art of balancing spices and flavours in contemporary Greek dishes.
Stix and Pita | NSW
For Greek street food full of flavour, head around the corner of Enmore Road to Stix and Pita Greek eatery. This lively eatery is filled with the smells of succulent meats spit roasted over charcoals to send mouths watering in anticipation. To create a pita wrap, first choose a meat like pork souvla, slow cooked on a spit over charcoals and then pair it with fillings like the Icarus of char-roasted capsicum, spicy feta dip and chips. Add a side of charcoal corn and be sure to leave room for dessert.
The Greek Club | QLD
Zorba the Greek is a way of life, an expression of Greek culture and exactly what The Greek Club in South Brisbane has to offer and have done so with much success for over 44 years. Take to Odyssey Taverna, Cafe and Bar for authentic Greek cuisine and enjoy relaxing on Odyssey's wide terrace accompanied by live music and a dazzling view of Brisbane's city skyline.
Meltemi Greek Tavern | VIC
Offering a little piece of the Aegean in Moonee Ponds, Meltemi Greek Tavern is a well-loved family owned and operated establishment serving up traditional favourites. White brick walls and wooden furnishings combined with a welcoming laidback vibe, create a relaxed environment for diners to enjoy a banquet of homemade dips, fresh seafood dishes and char-grilled meats, all prepared using fine local produce.
This is just a peek into some of Australia's best Greek restaurants, for more suggestions near you see our recommendations here.