By Leigh O'Connor.
Australia is one of the world's premier camping destinations, with native wildlife for company, lush rainforests, beautiful beaches and starry Southern skies to sleep beneath.
What better family adventure than to be gathered around the campfire sharing a meal, after a day spent hiking in the bush, or swimming at pristine coastal spots? There is even the opportunity to catch your dinner and throw a fresh fish on the glowing coals while enjoying tea brewed in the billy or mulled wine warmed over the fire.
We've put together five recipes to make your next camping trip a gastronomic success…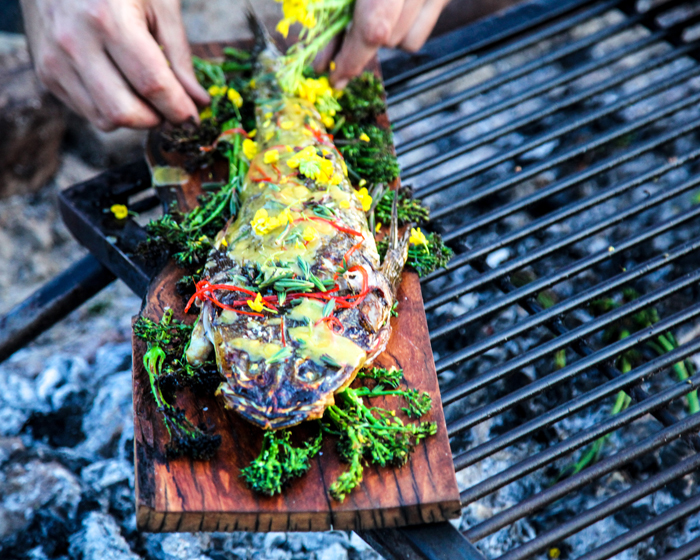 Grilled Flathead, Broccolini and Chilli:
Cooking whole fish over a fire, especially by the beach, is an exquisite moment. Chef Lennox Hastie treats the fire as the ingredient itself – it's important to get the coals to ember stage for optimum cooking.
Once you've cooked a whole fish over the fire, it's a ritual you will follow for as long as you live… Lennox's pil-pil sauce in this recipe, using the cooking juices, olive oil and vinegar, comes from his time in Spain's Basque country.
Use a rack to grill the fish over the embers for 15-18 minutes, turning halfway through cooking, while the vegetables can be grilled the same way until slightly charred.
(Credits: This is an edited extract from Food Safari: Earth Fire Water by Maeve O'Meara published by @hardiegrantbooks RRP $60 and is available in stores nationally.)
Imagine warm bread, straight off the campfire, with some butter and jam… or perhaps even golden syrup on it – perfect for breakfast at the camp, or to accompany an evening meal.
To taste if it's done, tap the loaf and it should sound hollow. Cut into moderately thick slices and serve while still warm, with your topping of choice. You can add a variety of ingredients to the damper for a different flavour, such as desiccated coconut, cinnamon, sultanas or extra sugar for a sweeter bread.
Yummm… who doesn't enjoy some good nachos? This campfire version uses corn chips, refried beans, black olives, cheddar, tomatoes, onion, salsa, sweet corn and jalapenos – all easy to transport on a camping excursion in sealed bag, jar or can form – ready to be heated over the open fire for a great start to a meal, or quick snack to appease hunger pangs.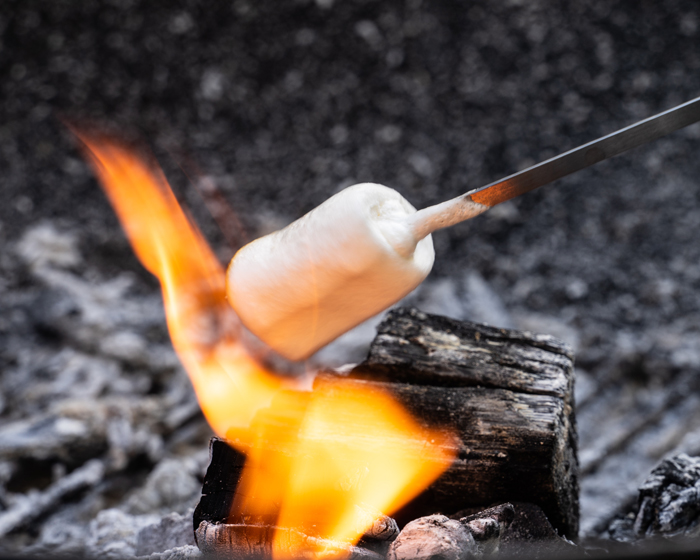 Roasted Marshmallow Kahlua Shots:
As everyone gathers around the fire after dinner, thoughts turn to a sweet treat to end a memorable meal. Nothing says camping fare more than roasted marshmallows… these ones are strictly adults only, with a delicious shot of Kahlua hiding in the hollowed-out mallows.
All you need is wooden skewers, an open fire and of course alcohol! Once toasty from the fire, remove the marshmallows, leave them to harden until they are cool to the touch. Using a melon baller, scoop out the top of the marshmallow and remove half of the inside… you now have the perfect camping shot glass!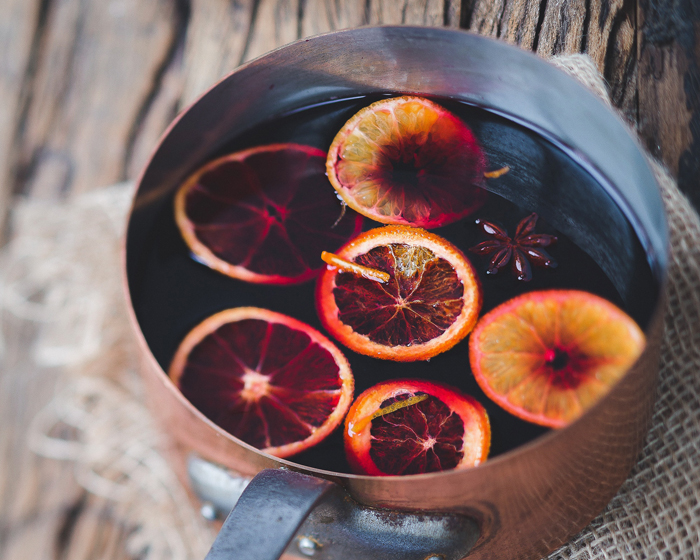 A truly European-style drink, spice things up on a chilly night under the stars with campfire mulled wine. All you need is a bottle of red, some spices, orange, lemon, sultanas and almonds – if you're not sure what wine to use, try a Merlot. The better the quality wine, the better tasting the result will be.
Mix everything together in a cast iron pot and slowly heat over the glowing coals, stirring at first to dissolve the sugar. To serve, scoop up some of the sultanas and almonds with the wine and sip slowly.
Let your imagination run wild for your next camping trip and see how easy it is to cook over an open flame. For more barbeque-style recipes that can be adapted for your campfire, click here.