By Leigh O'Connor. Images by Nikki To.
It's never cool in the kitchen when Lennox Hastie is playing with fire.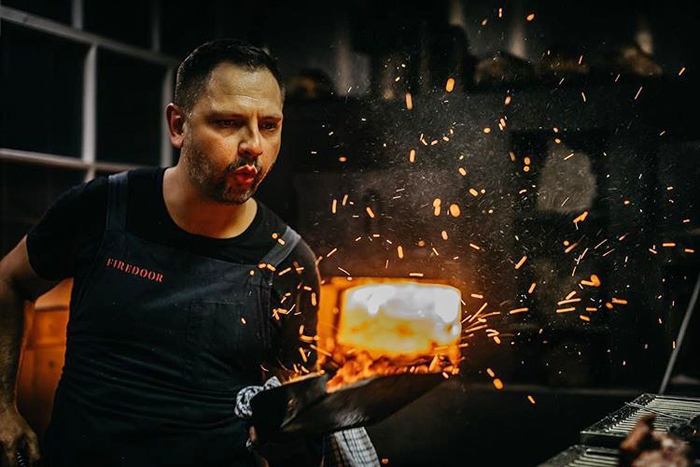 Born in the UK to an Australian Father and Scottish Mother, Lennox's cooking background was essentially technique-focused classic French, before a trip to Spain saw him land a job at Michelin-starred restaurant Asador Etxebarri, where he worked for five years.
This small asador with a strong tradition of wood-fired grilling, pushed the limits to what could be cooked over an open flame and Lennox was exposed to a completely different form of cooking – beautifully complex, yet simple, highlighting ingredients in their most natural state.
It was a turning point and captivated Lennox as a Chef so much, that on his return to Australia he opened the country's only fully wood fuelled restaurant Firedoor, in Surry Hills.
"Fire is essentially where cooking began. Working in Spain opened my eyes to enormous possibilities and I have continued to explore cooking this way. It is natural, humble, honest and directly relates to the ingredients used," Lennox tells AGFG. "It pushes my limits and sparks my creativity."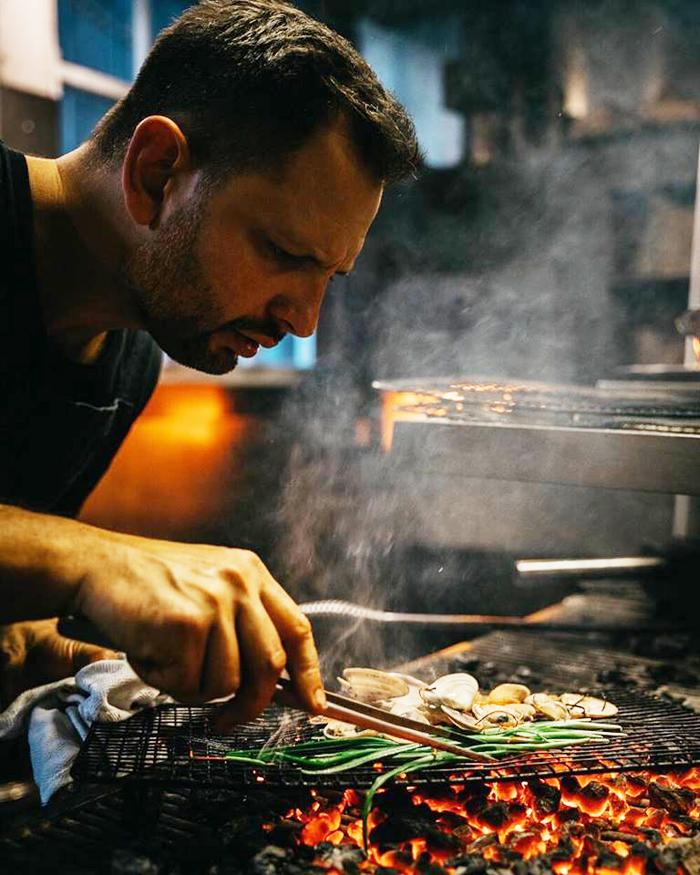 With such a raw, unpredictable nature, it is difficult to maintain the correct heat and cooking time when using an open flame. Lennox says it is all about working in harmony with the heat and taking variables into account – on the same day the same dish can be completely different.
Firedoor's kitchen revolves around two wood burning ovens and three grills, there is literally no electricity or gas for cooking, which begs the question: what can go wrong?
"Last Summer was very hot in Sydney; and with the heat in the kitchen added in, one of our sprinklers blew and evacuated the restaurant."
Obviously, everything begins with the wood. Lennox sources all his wood within Australia and uses it as a fundamental seasoning for the food he cooks, varying the wood in accordance with the ingredients he uses.
"It has taken years of trial and error to see how each wood burns – variables are vast, the density of the wood, where it is grown, in what climate and how long it is seasoned for. For really good beef, I use century-old gnarly grapevines from Mudgee, which produce an intense burst of flame that is both aromatic and robust.
"While for seafood, I would choose Applewood, because of its sweet and subtle perfume and delicate flavour profile, which showcases seafood perfectly."
Taking four years to open, Firedoor is now at the forefront of the Sydney dining scene and Lennox believes he has pushed the limits of what can be achieved in the small café space. He envisages moving to a large restaurant in a regional centre in the next five years, to be closer to ingredients and expand on the unbound, extensive freedom of cooking with fire.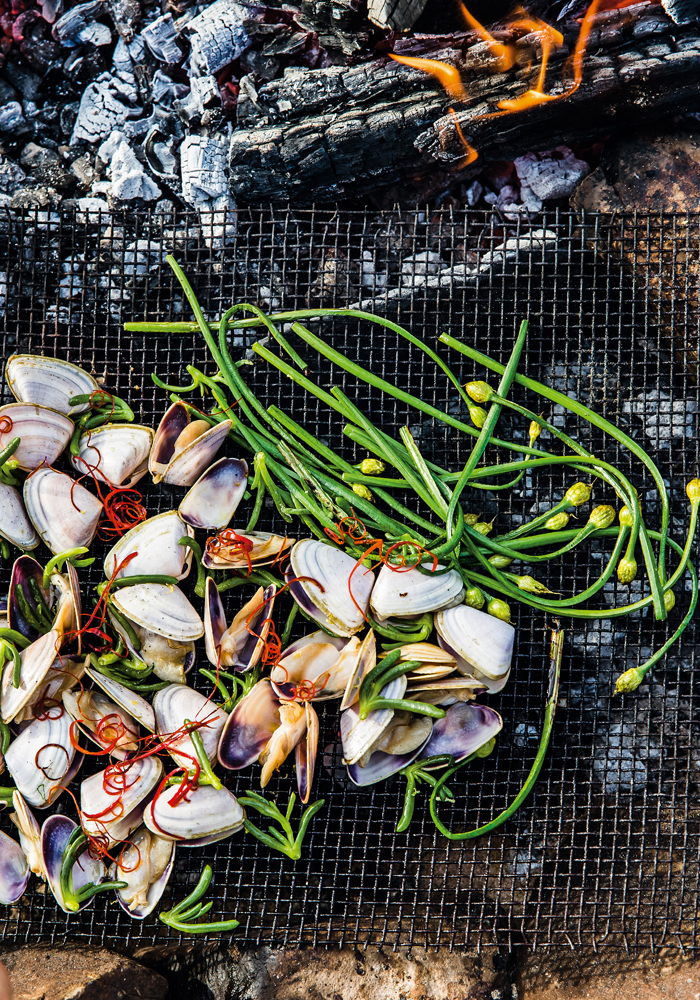 The recipe Lennox has chosen to share with AGFG readers is pipis with garlic and karkalla, uniquely Australian and fascinatingly cooked. High in natural fat, pipis only require a simple dressing such as olive oil and lemon to bring out the subtle flavours.
"Pipis were once put aside as something used for bait, but are now recognised as a sustainable seafood," he says. "Each shell is its own cooking vessel and when you add fire, the visual activity is amazing as each one pops open and is taken off the grill."
Almost two years in the making, Lennox's first book Finding Fire (find our review and more recipes here) has provided a comprehensive guide to this primal cooking technique. There is something for everyone, from how to light a fire to cooking processes and wood choices, making it the go to guide for cooking this way at home.
"This is something that hadn't been documented before and what I sought to do with this book."
So, what does a fiery Chef do to cool off in his spare time? The answer will surprise you!
"Many years ago in Scotland, I started climbing in the mountains. It is something I have chased over the years, having climbed Mount Blanc in France and peaks in South America. I am going to tackle two 6000 metre peaks in the Himalayas in October.
"It's all about the journey and destination – getting there and getting to the top."
From fire to ice, this Chef is on top of his game and sure to be a fireball on the Australian culinary scene for many years to come.
The Pipis recipe is an edited extract from Finding Fire by Lennox Hastie published by Hardie Grant Books RRP $60 and is available in stores nationally. Photographer: ©Nikki To.