2011 Christmas Gift Guide - Book Reviews of Literature You'll Love
A book is a gift that keeps on giving. As Christmas fast approaches, so too does the inevitable racking of brains required for cooking up Christmas gift ideas. We've done some of the hard work for you and scoped out some great reads that, hopefully, will not only take pride of place in the kitchens or on the coffee tables of your family and friends, but also be used and treasured for years to come.
'Tis the Season for...
Very Merry Cookies – Better Homes and Gardens
Chocolate coated coconut bonbons (p. 78), peppermint sandwich crèmes, macadamia bars with eggnog drizzle…Just looking at the photos in 'Very Merry Cookies' is enough to kick-start a cookie craving and fill you with festive cheer. Bursting with gobble-worthy gift ideas or perfect as a present on its own (that, if you're lucky, may earn you a few edible thank yous), this delightful cookbook features more than 200 recipes for assorted cookies, slices, bakes and sweets that you could make for any occasion.
From mini raspberry and white chocolate whoopie pies (p. 201) to colourful lime shortbread trees (p. 190-91), they're as fun and easy to make as they are to behold (and eat!), and there are loads of handy tips on buying ingredients, baking, decorating, and gift wrapping to help make each cookie a merry success.
Celebrating Chefs and their Delicious Recipes
Cook Like an Italian – Tobie Puttock
What better way to jump into the festive season than with a trip to Italy? Ok, maybe just your tastebuds will be going. Published by Tobie Puttock, 'Cook Like an Italian' has managed to capture the essence of both traditional and modern Italian cuisine from Venezia to Napoli and everything delicious in between. Everything about the photography within this cookbook screams 'bellisimo' and is a perfect Christmas purchase to impress the family with exotic dishes such as chocolate and fig salami (meat free!).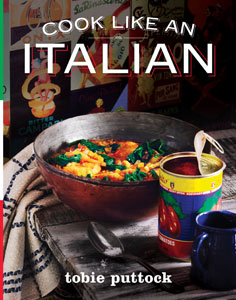 The Edible Balcony – Indira Naidoo
It was an epiphany that began with a simple tomato followed by the complete transformation of a thirteenth story apartment; Indira Naidoo overcame urban restaints and converted to vegetable growing on her balcony. And aren't we glad she did. 'The Edible Balcony' is an inspiring recipe book of seasonal dishes, ranging from summertime basil ice cream to winter's twice baked cheese soufflé.
In terms of setting up your very own vegetable or herb garden in a small area, Naidoo is full of tips and tricks in ensuring you get the most from the space available as well as information on how to beat those pesky seasonal problems of limp lettuce and battered basil. Bound by canvas and full of glowing photographs, 'The Edible Balcony' is a year round treat and a perfect gift for those looking for a holiday project.
A recipe to try from 'The Edible Balcony':
Strawberry and White Chocolate Ganache Tartlets
Cumulus Inc. – Andrew McConnell
By far one of the most modern and somewhat abstract recipe books to grace the fine dining world, 'Cumulus Inc.' is the product of renowned chef Andrew McConnell who presents his recipes in a glorious hardback fashion. Bursting with flavour, 'Cumulus Inc.' incorporates gourmet goodness ranging from tuna tartare with crushed green pea salad to a smoked wagyu tongue with mustard fruits. Not for the faint hearted or the cuisine comfortable, 'Cumulus Inc.' is a great Christmas gift for foodies looking to branch out and experience fine dining in their very own home.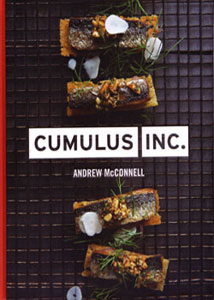 Hot Plate: Asian Inspired Barbecue – Spirit House
The forefront of Thai cuisine in Australia since 1995, the Spirit House restaurant and cooking school have not only produced a variety of tantalising taste sensations but also a variety of talented chefs. Dedicating their time and effort to produce 'Hot Plate', a recipe book incorporating the best recipes created from the unique style of Asian inspired barbecue, these chefs are the very reason the 'hail to the chef' aprons are created.
'Hot Plate' is divided into 4 sections – one for each chef – and range in recipe variation from sweet to spicy. Pork, chicken, beef and lamb are the superstars throughout this recipe book, exotically revamped to create delectable delights such as Coconut Chicken with Cucumber & Noodle Salad, Peanut & Sesame Dressing and Grilled Beef Ribs with Orange, Mint & Cherry Tomato Salad.
More recipes to try from 'Hot Plate: Asian Inspired Barbecue':
Barbecue Prawns with Larb Salad & Roasted Rice Powder
Coriander & Pepper Crusted Tuna with Lemongrass & Cherry Tomato Salad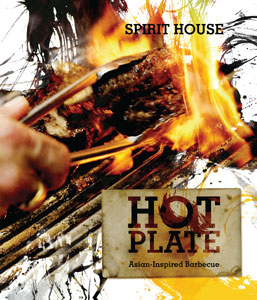 Life, Love, Cupcakes & More
500 Cupcakes – Fergal Connolly and Judith Fertig
Add any ingredient prior to the word 'cupcake' and somehow, it will still make your mouth water. Coffee, banana, chilli and even basil pesto make an appearance in '500 Cupcakes' – a book that is just as appealing to the eyes as the tastebuds and ranges in decorating difficulty from the amateur artist to best of the baking world. From chocolate ice cream to lavender and honey, you can be rest assured there is a cupcake within this tiny hardback book to suit every mood. A comprehensive look into the world of the cupcake making process, '500 Cupcakes' also includes crucial cupcake information on everything from getting started to storing and transporting the goods – if they last that long. Claiming to be 'the only cupcake compendium you'll ever need', '500 Cupcakes' is the perfect Christmas treat for that special someone…who may just bake you a thank you cupcake in return.
Another recipe to try from '500 Cupcakes':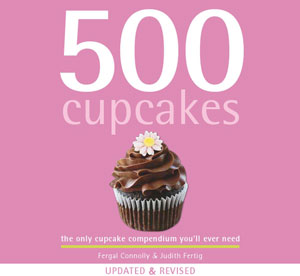 Possum Pie, Beetroot Beer and Lamingtons – Victoria Heywood
Taking a step or two back in time, this is a cookbook insistent upon going down in history. 'Possum Pie, Beetroot Beer and Lamingtons' is a nostalgic collection of recipes gathered from the Australian past. Lodged in attics, dusty archives, magazines and family bookshelves, these Australian family recipes bring to life the notable periods from early settlement right up to the 1950s where the good housewife reigned supreme.
Scattered with an array of entertaining advertisements and advice, 'Possum Pie, Beetroot Beer and Lamingtons' features a variety of dishes ranging from 'Bachelor Meals' to a family 'Baked Possum'. Fantastic for both gifts and home alike, this book is a nostalgic delight for all ages.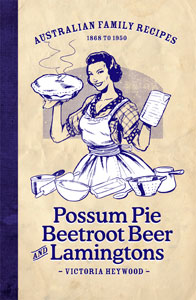 Life, Love and Cooking – Adam and Jade Brand
A couple's cookbook? Does this mean we have full permission to drag the other half into the kitchen? Perhaps this cookbook can be given as a subtle hint instead. Simple but effective.
'Life, Love and Cooking' is a tale of country singer meets dancer, combined with a variety of fresh, simple and everyday recipes that will hopefully be appearing in a kitchen near you. A recipe book full of beautiful breakfasts, magnificent mains and delicious desserts, 'Life, Love and Cooking' defines food to be a major part of Adam and Jade Brand's life together and the simple joys that cooking can bring to life. And with recipes like the Spanish Breakfast Pan and Red Velvet Rum Balls (p. 188), it's hard to argue. 'Life, Love and Cooking' is a gorgeous recipe book perfect to expand your weekly menu and is gift appropriate for family and friends alike – particularly one who avoids quality cooking time together.
More recipes to try from 'Life, Love and Cooking':
Creamy Salmon Pasta, Fish Soup & Tour Salad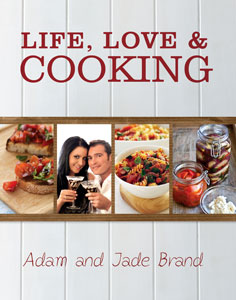 The Apple Lover's Cookbook – Amy Traverso
Who ever knew there were so many different kinds of apples, and (more to the point) so many delicious dishes you could make with them? From apple, cucumber, lime and mint salsa to cider brined pork chops with mustard pan sauce, not to mention scrumptious baked things like Gravenstein apple-raspberry tart – 'The Apple Lover's Cookbook' shows just how varied, versatile and exciting the humble apple can be.
Along with 100 simple sweet and savoury recipes peppered with mouth-watering photography, this book is full of useful and easy to follow apple info, like how to perfectly peel and core an apple, which varieties work best in which recipes, how to match cider with cheese, and even notes on apple terroir. If you weren't an apple lover already, 'The Apple Lover's Cookbook' will more than likely change that.
Delicious on a Diet
Healthy Family Dinners – Family Circle
Easy, healthy recipes that the whole family will enjoy… Isn't that on every parents' wish list? Trust none other than Family Circle to deliver the goods. 'Family Circle Healthy Family Dinners' features more than 200 recipes that are big on both taste and nutrition, perfect for cooks who are short on time. You won't find any fancy, hard-to-get ingredients in here – just simple to follow steps, handy shopping and kitchen tips, appetising photos, and nutrition info indicating that there's less than 500 calories per serving. From fresh, flavoursome salads like the crunchy panzanella to hearty pastas, vegetarian options, desserts, and delicious meat and seafood dishes like fish tacos sprinkled with coriander, lime, green pepper and chilli, 'Healthy Family Dishes' is full of dinner ideas that will satisfy even the fussiest family members.Another recipe to try from 'Family Circle Healthy Family Dinners':
Chicken & Broccolini Aglio e Olio
Gluten Free, Grain Free – Tania Hubbard
Festivities are sounding and we all have the wish to be free right? But gluten free and grain free? That sounds problematic, especially in the Christmas season. Fortunately Tania Hubbard steers us away from the bland and unpleasant stereotype of gluten and grain free meals in her newest release 'Gluten Free, Grain Free' to a world of mouthwatering recipes Hubbard herself describes as 'scrumdiddlyumptious'.
From the tasty Chicken and Date Tagine to the 'outrageously good' Chocolate and Banana Mousse Cake, 'Gluten Free, Grain Free' is not only choc full of delectable cuisine but also features key information about stocking a grain free pantry and tips on keeping your body happy and healthy the natural way.
More recipes to try from 'Gluten Free, Grain Free':
Zucchini Bake, Warm Chickpea, Herb and Rocket Salad & Chia Seed Chocolate Cake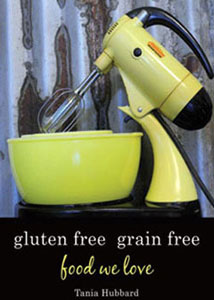 The Food Allergy Cookbook – Carmel Nelson & Amra Ibrisimovic
After Carmel Nelson's years of consuming food akin to lumpy acidic wallpaper and Amra Ibrisimovic's dining fiasco turned hospital visit, the problem was clear and a solution had to be found. Allergies can be the natural enemy of the foodie if not properly understood but the Food Allergy Cookbook has it covered; 101 ways for food and flavours to live harmoniously with allergies.
From dairy, nuts and soy to gluten and shellfish, this hardback recipe book incorporates essential information for readers cooking for or catering to allergies, including what types of pre-packaged foods these ingredients may be a part of. The Food Allergy Cookbook also states kitchen tips for those new to understanding allergies and offers handy advice as to what ingredients to avoid depending on which allergies are being catered for.
More recipes to try from 'The Food Allergy Cookbook':
Creamy White Bean Dip, Broccoli Salad & Bosnian Wedding Soup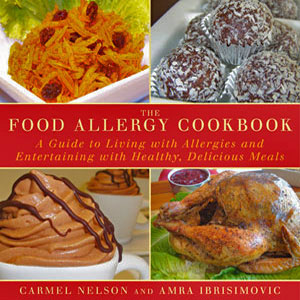 Wine & Travel
From Europe to the motherland, Australia is internationally renowned in the wonderful world of wine, from the rich reds of the Riverina to the crisp whites of the Hunter Valley. In his latest book 'The Future Makers: Australian Wines for the 21st Century', wine connoisseur and author Max Allen goes barreling across the country, investigating what impacts the future of Australian wines may be subject to.
'The Future Makers' takes the reader around the wine regions of Australia, introducing the people who are shaping the wining future as well as in depth profiles of pick of the bunch winemakers. Allan's passion and vast knowledge of wines make this book an essential for the Christmas list for those looking to start or expand their knowledge on Australian wines. A perfect Christmas gift, along with a glass or two of course.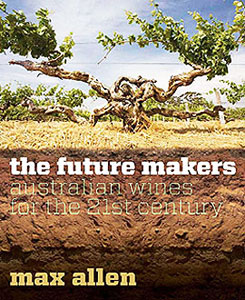 It might be a bit much to ask someone to buy you a house like one of these for Christmas, but the book is just as impressive! Kick back and do some holiday daydreaming with 'Living in History' – a collection of Tasmania's most beautiful historic homes, the people who built them and the lucky ones who are currently residing in them.
Living in a literal history, some of the homes pictured within 'Living in History' have been handed down through families from the 1820's, others restored from their previous life as a coach house or public school. A hidden gem, this book gives readers an insight into the Tasmania that has so often gone overlooked; scenic beauty, amazing architecture and surprising stories.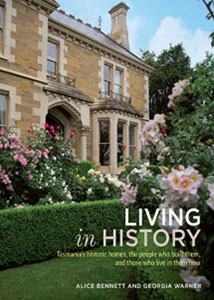 By Brittany George & Belinda Moo