By Freya Ensbey.
Us Aussies are envied the world over to live in a country where the weather is generally balmy and pleasant year-round, only succumbing to the perils of a cooler Winter for a few months of the year and shocking us with a sudden drop in temperature, having us trading our thongs and bikinis for knits and Uggs. During these frosty months, these restaurants will keep you warm!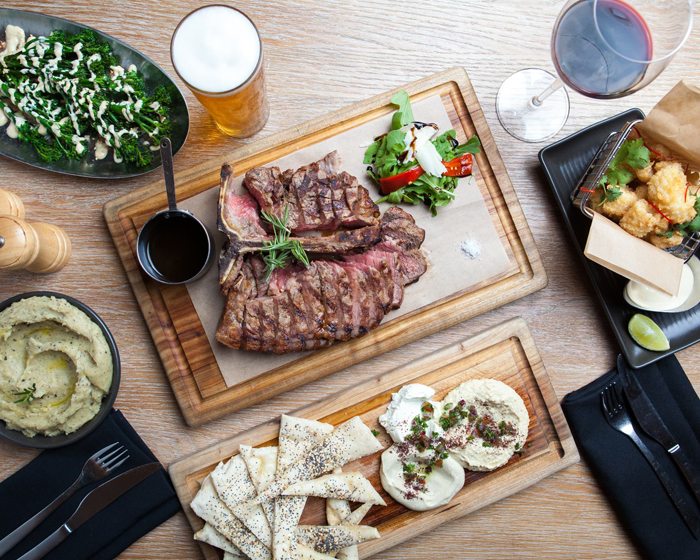 Clifford's Grill and Lounge | QLD
Offering a raw flame grill, coupled with the contemporary persona of an inner city industrial style bar, Clifford's Grill and Lounge located in the heart of Surfers Paradise is the ideal environment to meet friends on a chilly night. Diners may opt for a generous boutique cut of protein cooked to their liking, like the 400 g Grain Fed Rib Eye on the bone with a signature peppercorn jus, crisp potato rosti, broccolini and blistered cherry tomatoes.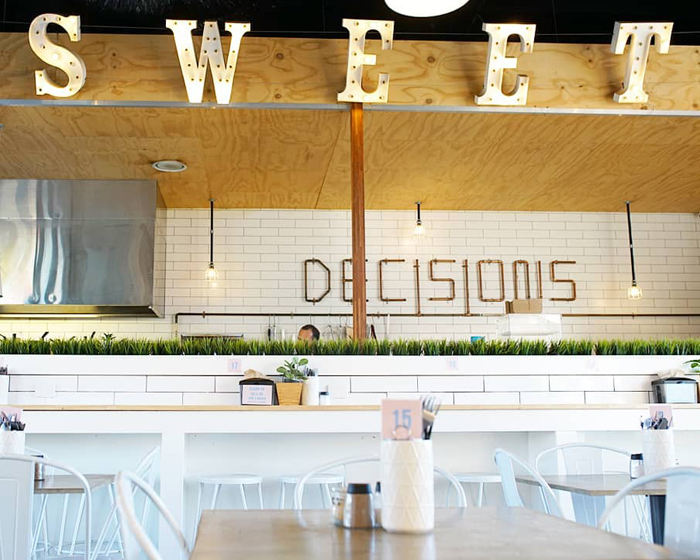 Decisions Café | QLD
As the name suggests, this forward thinking Sunshine Coast café lets its diners make the choice for themselves as to whether they want to dine on something naughty or nice from either the superfood or superjunk menu. Perhaps warm up your morning with a hearty Nasi Goreng with poached chicken or give into the mac n cheese French toast with crispy bacon, potato gems and chipotle chutney.
Terrace Restaurant at The Denman | NSW
After a day on the icy slopes of Thredbo Ski Resort, warm up by heading straight to The Denman Hotel where you will find a stylish, chalet style fit out designed specifically to offer a welcoming and comfortable après ski atmosphere. Enjoy an intimate meal at candle topped tables, set with white linens and floor to ceiling windows which overlook the snow-capped mountains beyond.
Apres Bar | NSW
A must visit while in Thredbo Village, take an afternoon run break, dry out your mittens and sample a range of quirky cocktails, a tipple of boutique spirits or round of Schnapps. As live music fills the air and the good times roll on in, stay a little longer and grab a bite to eat from the bar menu offering tempting plates like the antipasto platters.
Namaste Indian Cuisine | NSW
Perched along Kosciuszko Road in the heart of snowy Jindabyne is Namaste Indian Cuisine, satisfying the ravenous appetites of the weary after a full day of outdoor activities every night of the week. Take in the views of sprawling Lake Jindabyne as you dine on flavoursome curries like the popular chicken tikka masala with oven baked diced chicken cooked in a creamy sauce. Namaste also offers their entire menu takeaway for those who want to snuggle up on the coach at their accommodation.
Alfresco Pizzeria | NSW
Serving authentic Italian year round, the stacked stone Alfresco Pizzeria is a well-known and locally loved hot spot at Thredbo Alpine Hotel in Thredbo Village. Opt to dine alfresco under warming café lamps or head indoors to find a warm and cosy nook to enjoy a glass of wine while admiring the snow-capped mountain views beyond. Bring along your favourite bottle of wine to enjoy as you twist your fork around a plate of spaghetti with Bolognese sauce before tucking into the famous Thredbo special pizza, topped with cabanossi, mushroom, pineapple and garlic.
Paddock & Vine | NSW
Nestled in the stylish streets of Sydney's northern beaches, Paddock & Vine on Bungan Street in Mona Vale. Find a stylish and modern dining space, with a touch of industrial charm displayed in blue mosaic tiled countertops, painted brick walls, a feature central bar, warming copper pendent down lighting and relaxed booth seating. Begin an intimate meal with share style plates designed to give diners a diversity of taste, beginning with dishes like the melt in your mouth baked gnocchi, with taleggio, mushroom and truffle vinaigrette or the succulent pork meatballs cooked in a rich tomato sauce with herbs and Parmesan.
Mongol Lounge | NSW
For a taste of hearty Mongolian fare while in the area of Arncliffe, make a reservation to broaden your taste experiences at Mongol Lounge. This family friendly eatery invites guests to be seated in a warm and relaxed dining space as they peruse a menu of honest cooking and comfort foods created by Mongolian Chefs. Line your tummy by slurping a bowl of beef noodle soup before moving onto a main like the popular beef goulash with mashed potato and rice.
The Green Lion Bistro | NSW
Vegan and Pub Grub; two words rarely heard in a sentence together but a menu theme executed brilliantly by The Green Lion Bistro residing on Darling Street in Rozelle. Find an eclectic mix of old meets new, with inviting dark leather couches to recline into as you devour a menu of plant based, traditional pub style dishes.
Saltbush Fine Foods | VIC
Set in a quaint, historic Queensland heritage building, Saltbush Fine Foods offers a taste for everyone from takeaway morning coffees and gourmet delights to enjoy at home later with the likes of preserves, jams, nougat, chutneys, sourdough, pasta and sauces to scrumptious café eats like the soul warming porridge with brown sugar and cream.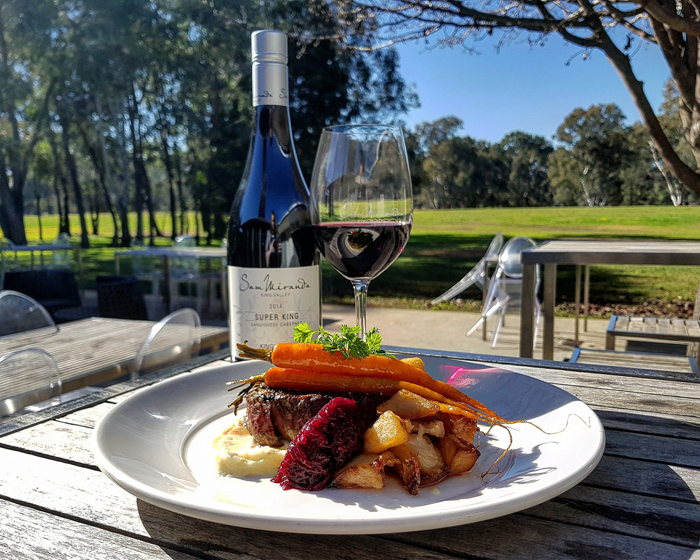 Sam Miranda King Valley Winery and Restaurant | VIC
Set in the lush region of Melbourne's Milawa gourmet food and wine region is renowned winery Sam Miranda King Valley. Sitting 400 metres above sea level, the winery offers breathtaking views surrounded by a mountain backdrop. The architecturally designed cellar door is regarded amongst the country's best, offering an underground passage leading to a stylish tasting area where the resident wines are available for tasting and purchase. Find yourself a spot by the fire as you indulge in the slow cooked lamb shoulder ragu with pappardelle and Parmesan, paired with a 2015 Barbera.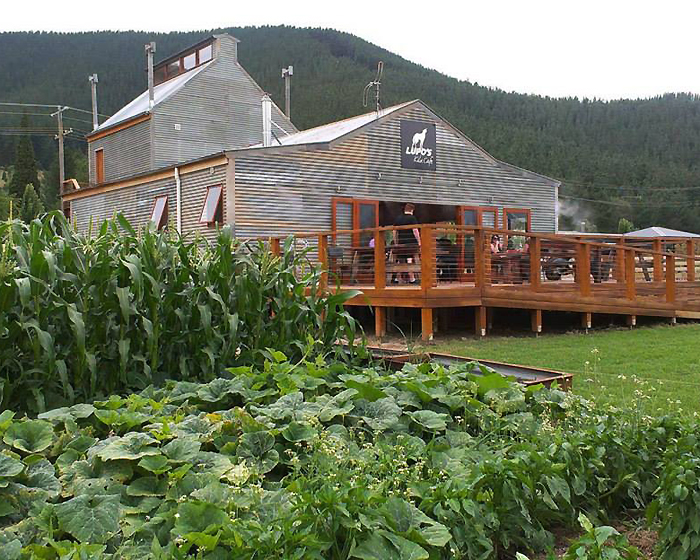 Lupo's Kiln Café | VIC
Nothing says Winter more than a country escape, so take to the hills of Myrtleford along the Great Alpine Road to Lupo's Kiln Café and immerse yourself among nature for the day. Surrounded by kitchen vegetable garden plots, this barn style restaurant has been built using recycled materials of corrugated iron and timber, creating a rustic yet stylish fitout. Take a seat inside the provincial dining space and dine on the likes of spinach and ricotta ravioli with Napolitano sauce or perhaps gnocchi with burnt butter and sage.
The Winery Kitchen | VIC
Located in the historic railway township at the southern end of Goulburn Valley resides the quaint suburb of Seymour, playing home to The Winery Kitchen situated at the picturesque Somerset Crossing Vineyard. Wrap your scarf around your neck as you wonder through the vineyard and resident vegetable patches, before taking a seat in the alfresco pergola dining space which provides a canopy of winding vines and overhanging branches or be lured inside by the natural output of warmth from the open wood fire oven. Heralding a paddock to plate philosophy, The Winery Kitchen has created a menu offering dishes inspired by seasonal and local produce with the likes of the McIvor Farm pork belly on the rib, cavolo nero, star anise carrot puree and balsamic glaze.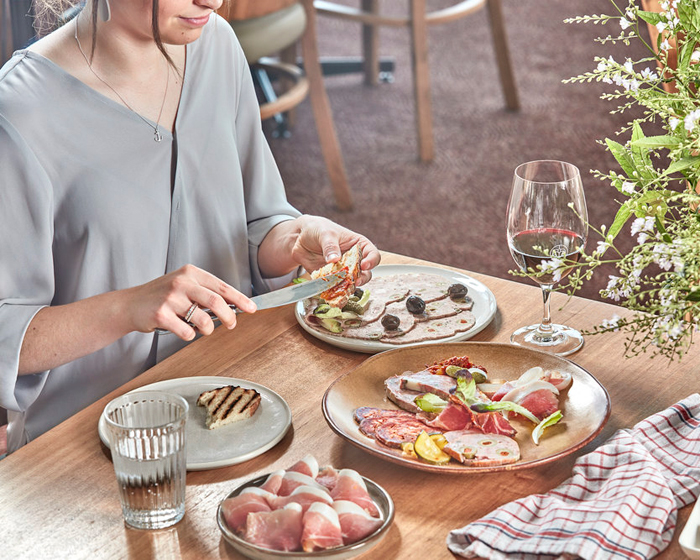 Hogget Kitchen | VIC
Discover Gippsland's hidden gem, Hogget Kitchen, residing in Warragul, perched above the lush green vineyard of Wild Dog Winery. Take a seat on the wide open front deck and soak up the warming midday sun as you take in the views of the sprawling country side beyond. Find a contemporary interior which has been styled with sophisticated Scandinavian touches of wooden furniture and a soft, earthy colour palette, while floor to ceiling windows allow in a flood of natural light.
DenDeke Japanese Bar and Dining | VIC
Nothing warms you faster in Winter than a big bowl of nourishing soup or noodles to slurp at and an ambient and welcoming space to relax in with friends, so make your way to DenDeke Japanese Bar and Dining along Plenty Road in the Melbourne suburb of Preston. Begin with the popular Agedashi tofu, deep fried and served with bonito broth and ginger soy sauce or sample special creations like the Torichanko Nabe, a soy based hot pot with chicken, tofu, mushrooms and vegetables.
Meating Room | ACT
Get the kids out of the house and beat the Winter blues this season by taking them for a family friendly meal out at the Meating Room, residing along Liardet Street in Weston Creek. Relax in a semi basement styled space which has an industrial charm, setting the tone for a relaxed meal best suited to ravenous appetites. For the carnivores, why not share in a meat platter for two with beef ribs, chicken wings, lamb rump and house sausage with salted hand cut potato and crispy slaw with house salad, while the kids may enjoy a crunchy pizza with gourmet topping options like the Margherita – San Marzano, buffalo mozzarella, fresh basil and EVOO.
For those of you who are wanting a little inspiration for warming up your own home kitchen this Winter, blend your way through our top Winter soup recipes.