By Leigh O'Connor.
A chill wind is blowing and evenings draw in early as Winter extends its bony claw around our land Down Under. One way to warm the heart and soul is via a steaming bowl of soup waiting at the dinner table, paired with crusty bread and a glass of red.
Nothing beats those Winter blues or hunger pangs as easily as a spoonful of rich, creamy soup. It's hearty, wholesome and enjoyed by all ages – from toddlers to grandparents. There's no limit to ingredients, often a quick look in the vegetable drawer of the fridge is enough inspiration for a pumpkin creation, while the addition of seafood or chicken turns a humble bowl of broth into a memorable, satisfying meal.
Soupa charge your next family dinner by serving a starter or main that screams home cooking at its best, with these six recipes: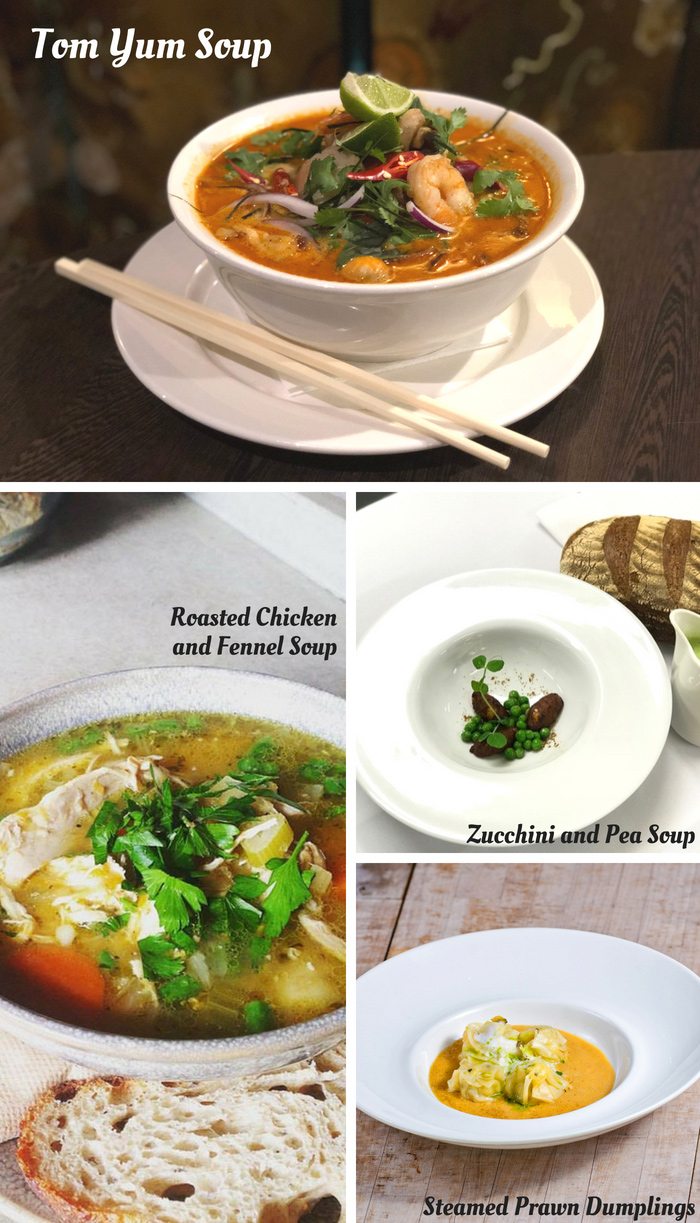 Tom Yum soup is best known as a Thai dish, with hot and sour flavours combining with seafood in a mouth-watering broth, featuring the fragrant bite of lemongrass and kaffir lime leaves, offset by the sweetness of ginger. This dish comes from Emerald Gardens restaurant on Hobart Road in New Lambton, where moody aesthetics and a suave vibe entice locals in for Asian fare with flair.
Bask in a magnificent country estate setting at Katers Restaurant at Peppers Manor House in Sutton Forest, where a harmonious blend of intimacy and grandeur awaits guests. Rich décor and a celebration of fresh, seasonal local produce – including vegetables, herbs and flowers grown on site – combine to create a meal to be remembered, with offerings like roasted pumpkin soup with eggplant and zucchini and pea soup with halloumi fritters.
This dish is visually stunning, with the vibrant green soup served in a jug on the side, while freshly blanched green peas add colour and texture to crisp and golden sweet corn and halloumi fritters. The addition of Ras el Hanout – a North African spice mix – as a garnish brings a smoky flavour to a soup that is sure to tempt even the most discerning palate.
Idyllic beachside scenery and a rustic alfresco area complete with sawn off tree stump stools and cheery flowers, make Avvia Café Restaurant on Twenty Third Avenue in Palm Beach a popular local hangout. Chill out indoors where overflowing greenery, dark wood and polished glass make for a memorable experience, while perusing an innovative menu which may include Winter warming soups like steamed prawn dumplings with brandy bisque.
A bisque is a smooth, creamy, highly seasoned soup of French origin, classically based on the strained broth of crustaceans. This recipe uses lobster head and claw as the main ingredients with a hint of brandy, while pillow soft prawn dumplings add a hunger busting element to beat off the cold. Pair this delicious taste tempter with grilled sourdough bruschetta, olive, pesto, roasted capsicum and goats feta for those with ravenous appetites.
Everyone loves a bowl of chicken soup, especially when feeling a little under the weather, as is often the case during Winter months. This creation of roasted chicken and fennel soup comes from Lilyfield café Pane E Cipolla, nestled in Orange Grove Plaza. This trendy venue has been fitted out with a nod to the owner's Italian heritage, with earthy toned tiling, whitewashed plaster walls and timber bench seating around quaint circular tables.
Using a whole butterflied chicken, butternut pumpkin and the aniseed flavour of fennel, it is a substantial soup that will satisfy grumbling stomachs and have family members asking 'please, can I have some more?' Best served with toasty ciabatta to soak up the flavoursome broth, it is likely to turn into a favourite around the table at any time of the year.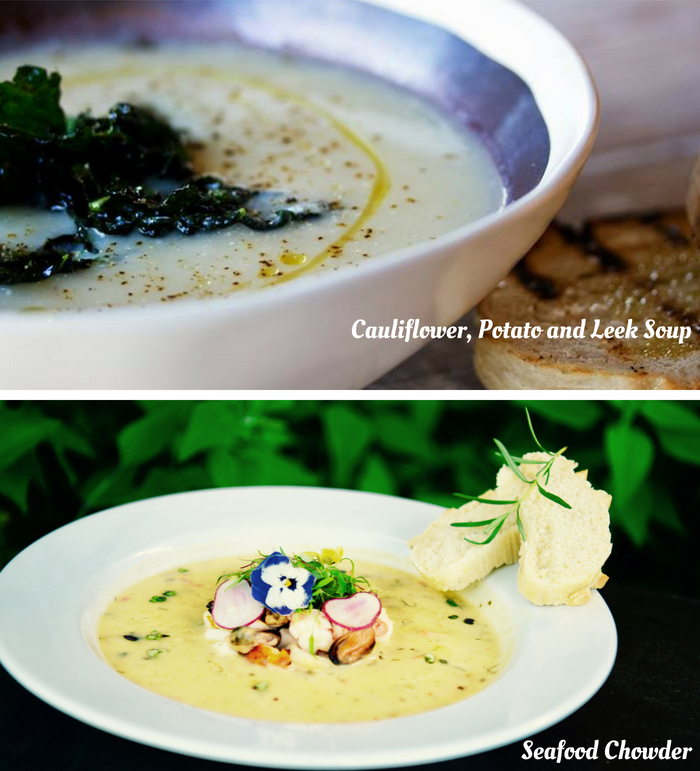 Ideal for the cold months, cauliflower, potato and leek soup has long been a combination that is easy to make and full of creamy, rich flavour. This bountiful bowl from The Winery Kitchen on Emily Street in Seymour, is topped with deep fried Tuscan kale leaves for a textural crunch and splash of dark green contrast to the filling chowder-like soup beneath.
The word chowder immediately promises a thick and hearty meal, especially when mopped up with crusty bread. Vines Restaurant at Hollydene Estate in the Hunter Valley brings us this seafood chowder creation, chock full of smoked haddock, barramundi, mussels and prawns, with white wine, fennel and cream enhancing the taste sensation.
Get your spoon ready to dip into a blockbuster bowl of cold and hunger banishing deliciousness with any one of these recipes… still craving more? Click here for more soup sensations.