When Chef Aum was a young boy in Thailand, he would sit in the backyard looking at the moon and imagine what it would feel like to be out of the Earth's atmosphere, suspended in a moment of pure wonder.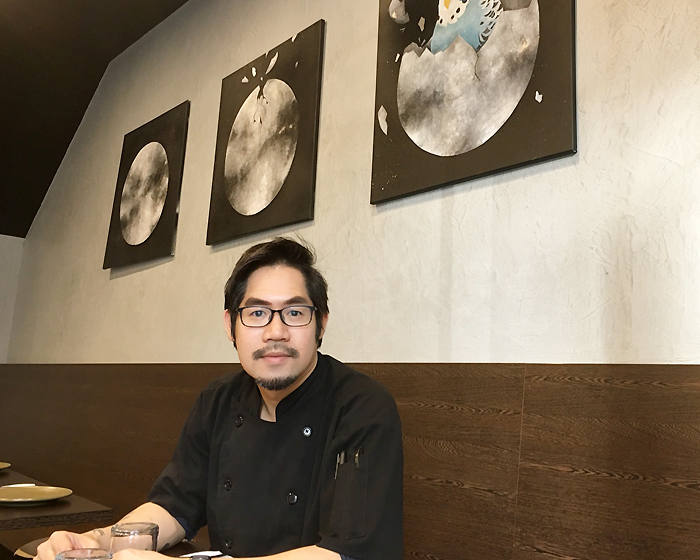 Embodying this vision and a personal desire to share his love of Thai and European cuisine, Aum has gone on to give discerning Sydney foodies Restaurant Moon on Liverpool Street in Darlinghurst, where diners are amazed at the dishes he creates.
Embarking on a culinary journey 16 years ago, which started from curiosity and progressed because of passion, Aum first worked at The Oriental Hotel in Bangkok before studying in Belgium, where he experienced his first taste of European cooking.
A stint at French restaurant Le Paris Royal, brought new influences to Aum's repertoire and his unique cooking style has evolved from adopting all his experiences, combining them with modern techniques and Asian flavours.
He plied his trade at many Sydney restaurants including Sumalee Thai and Longrain, before opening his own venture providing an opportunity to showcase his style as part of a Sydney dining scene that attracts foodies from all over the globe, because of the variety of restaurants on offer.
"It would have been too easy to just open a Thai takeaway and make money. But I wanted to present a multicultural vision through my food and restaurant concept."
A somewhat risky idea, Aum says he has been extremely lucky with the support he has received from business partner Jackie Park, a veteran of 15 years in the hospitality industry.
"Food can be similar in many cultures, for example Thai curry and Indian curry," he tells AGFG. "We need to understand the roots of each dish before we get innovative. French cuisine has a very long history and most cooking schools teach French techniques.
"It is very easy to apply these techniques to different types of cuisine, including Thai."
These days every dish offered at Restaurant Moon has been created by Aum's wild imagination along with a respect for tradition, which sees guests smiling as artfully plated meals are delivered to the table.
Well known for his visual styling, Aum says plating is a very important part of being a Chef.
"Plating shows that you really care about your guests… it can make them smile and I love to see people smile."
So what's his favourite Thai dish, we ask? No surprise the answer is Tom Yum, a sweet and sour soup that tells the story of the country's culture and history.
"A long time ago, people were living along the river in Thailand and everyone could easily access wild prawns for cooking. It was simple to make a clear soup, add some garden herbs, chilli and lime for seasoning and prawns. Nowadays, Thai culture has changed a lot, it's not easy to get wild prawns, no one wants to make soup or stock – they use paste and frozen seafood. It's really hard to get a nice, authentic Tom Yum."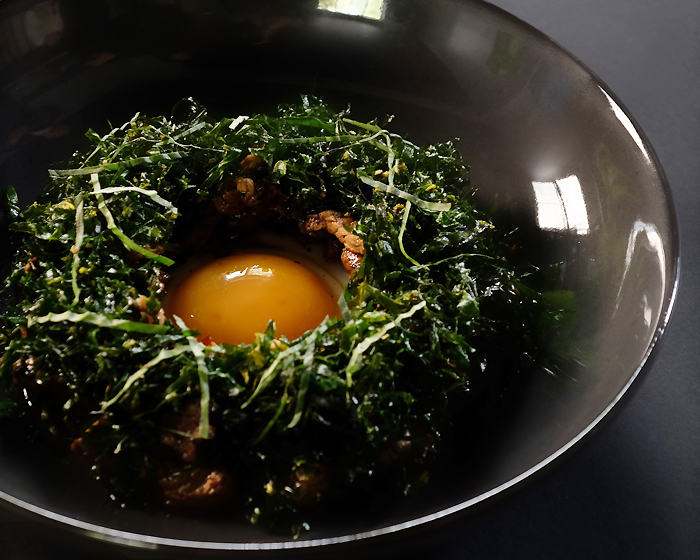 While Aum says his new dessert Groot After Moon is his most eyebrow-raising dish - matcha mousse, vanilla cream, strawberry consommé, chocolate and passionfruit sorbet – it is his recipe for Surf and Turf that is awe-inspiring.
Combining Angus beef sirloin and octopus confit, with basil and roasted chilli sauce, the use of two proteins requires totally different cooking techniques. The octopus needs to be softened by the French confit method, while the beef is flash seared on the wok Asian style – a perfect representation of Aum's European-Thai background.
With the face of Thai food changing all over Australia, diners no longer want just green curry and Pad Thai. They want innovative, creative dishes representing culture and heritage with a modern twist, those who choose to dine with Chef Aum are sure to be over the moon with the experience.
Check out more of Chef Aum's amazing dishes over on Restaurant Moon's instagram.
Images supplied, Surf and Turf photographed by Jess. Chef Aum's Surf and Turf recipe can be found here.