Compiled by Freya Ensbey.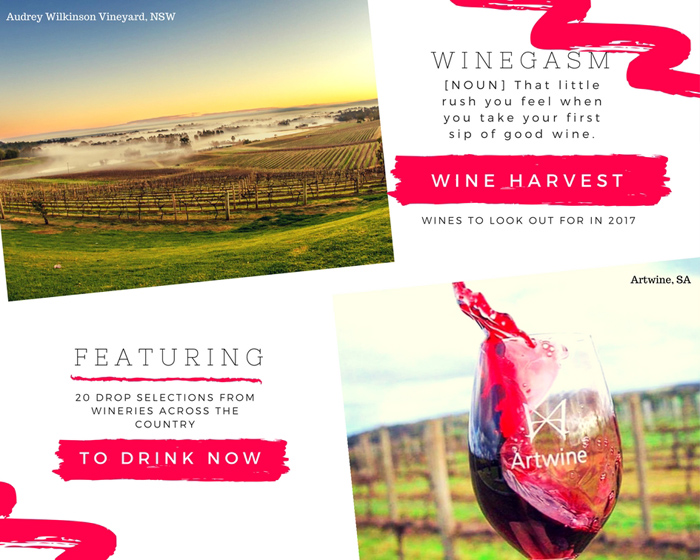 Wine harvest season brings with it the release of previously perfected batches from former years, being an ideal time to branch out from your usual drop and sip on something a little more selective. Wondering what wines to drink in 2017? We were too, so we scaled the vines to bring you the latest wine trends to look out for this year.

Crooked River Winery | NSW Purchase: $132 for 6 from their Cellar Door and Restaurant.
The Drop: Crooked River Wines 2017 Saddleback Mountain Red
The Notes: grown and bottled on the foot hills of Saddleback Mountain, this elegant soft wine is a blend of Cabernet Sauvignon, Sangiovese and Chambourcin. Aged in a mix of French and American oak before blending, has produced rich, smooth flavours of plum, blackberry and cherry.
Gartelmann Wines | NSW Purchase: Online, $30.
The Drop:2013 Jesse Shiraz
The Notes: oak maturation for 18 months in one to three-year-old Hogsheads and puncheons has delivered complexity and will go on to mature into an amazing wine for years to come. The Jesse Shiraz has a strong fruit flavour of deep plums, with smoky vanilla oak and significant drying tannins that coat the tongue, but slide away easily.
Audrey Wilkinson Vineyard (Label – Poole's Rock) | NSW Purchase: Dan Murphy's or Online, $42.50.
The Drop:2014 Poole's Rock Semillon
The Notes: this Semillon consists of layers of lime juice and green apple with sherbet notes. The long, delicate palate is supported by a fresh acidity, making this an ideal wine to drink young, or left also allowing it to develop classic aged Hunter Valley Semillon characteristics.
Keith Tulloch Wines | NSW Purchase: Online, $75.
The Drop:The Kester Shiraz 2014
The Notes: this wine expresses all of the signature Kester elements. Rich in blood plum and cherry, plus the dense and broody aromas of inky aniseed, cassis and dark chocolate. Deluxe French oak is there too, adding to the gentle tapestry of aromas, from the initial charm at the beginning to the perfumed allure at the finish. On the palate, Kester's strong black fruit core melds into silken tannins with superb balance and length, yet it's surprisingly dynamic, with a riveting core of fresh black fruit brightness and tightness that will last for many years.
Tertini Wines | NSW Purchase: Online, $45.
The Drop:2015 Pinot Noir
The Notes: this wine is a meticulous 50/50 blend of 115 and MV6 clones from Tertini's "Yaraandoo" vineyard located near Mittagong in the Southern Highlands. This wine is burgundy in colour and the aroma offers a gamey note with hints of spice and sweet red cherry. It has excellent complexity and great length with silky tannins.
Cottontail Wines | NSW Purchase: Cellar Door and Restaurant.
The Drop:2013 Cottontail Cabernet Sauvignon
The Notes: deep red pushing to violet with an aroma of black cherry and cedar hints of tobacco. Full bodied, savoury, well balanced tannins. Paired well with BBQ short ribs and other red meats.
Collector Wines | NSW Purchase: Online, $32.
The Drop:2013 Collector Rose Red City Sangiovese
The Notes: spiced redcurrant, mulberry and tobacco yield to a rich palate framed by cherries, hints of tar and firm savoury tannins.

DogRock Winery | VIC Purchase: Online, $35.
The Drop:2015 Degraves Road Vineyard Grenache
The Notes: following a hand harvest, the fruit used was gently crushed into an open fermenter and left to ferment using natural yeast from the vineyard. The resulting wine has vibrant red berry fruits and fresh aromas of spice, pepper and dark plum. The palate has soft velvet tannins, sweet red fruits and leads to an elegant finish. This wine has been bottled early to ensure this vibrancy stays in the wine but will age beautifully. It can be enjoyed early with light red meats or roast vegetables.
Anderson Winery | VIC Purchase: Online, $30.
The Drop:2013 Anderson Storyteller Durif.
The Notes: this is a rich, flavoursome red wine made from the iconic Rutherglen red variety Durif. The label is in honour of the Anderson's multi-generational family pet, Cocky - a cockatoo who lived from 1940 - 2013. On one hand, Cocky was loud, opinionated and not afraid to express himself; but equally, he could be surprisingly gentle, and was beautiful and elegant. A bit of a bird equivalent of this wine.
Jack Rabbit Vineyard | VIC Purchase: $280 for a Case, Online.
The Drop:2016 Pinot Grigio
The Notes: delight in the classic cool climate Grigio. Definitive components abound with pear, apple and vivacious spice. The slightest hint of arrogant pithy cumquat engages with an elegant length and finish displaying a wonderful, refreshing acidity.
Pierrepoint Wines | VIC Purchase: Online, $30.
The Drop:2013 Pierrepoint Pinot Noir
The Notes: this Tarrington (Henty Wine Region), estate-grown Pinot from very low yielding vines has been matured in French oak barrels for 12 months. It offers generous fruit aromas of sweet dark cherry and herbaceous, floral characteristics with a hint of smoky chariness. Rich fruit flavours of blueberry and sweet cherry continue to a long, warm finish.
Sanguine Estate | VIC Purchase: via the Cellar Door, Phone Order (03 5433 3111), or Online, plus at the following stockists: South Melbourne Cellars, Mayerling Cellars, Highgate Cellars Glen Huntly, Castlemaine Central Wine Store and Elwood Wine & Spirits.
The Drop:2014 Sanguine Estate "Inception" Shiraz
The Notes: a deep concentration of colour with a bright purple hue denotes the healthy and ripe 2014 vintage. A brooding and rich bouquet of ripe blackberry and plum with the classic earth and spice undertones. The palate is more elegant than the aromas let on, with long and even flowing fruit and spice with noticeable tannins offering great structure and length.
Seville Hill Wines | VIC Purchase: Cellar Door.
The Drop: 2006 Cabernet Sauvignon
The Notes: this Cabernet Sauvignon has retained a good hue and depth of colour, the cork having done its job well. There is a truly impressive display of cassis and redcurrant fruit, embraced by supple tannins and quality oak.

Lobethal Road Wines | SA Purchase: Online, $25.
The Drop:2016 Lobethal Road Pinot Gris
The Notes: a fragrant nose of Nashi pear and spice leads to a richly structured palate of delicious orchard fruit, cinnamon and nutmeg with fine acidity and elegant length. A warmer than usual Spring resulted in vintage 2016 starting two weeks early. Warm days and cool nights resulted in excellent yields of quality fruit.
Artwine| SA Purchase: Online, $45.
The Drop:2015 Leave Your Hat On Montepulciano.
The Notes: aromatic and medium bodied with a textural palate vibrantly bursting with flavour. Dark cherries, plums and berries with spicy undertones and splashes of herbs. Good length and savoury tannins. Montepulciano is a great match to pasta and rice dishes, it loves lamb and white meats and even oily fish.
Stone Bridge Wines | SA Purchase: Online, $26.
The Drop: 2015 Clare Valley Grenache Mataro
The Notes: a medium bodied red wine with a big herbaceous nose. Sweet red berry with a hint of spice. A silky smooth red made for early drinking with a big emphasis on fun.
Oliver's Taranga Vineyards | SA Purchase: Online, $25.
The Drop: 2016 Fiano
The Notes: lemony zest, cashew nut and delicate honeysuckle florals. Great finish with a fresh berry character, nutty texture and grapefruit crunchy tannin to finish. An aroma of cloudy apple cider with ginger and nutty notes on the nose, lively grapefruit and lemon edge.
Howard Vineyard | SA Purchase: Online, $28.
The Drop:2016 Clover Pinot Noir Chardonnay
The Notes: the Pinot Noir provides a floral lift of strawberry, cherry and violet characters on the front palate whilst Chardonnay adds length and enhances the crisp apple and citrus finish. A very fine, persistent bead and dryness leaves you wanting another glass.

Preston Peak Wines | QLD Purchase: Online, $64.
The Drop:The 2012 East West Shiraz
The Notes: aromas of spicy nutmeg and cinnamon, with wild raspberry and dark chocolate fill the nose, while on the palate ripe red berries are encased in soft, silky tannins that produce a lengthy finish. Ideally matched with Australian lamb rack.
Castle Glen | QLD Purchase: Magnum, Online, $125.
The Drop: 2002 Sparkling Cabernet Sauvignon
The Notes: having spent two years of its life in an American oak barrel prior to being bottled has left this sparkling wine with a rich and heavy flavour. It is during this maturation that the Sparkling Cabernet develops its full flavour, its complexity, quality and harmonising of flavours from the maturation on yeast lees. Available at Castle Glen cellar doors, Granite Belt, Montville and Tambourine Mountain.