Compiled by Sean Melrose.
When opening the front door is like opening an oven door and even the trains have stopped running because they can't cope with the apocalyptic heat, steak with red wine sauce just won't cut it. Given Summer is a time for icy poles, ice cream, fresh salads and slushies, we've gone on the hunt for a treasure trove of cold ways to beat the heat and keep the wine.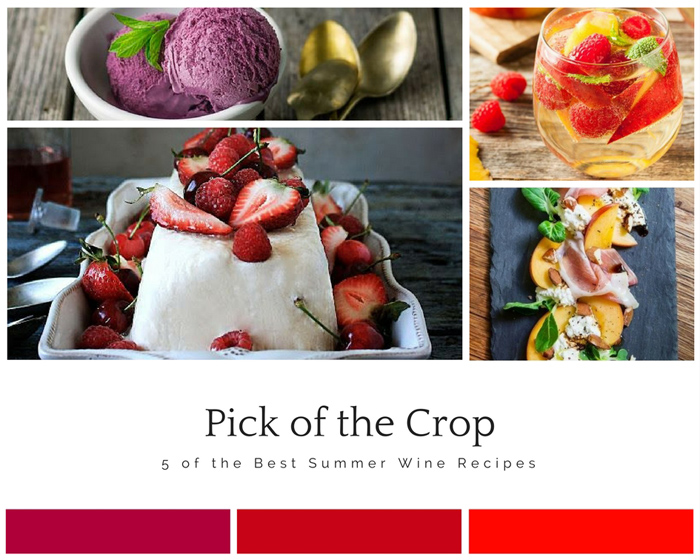 A nice change from the more common red wine sangria, this one has a more Summery look and flavour thanks to a citrus galore ingredient list. Lemons, oranges and kumquats are the heroes here and deliver that zesty tang that is so at home in an ice cold drink.
Peach and Prosciutto Salad with Sweet Red Wine Dressing
Summer meals are all about keeping it light a fresh, so this one certainly delivers in that respect. Ideal for a barbeque accompaniment or holding its own as the main show. A classic combination of sweet fruity flavours and salty prosciutto.
Champagne and Ginger Semifreddo
At work here is the combination of two great things coming together in a whirl of heavenly taste. First there's Champagne, the symbol of celebration and ultimate decadence, then there is lavish, creamy semifreddo, in the upper echelon of classy desserts. Together they create a dish that leads to numerous long sighs of satisfaction.
Raspberry Red Wine Slushy with Chocolate Whipped Cream
Wine, chocolate, cream. 'Nuf said.
A fresh way to enjoy a bottle of Merlot, this one is ideal for bringing that Summer feast out on the verandah to the ultimate crescendo. The creaminess and sweetness of the ice cream is nicely contrasted by the aftertaste and tang from the red wine. Like every dish cooked with wine, the better the wine the better the dish. Dare we suggest a chocolate sauce as well?