Go on a quokka quest
The sheer immensity of Western Australia makes it a haven for all sorts of Australian creatures, great and small. From water loving mammals to dusty red kangaroos, wildlife in the state is far from limited so wherever you decide to explore, you'll be guaranteed to come across something that swims, hops, slithers or flys.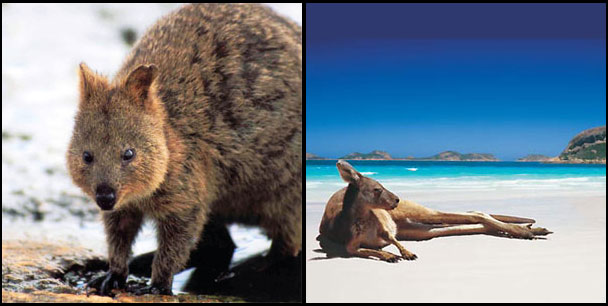 Where can I see the wildlife in Western Australia?
In the Kimberley region, freshwater crocodiles are commonly spotted in and around rivers, gorges and pools along with saltwater crocs nearer to the coastline. Not the only creature to take to the waters, Western Australia is also home to the whale shark, a large and largely harmless mammal that is often accompanied for a swim by visitors who wish to get up and close.
Due to the state's warm climate, snakes and reptiles are often spotted, with tiger snakes and dugites the most common around the Perth area. Western Australia has two main species of kangaroos – the western grey and the red kangaroo- often seen hopping around the outback desert region with a preference for arid areas. Rottnest Island is home to the unusual looking quokka, a small marsupial fondly known for friendly interaction and mischievous behavior.
To smile with a crocodile, make your way up to the Northern Territory