By Leigh O'Connor.
During the last decade, Middle Eastern fare has become a global sensation with its fresh, wholesome, healthy and aromatic flavours skyrocketing in popularity – none more so than in Australia.
Considered the new Asian by many Down Under foodies, Middle Eastern cuisine is far more than kebabs, hummus and tabouleh… it transcends borders, taking inspiration from countries like Egypt, Morocco, Lebanon, Turkey and Iran.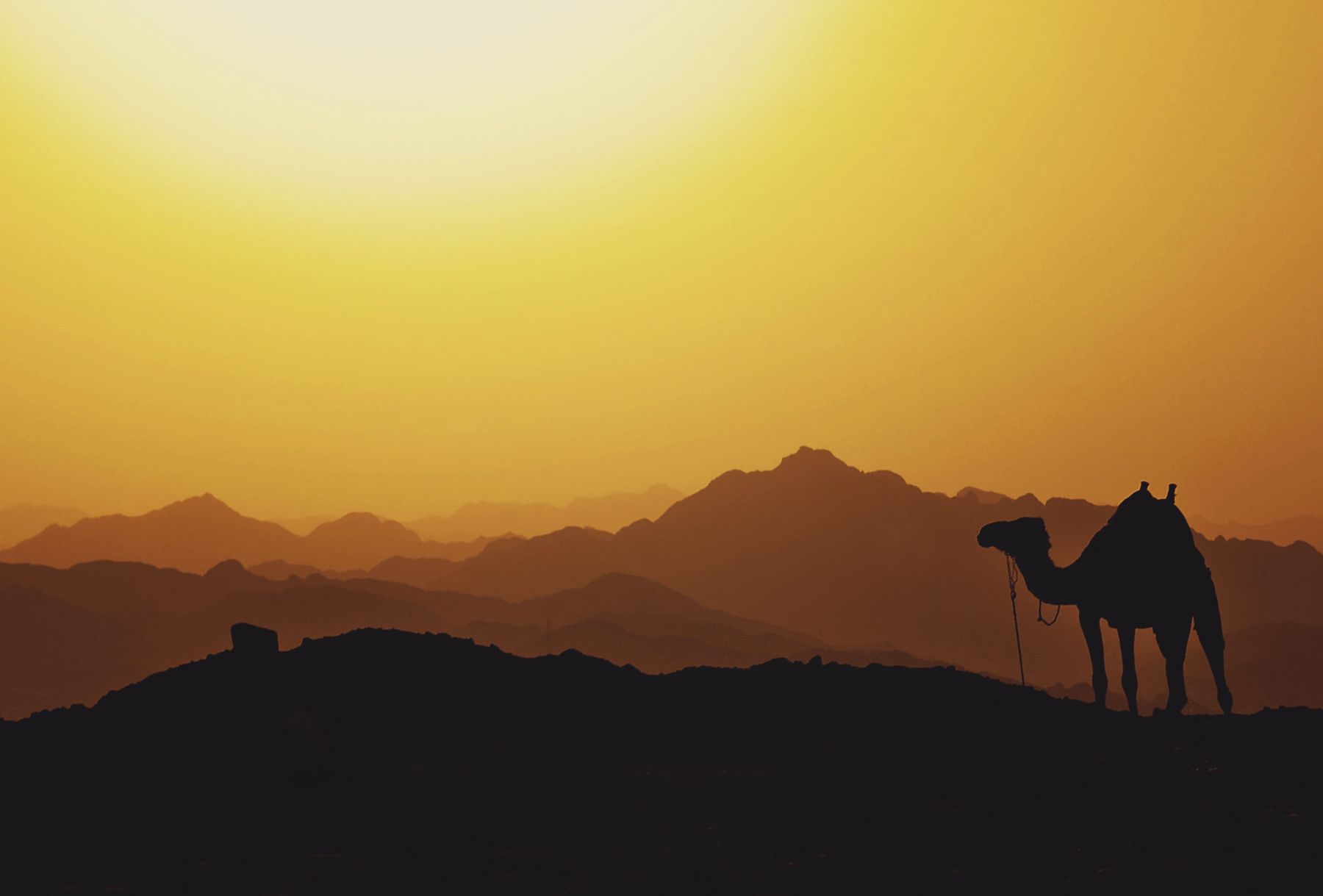 Long considered the cradle of civilisation, playing a vital role in promoting trade and linking the East with the West, the Middle East has been the birthplace of major religions and ancient cultures.
But did you know that Saudi Arabia imports sand and camels from our shores? Known as the 'ships of the desert', apparently Saudis don't find their camels to be tasty – Australian camels are fatter and more delicious – while the sand found in the Kingdom is not fit for construction.
Here are five more facts you may not know:
•The name 'Muhammad' is the most popular baby name in the world. Around 150 million men and boys have the same name as the prophet of Islam.
•350 million years ago, there was a 6m tall mushroom in Saudi Arabia – likely to be the largest living thing on dry land at that time.
•A few hundred years ago, women in Turkey could legally divorce their husbands, if they didn't provide them with enough coffee.
•In 1997, three men from Yemen tried to sue NASA for invading Mars, claiming they had inherited the planet from their ancestors 3000 years ago.
•In 1876, The Sultan of Turkey gave marijuana to the United States as a gift; by 1880, Turkish smoking parlours were opened all over the north-eastern USA.
Australia abounds in restaurants plating up smart and sassy Middle Eastern dishes to tempt all palates. We've put together a list of six of the best for you to embark on a culinary adventure that will send tastebuds into overdrive and whet your appetite for more than just a pide!
A happily buzzing interior vibe awaits Cromer foodies at
Coya
on Carawa Road. Degustation delights with a Middle Eastern twist are best enjoyed at blond wood tables under vibrant yellow pendulum lights and richly toned brown feature walls, softened by splashes of greenery. Expect to indulge the senses, taking time to savour each dish before eagerly anticipating the nest.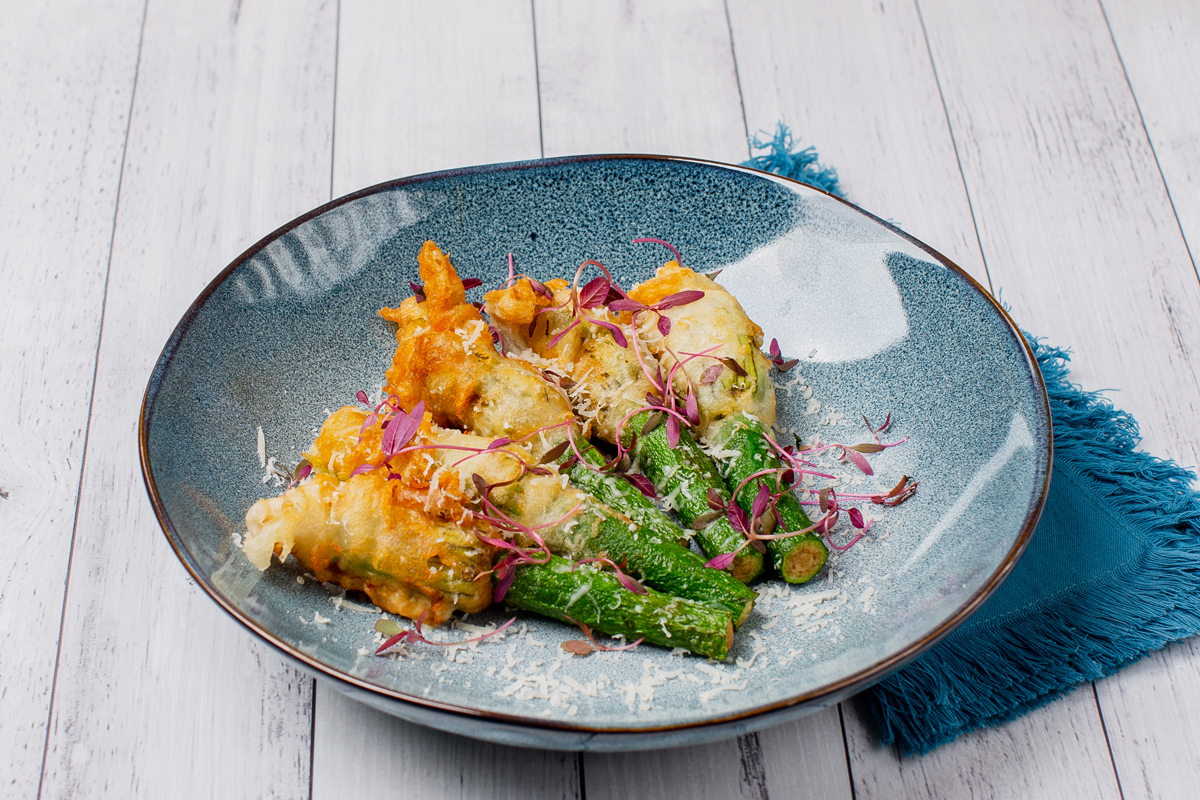 Coya crispy stuffed zucchini flowers.
Kick start your culinary journey with smoked duck breast, beet, orange, yuzu and chilli pearls; before mesmerising mains such as six-hour slow-cooked Marulan goat with chermoula spices and Arabic jewel rice, finishing with Egyptian bread pudding and pistachio anglaise.
A contemporary fusion of Moroccan, Middle Eastern and French cuisine is on the menu at
Meze Me Grove
on Annangrove Road in Annangrove. This restaurant, bar and function venue nestles among the serene Regal Gardens, with a spacious design and multi-levels offering an elegant dining atmosphere with an elongated view out to lush greenery, ideal for family or special occasions.
To start, try Middle Eastern spicy lamb mince, pine nuts, hummus, rocket and toasted za'atar pita bread; then delve into chicken tagine, with Fesenjan sauce, walnuts, sweet potato, broccolini and Mejadra rice. Finish sweetly with a dessert plate for two – chocolate brownie, Turkish delight, baklava, sugar-coated almonds, white chocolate gelato and fairy floss.
Packing a Middle Eastern punch from handmade uniforms to nostalgic Afro-beat melodies and eclectic artwork,
ZA ZA TA
on Ann Street in Fortitude Valley is a place where worlds and cultures collide. Experience a colourful blend of cuisine bringing a distinctly modern twist to century-old flavours, designed to be shared and savoured among family and friends.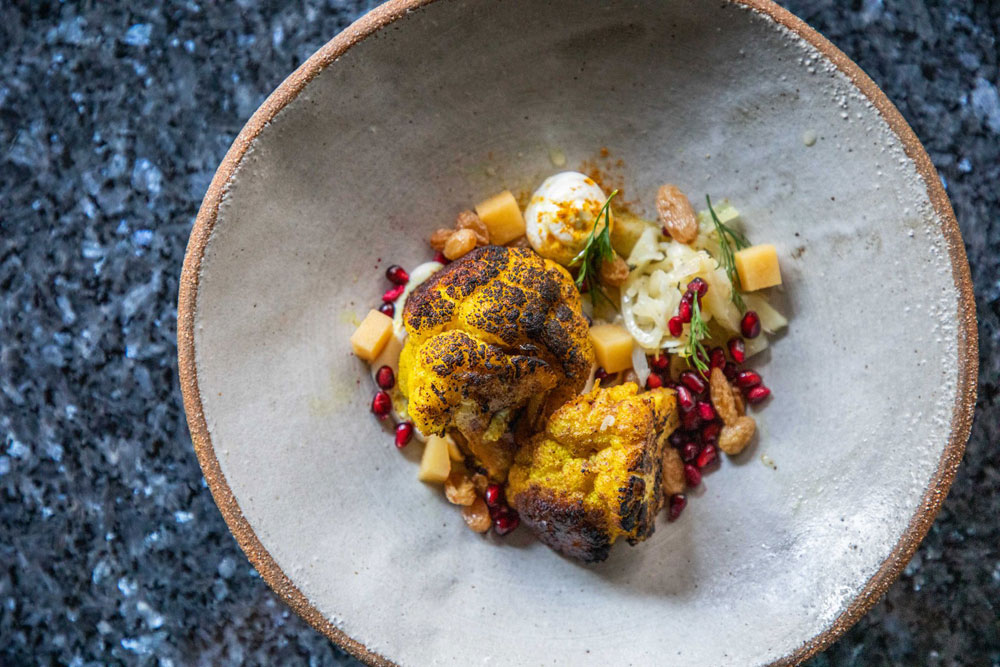 ZA ZA TA cauliflower shawarma.
Delve into meze plates of sesame falafels, tahini and amba pickles, or pumpkin dumplings, shish barak-style with burnt chilli butter; while wood fire and charcoal flavours come together in dishes like cauliflower shawarma with smoked labneh, pickled fennel and quince.
Take a seat among Egyptian-styled artwork, surrounded by soft red and orange hues at
The Nile Grill & Kebabs
restaurant, inside the Eaton Fair Shopping Centre on Recreation Drive. As mouth-watering aromas tempt weary shoppers in need of nourishment, peruse a menu of traditionally-inspired dishes created from inherited family recipes and spiced sauces made in house.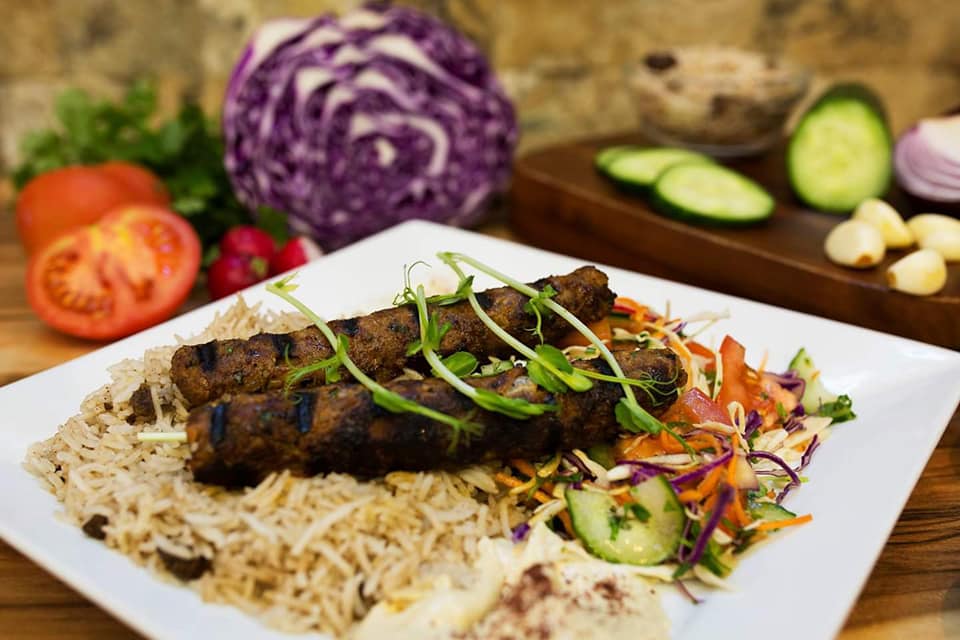 Wrap your hands around a marinated lamb steak gozleme with onion, tomato and capsicum, or a Moroccan beef burger, with cheese, roasted capsicum, tomato chutney and hummus; while kebab lovers opt for a grilled chicken flatbread, stuffed with lettuce, tomato, onion, garlic mint yoghurt, sweet chilli and a side of chips.
Catch up with friends over a Turkish Martini cocktail in surrounds of polished wood floors, softly glowing bulb lighting and a wall display of boutique wines at
Naim
restaurant on Collingwood Street in Paddington. Housed in an old Queenslander full of character and comfy couches to chill out on, be prepared for a creative menu serving up brunch tempters like shakshuka Tunisian-style baked eggs.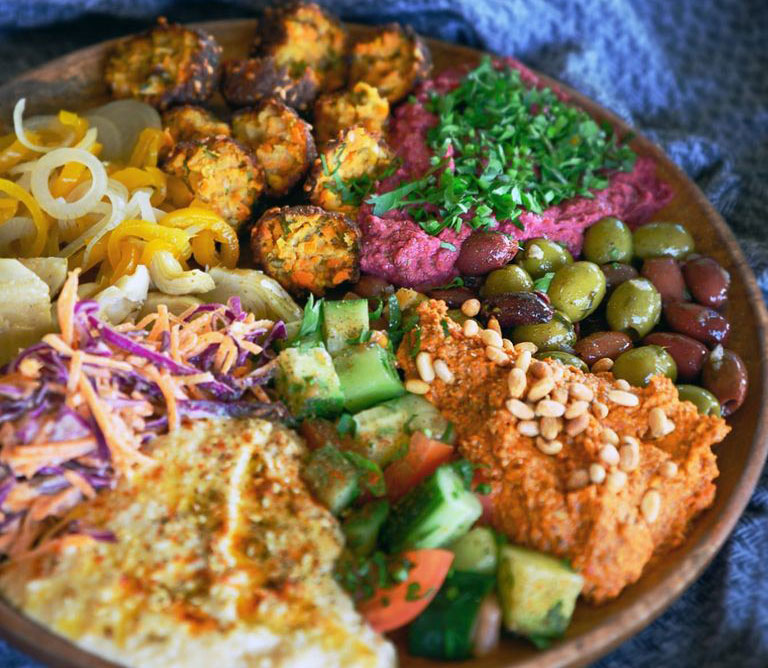 Colourful and vibrant Middle Eastern cuisine at Naim.
Dinner guests can start with braised short ribs, pomegranate harissa glaze, crispy potatoes and tahini yoghurt slaw to share; moving on to paella risotto – saffron-scented arborio rice, crispy confit chicken shawarma, guindilla sofrito, roasted capsicum, semi-dried tomatoes and fresh green peas.
Eating together is a means of bonding with family and friends, especially if
The Dinner Party Chef
is cooking Middle Eastern for you. Based in Brisbane, personal Chef Robert Bousamra offers a unique dining experience in your home, business or private function; with menus exploring the wide world of cuisine. From birthdays to small weddings, anniversaries and special occasions, there's a menu to suit.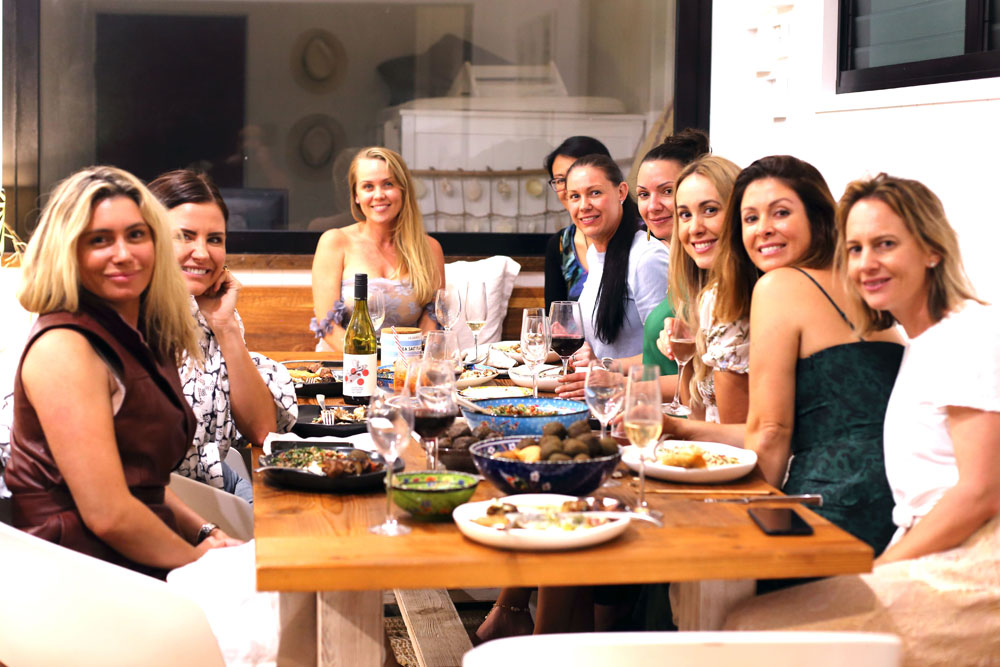 Select the Lebanese feast, based on Robert's family recipes – it's the closest you'll get to dining Lebanese-style at home – and delve into lamb and chicken skewers marinated in Middle Eastern spices, Fattoush salad, rolled grapevine leaves filled with spiced lamb and rice; along with whole baked snapper in tahina sauce.
For more Middle Eastern restaurants, click
here
.