By Leigh O'Connor.
What do you call a shark that delivers toys at Christmas? Santa Jaws!
Christmas is the time for the ultimate seafood feast…salivate over seafood platters to share, or beautifully cooked prawns, tuna, barramundi and lobster.
As the sun sinks over a glittering ocean, chances are somewhere in this land girt by sea, Australians are tucking into sensational, fresh seafood during the festive season.
With a coastline measuring more than 25,000 km, our love affair with the ocean is well documented, from the infamous Paul Hogan line 'slip an extra shrimp on the barbie' to Sunday morning nipper sessions at the local surf club.
Want to lure your guests with sensational seafood this Christmas? Here are five recipes sure to net you success: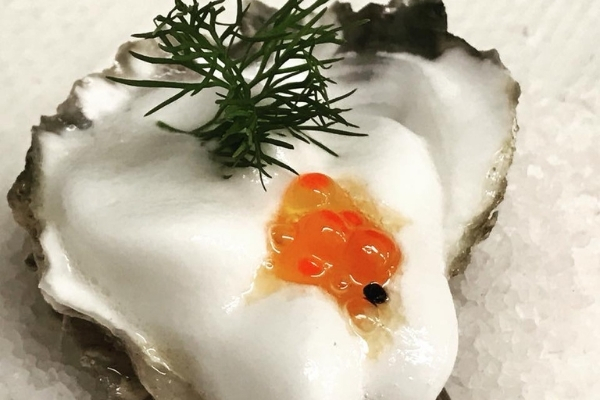 Oysters…the ideal seafood feast starter, from Wheelers Seafood Restaurant.
Nothing defines a seafood feast more than oysters…however way you serve them. These delicious
oysters natural with Prosecco foam and salmon caviar
are sure to turn heads as they are brought to the table, with a delicate foam topping and pearls of caviar; just be aware you will need a siphon gun to apply the foam.
Created by
Wheelers Seafood Restaurant
Chef Wade Woolhouse, this is just one of the enticing choices on a seasonal menu at the Merimbula venue; as diners take in serene views of the lake, where the restaurant's own quality oysters are nurtured and grown. Tours of the surrounding oyster farm are available from Monday to Saturday.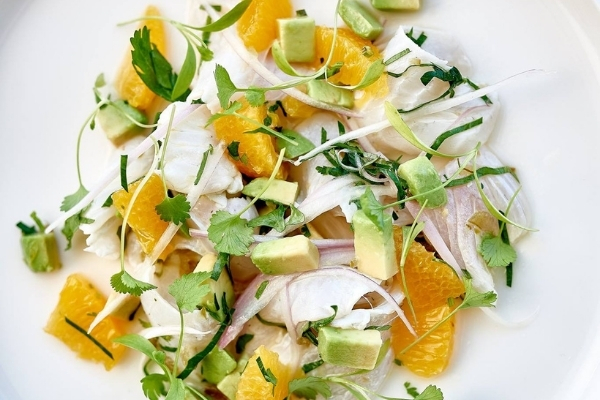 Nothing says seafood more than Rick Stein…simple yet memorable ceviche.
Incredible seafood simply prepared is the hallmark of a Rick Stein kitchen – a dedicated team of Chefs uses nothing but the finest locally sourced ingredients from ocean to plate every day and every aspect is crafted with the passion and excitement that defines Rick's cooking style.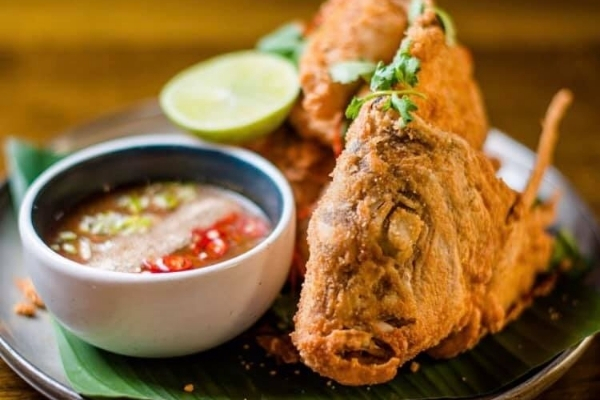 Longrain is back – whole snapper could be your festive centrepiece.
After coming out the other side of Melbourne's lockdown,
Longrain
in the heart of the CBD has opened its doors again to bring the soul of South East Asia to the plate. This contemporary restaurant, headed by Chef Arte Assavakavinvong and restaurateur Scott Pickett, is currently serving a banquet-only menu with all the classics and favourites from before COVID.
Crisp snapper, chilli, tamarind and lime
is a signature at Longrain – there is nothing quite as spectacular as the sight of a whole baby snapper arriving at the table, crisp and crunchy from deep frying, served with a tangy Asian dressing. This dish could be the festive centrepiece to your ultimate seafood Christmas spread!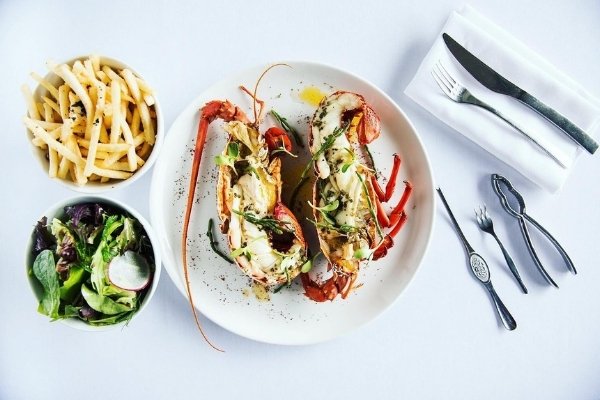 Lobster from Harbourfront Restaurant – everyone's favourite indulgence.
Mmmm…everyone's favourite indulgence, lobster. No seafood feast would have any credibility without lobster – this recipe for
Eastern rock lobster with samphire and yuzu butter
is one of the specialties at
Harbourfront Restaurant
on Endeavour Drive in Wollongong. Boasting sweeping views across the harbour, this tri-level venue is stunning both night and day, from breezy decks and a relaxed indoor vibe.
This is an easy dish that gets maximum reaction from guests as the lobster, still in its half shell, is served with melting butter and dusted with sumac, alongside a salad of choice and glass of crisp Sauvignon Blanc.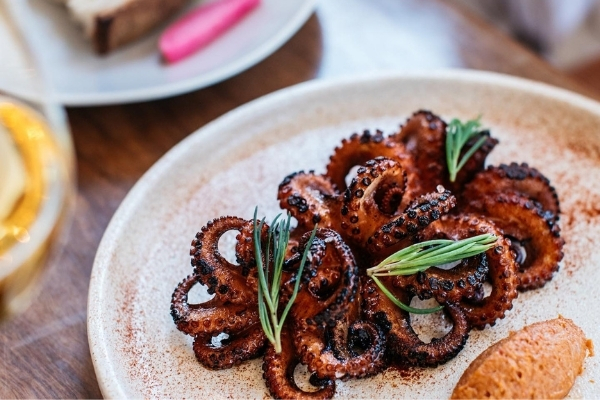 Foraged native ingredients make this Harvest charred octopus dish extra special.
Equal parts historic country charm and urban sophistication,
Harvest
on Old Pacific Highway in Newrybar is an award-winning restaurant, overseen by Head Chef Alistair Waddell. Widespread verandahs circle this airy weatherboard cottage, where a stylish bar and rustic wooden furnishings combine to create an inviting vibe.
Showcasing fresh organic produce, much of it grown in the kitchen garden, along with foraged native and wild Australian ingredients, the menu is full of creative dishes like
octopus, charred kelp, green eggplant and coastal succulents
. Kelp, baby green eggplants and coastal succulents add the finishing touches to charred octopus tentacles to tempt festive tastebuds to try something different.
Whale, it's Christmas again – to be Pacific, I sea good things under the tree for you this year!
For more seafood recipes, click
here.