Do you love to host summer parties, gathering all your friends and family into one place and enjoying time spent together? Add a few of these new tapas ideas into your repertoire and have guests delving back for thirds!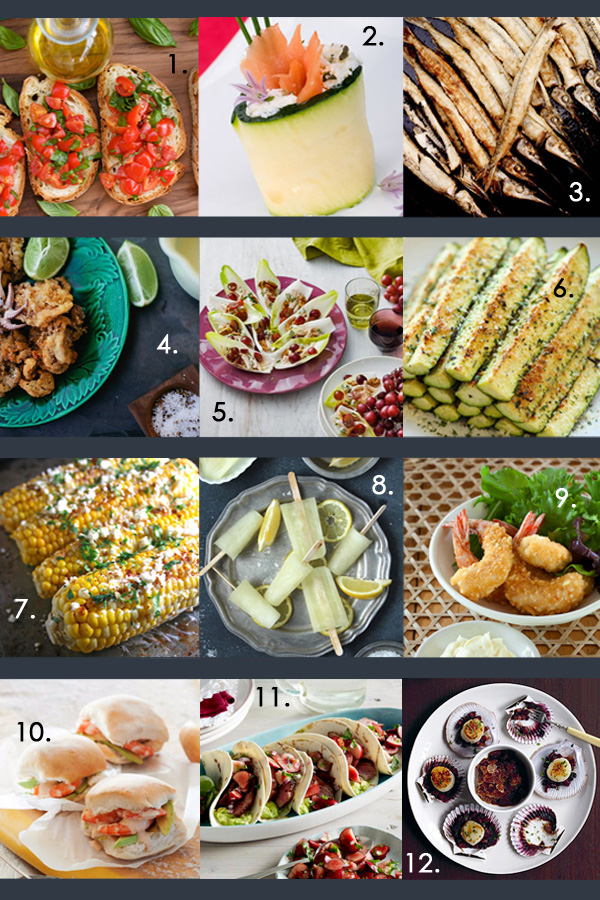 1) Tomato and Oregano Bruschetta - vibrant like summer days, this is a great way to fill hungry stomachs and to brighten the table with red tomatoes.
2) Just a little bit fancy, these delicate Cream cheese stuffed zucchini rolls may take a little extra preparation time, but can be made a few hours before and stored in the fridge for when guests arrive.
3) Easily made, throw these Fried Garfish on a platter next to a bowl or two of hot chips and watch them disappear!
4) Crack open a bottle of crisp white wine and enjoy a glass alongside these small bites of Crispy Octopus with Lime Aioli .
5) A healthy addition to the dips and crackers, and refreshing for balmy days if the grapes have been refrigerated first, try these Grape and chicken salad bites .
6) A great way to consume vegetables without overextending the budget, try these Baked Parmesan Zucchini Sticks out on the kids this summer.
7) Mexican Street Style Corn is bursting with juices and great to eat outside in the garden!
8) Icy desserts like Sea Salted Limoncello Icypoles are sure to help you and your party friends keep cool on hot summer days.
9) In great tempura style, try these Macadamia Crusted Prawns with Aioli for a twist on the usual.
10) Tasty little sliders with a summery flavour, these Prawn and Avocado Rolls with homemade seafood sauce are just the thing for bite-sized joy.
11) Keep on trend and in season, creating a whole line of Duck Tacos with Cherry Salsa and watch them be taken by the hands of enthusiastic guests.
12) Hot, cold, sweet, sour and salt, these Drunken Scallops with Ponzu Granita will surprise the everyday guest with something a little bit extra. Be sure to savour these intensely flavoured bites.